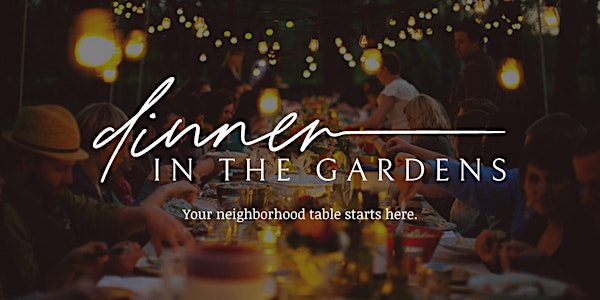 Dinner in the Gardens
Dinner in the Gardens: historic neighborhood dinner experience
When and where
Location
Central Gardens S Belvedere Blvd Peabody avenue Memphis, TN 38104
About this event
Join us for dinner in Central Gardens! We're saving your seat!
The Central Gardens Association (CGA), in partnership with Edible Memphis, is hosting the inaugural 1,000+ person, farm-to-table Dinner in the Gardens on Saturday, October 19, from 5:30 to 9:30 p.m.
We welcome the greater community to join us on "the front porch" of our neighborhood. One long dinner table will be set up along Belvedere between Peabody and Glenwood Place.
We see this gathering as an opportunity to launch conversations and create connections among attendees. We also hope that Dinner in the Gardens serves as a model for other dinners in neighborhoods throughout Memphis.
Chefs Spencer McMillan (Caritas Village), Miles Tamboli (Tamboli's Pasta and Pizza), Spencer Coplan (Wok'n in Memphis), Phillip DeWayne (Park & Cherry) and Kat Gordon (Muddy's) each will present a course. (There will also be a little treat from Phillip Ashley. Shh!) We are working with Project Green Fork and local farms to highlight ingredients from within a 250-mile radius of Memphis.
Old Dominick will provide a welcome cocktail. Beer, wine, soft drinks and water will be served with dinner.
Tickets are $200 each. (Discounted tickets are available to new CGA members.) VIP tickets for groups of 10 are $2500.
The rain date is Sunday, October 20.
FAQ:
A fall farm-to-table event, Dinner in the Gardens, will take place in Central Gardens on October 19, 2019. The dinner will take place on Belvedere Blvd. (between Peabody Avenue and Glenwood Place) from 5:30 – 9:30 pm.
How do I become a CGA member?
Joining is a great way to support the mission of the Central Gardens Association. We're also offering a ticket discount for new CGA members. Click here.
Where do I park?
Central Gardens residents are encouraged to walk. Non-residents are encouraged to rideshare. Guests may also utilize nearby street parking.
Who are the chefs?
Look for updates, including chef highlights, on Instagram, Facebook and the Dinner in the Gardens website.
Is it vegetarian friendly?
Of course!
Is alcohol included?
There will be a welcome cocktail from Old Dominick Distillery, beer and wine.
Can I bring my children?
Dinner in the Gardens is a 21+ event.
Is there assigned seating?
Yes, seats will be assigned automatically at checkout. If you'd like to change seats to sit by your friends, just click "edit tickets" to find their number(s). When you arrive, a hostess will guide you to your table area.
What if it rains?
The rain date is Sunday, October 20.