Description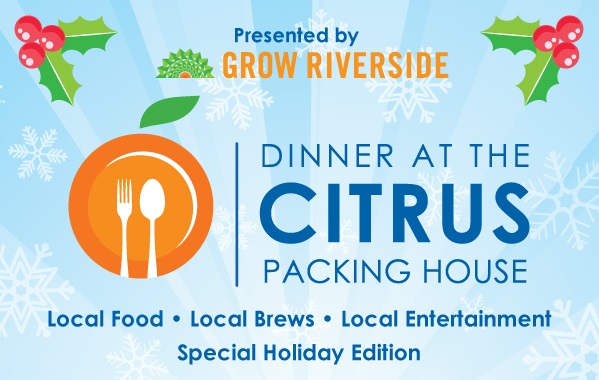 Recognized as a national leader in Farm-to-School, Riverside Unified School District's nutrition program promotes healthy eating by increasing the availability of fruits and vegetables in school lunches through revenue neutral sourcing from local small farmers. Featuring Chef Gavin Brody and the superstars of Riverside Unified School District's Nutrition Services, this team returns to the farm-to-fork dinner series to serve "Dinner at the Citrus Packing House" in the citrus packing facility of Riverside's Corona College Heights Orange & Lemon Association. Enjoy an evening of entertainment, local food, and local brews.
Keynote:
Jerry Tessier to speak about the upcoming exciting Riverside Food Lab project in Downtown.
Seating is limited and this event is expected to sell out. Proceeds of this event support the GrowRIVERSIDE Initiative.
For more information about the GrowRIVERSIDE Initiative, visit www.growriv.com.
*Ticket proceeds help fund the GrowRIVERSIDE Initiative to support Riverside's local food system.

*Ticket holder voluntarily assumes that their email will be used to receive emails pertaining to GrowRIVERSIDE. We are committed to keeping your e-mail address confidential. We do not sell, rent, or lease our subscription lists to third parties, and we will not provide your personal information to any third party individual, another government agency, or company at any time unless compelled to do so by law.