Dinner & Apero Party at the pool ❂ La Piscine ❂ David Lloyd ❂ Friday 16.07
TOP METEO CE VENDREDI 09.07 / DINNER & APERO at the David Lloyds's Pool
About this event
La meteo s'annonce top ce Vendredi 09.07!
Dinner & Apero Party at the pool ❂ La Piscine ❂ David Lloyd ❂ Edition #2
La Piscine - Best premium deal in the city!
❂ How it works ❂
______________________________________
❂ An amazing setting at the pool terrace of one of Brussels' most premium and exclusive private clubs, David Lloyd, and you can be there! Usually only accessible to members but now open to the public
❂ Every Friday - all summer
❂ Pour les Gourmands - Only 45€ for a 3-course (healthy) dinner (3 menu choices in the event info) including a 35€ club voucher to discover a full day of the club's facilities! How great is that!
❂ Pour les moins Gourmands - La formule Apero / 10€ + le club voucher to discover a full day of the club's facilities! How great is that!
❂ Possibility to book multiple tables and be close to your friends when being a larger group
❂ Lounge DJ, summer & pool beats
❂ Edition #2 Friday July 09th
E-mail BOOKING info@bistrofit.be
Or - call 02.280.45.85
Tables for 2, 3 and 4 people + 8 people + possibility to book multiple tables and ask to put the tables close to each other via info@bistrofit.be
THIS DINNER & the APERO is S UNDER RESERVATION! NO RESERVATION => NO PARTICIPATION
In case of bad weather the dinner will be indoor.
❂ Edition #2 ❂ Friday July 2nd ❂
_______________________________________
Le Menu :
***
Amuse-bouche organique
***
Entrées
Burrata a la truffe, méli-mélo de tomate bio
ou
Tartare de saumon sur lit de légumes marinés bio
ou
Jambon de parme au melon cavaillon
***
Plats
Tuna bowl
Riz vinaigré, thon rouge frais, avocat, edamame, sésame, sauce soja à part
ou
Salade exotique
Scampi grillé, pamplemousse, avocat, noix & vinaigrette aux agrumes
ou
Tagliata de bœuf & ses légumes bio
***
Desserts :
Salade fruit de saison
ou
Fraise Melba
ou
Carpaccio d'ananas sorbet de mangue maison
====================
FR-
Le nouvel APERO-DINATOIRE "LA PISCINE" vous invite à la soirée au bord de la piscine du club le plus exclusifde Bruxelles : Le David Lloyd!
Un air de vacance et de Saint-Tropez planera sur Uccle... le tout dans le respect des consignes de sécurité du CNS
Venez découvrir le David Lloyd & son restaurent le Bistrofit, son nouveau jardin, la vue sur la piscine et sa terrasse en plein coeur d'Uccle.
Entre amis ou couple, pour fêter votre anniversaire, composez votre table et réservez celle-ci! Un concept idéal et adapté aux nouvelles réalités.
_____________________________
De plus, en cadeau *1 voucher pass d'une journée sera offert aux participants*
_____________________________
a) La formule du diner :
18h : Arrivée des clients
19h - 23h30 : On passe à table avec Dj Musique live
01h30 : Fin de l'événement
b) La formule Apero : Sous reservation uniquement / Participation de 10€ incluant un bon cadeau découverte des Installations du Club David LLoyd
N'attendez pas la dernière minute pour vous inscrire et venez participer au lancement de ce nouveau concept Bruxellois.
_____________________________
Dress code: Urban Chic
Réservation Obligatoire :
Join our Page : https://www.facebook.com/dinneratthepool/
Le David Lloyd - Bistrofit
Drève de Lorraine 41, 1180 Bruxelles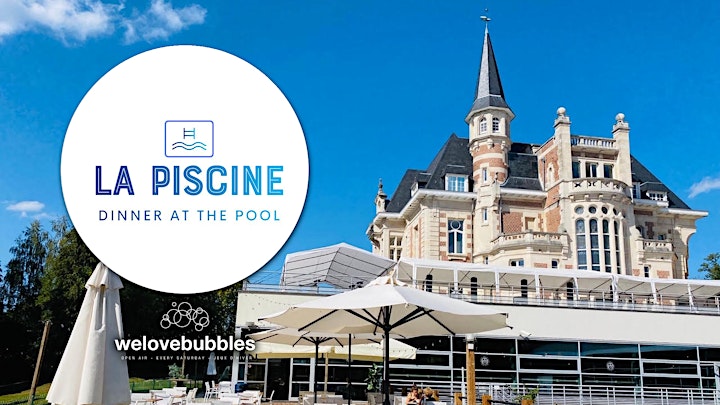 Organizer of Dinner & Apero Party at the pool ❂ La Piscine ❂ David Lloyd ❂ Friday 16.07