Join us for a delicious meal provided by Kate Baldwin Food and this slasher B-movie classic.
About this event
Have you ever seen a horror movie so poorly made that you end up guffawing until you suddenly realize that the female lead is a local business owner who had an illustrious career as a B-Movie Queen in the 1980's?
The world is too scary right now not to have a few good laughs. Come celebrate the absurd with dinner and an outdoor film under our heaters, sipping a hot toddy, and screaming with laughter.
SPECIAL RED CARPET APPEARANCE FROM 2 OF THE STARS.
BLOOD SISTERS (1987) - A tense, gripping thriller that will petrify the most jaded horror-film fan. The story concerns eight beautiful sorority girls who attempt to brave a night in an abandoned, haunted brothel. Unbeknownst to them, their boyfriends have rigged the house with assorted non-lethal practical jokes to scare the ladies witless. However, the old house seems to have a mind of its own. Before very long, our heroines face a triple-threat; the increasingly more dangerous practical jokes, a psychotic boyfriend, and the brothel itself. RATED-R (Under 17 Requires Accompanying Parent or Adult Guardian)
In order to offer our patrons the safest and most enjoyable experience possible, social distance policies will be in effect through the 2020 season. All guests must wear their masks when out of their seats. Bar is open for table service only.
This event will be catered by Kate Baldwin Food. Dinner is included in the ticket price. Guests will be able to choose a menu option when purchasing a ticket for the show.
To purchase tickets please click through the ticket menu to select from the "Seating Map."
Patio/Bar Open: 5:30PM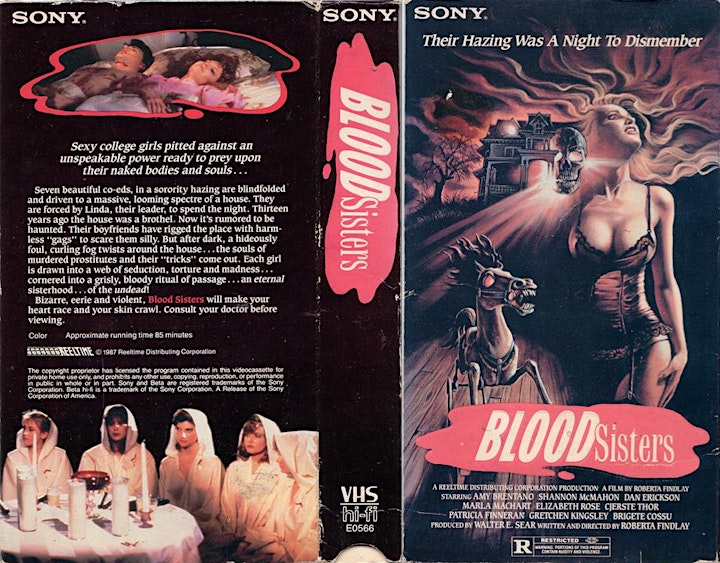 Organizer of Dinner and a Movie: Blood Sisters (1987)
Built in 1994 as a glass blowing studio, the building's name references its roots. Now the venue produces theater, music, comedy, spoken word, educational workshops and more, providing a safe place to create dangerous work. Work that counteracts the passive, the isolating, the distance between people. Come experience joyful creation, partake in brave exploration, meet the person sitting next to you, share about what you're seeing, buy them a drink. Our goal is to present relevant performing and visual art that is accessible for diverse audiences; art that connects and inspires us, and incites us to leap across cultural boundaries. The Foundry is a holding tank for raw, funny, challenging, empowering work that changes the lens through which we view each other.