Dining with the Local Stars - a virtual event - is set for Saturday, March 27, 2020
About this event
The Rotary Club of Three Creeks, which annually hosts Dancing with the Local Stars (DWTLS) – one of the most popular nonprofit fundraisers in Clark County – has announced there will be no dancing in 2021.
"Without any assurance in regards to the pandemic that we could have a live audience of 200-300 people in a ballroom at ilani in March, we couldn't responsibly plan Dancing with the Local Stars for 2021," said Club President Kelley Campbell, who won the 2019 Dancing with the Local Stars Grand Championship and Best Dancer awards. "We also did not feel good about asking local stars and professional dancers to spend as much time with one another in close proximity as is necessary to do the event right."
Instead, the club will compile Dining with the Local Stars, presented by Taylor Transport, a competitive cooking show featuring nine celebrity "chefs" from around the area modeled loosely after the popular Food Network show "Chopped".
Local Stars Albert Angelo III (Al Angelo Co.), Julie Arenz (iQ Credit Union), Tamara Fuller (Capacity Commercial Group), Tommy Gaynor (Gaynors Automotive), Ryan Hart (Port of Vancouver USA), Nelson Holmberg (NW Natural), Ryan Makinster (Building Industry Association of Clark County), Tom Markos (Thomas J. Markos Inspection & Consulting) and Linda Reid (Columbia Bank) make up the cast for the 2021 fundraiser.
Three shifts of three celebrity chefs will cook together, masked and physically distanced in a commercial kitchen at Second Mile Marketplace and Food Hub, preparing dishes with ingredients in mystery baskets that they will not know until just before the timed cooking sessions begin. Video of this culinary competition will be captured by Vancouver's Wager Audio and edited into a 90-minute show which will be streamed to a paid audience on Saturday, March 27.
Each celebrity "chef" will raise funds for the Rotary Club and the contestant who raises the most money will be crowned Grand Champion. Judges will determine the winner of the best chef, based on a broad criteria that include use of the mystery baskets.
"We are very excited about this event, especially because of the creativity of trying something new, in order to keep raising money that makes a big difference in the community," Campbell said.
In 2020, Dancing with the Local Stars raised more than $40,000, and the Three Creeks club was able to award three $7,000 grants – one each to the North County Community Food Bank, Clark County Food Bank and FISH of Vancouver. The club has also made several smaller grants to nonprofits in the community – including the purchase of 50 new stuffed animals to donate to children in the pediatric unit at Legacy Salmon Creek Medical Center just before Christmas.
In three Dancing with the Local Stars events, the Rotary Club has raised more than $60,000. The club has distributed more than $40,000 to community nonprofits over the three years.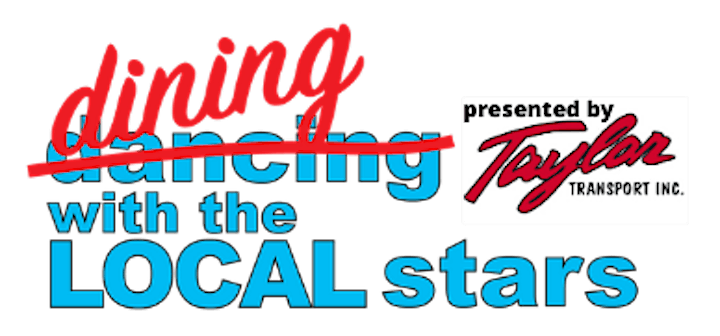 Date and time
Location
Refund policy
Organizer of Dining with the Local Stars
The Rotary Club of Three Creeks recently celebrated its fourth anniversary and serves the Hazel Dell, Felida, Salmon Creek and Ridgefield areas of North Clark County. Since chartering in October 2016, the club of 28 members has completed more than 50 service projects locally and one international service project. The club has also granted more than $40,000 raised in its fundraisers to nonprofits across the community helping children, veterans, hungry and homeless. More information about the club can be found on its website (www.rotaryofthreecreeks.com), or Facebook (www.facebook.com/rotaryofthreecreeks).