Description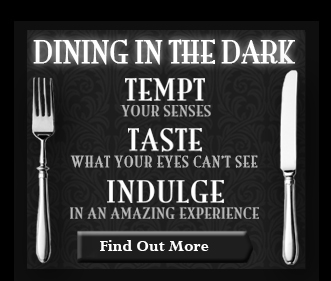 Enjoy a truly Unique dining experiance like no other. Dining In The Dark Allows you to heighten your senses of smell and taste while suppressing your urge to "eat with your eyes."
How It's Done
Each night our chef creates a unique 3 course menu designed to rouse your taste buds and stimulate your senses. what's on the menu is only shared after your dining experiance, allowing you to truly indulge in your sences of taste, smell and feel without any outside barriers.
Our trained servers will be on hand to bring each course for your enjoyment and to help tend to your needs. If you have any food allergies we will be able to make substitutions, please let us know upon arrival.
We offer 2 seating options 6pm or 8pm, please choose one when making reservation. The experience is a group seating at a communial table and great for sharing the experience.
RESERVATIONS ARE REQUIRED, SEATING IS LIMITED !
* Please be sure to reserve one spot for each guest, seatings can accommodate up to 8 people.
**For larger parties please call.
Only at Beauty & The Feast