Description
Good Eats & Meets Is Super Proud To Present
Dining In The Dark-A Feast For The Senses
Good Eats and Meets is partnering up with the new culinary hot spot Osso in the trendy NC Music Factory to bring you a meal, where nothing meets the eye and is unlike any other you have ever had before! Imagine that you are recognizing friends only by their voice, where sounds tell a story, aromas come alive and elegance is felt. In this era of information overload, visual stimulation has reached an all time pinnacle. But imagine, just for an hour or two that you cannot see, that you are abandoning vision in exchange for a new, more stimulating dining experience – this is "Dining in the Dark"...A Feast for the Senses!!!
The purpose of our dinner is to give guests a unique eating experience while fostering a greater understanding of what it's like to be visually impaired and to raise awareness for their cause.
During your Dining in the Dark meal, you will savor a multi course meal in a room where you can't see a single solitary thing, from your plate of mystery food to the faces of your fellow diners. It will be more than a culinary experience, it will be a sensory and social experience to the tenth power.
The evening will begin at 8:00 pm where all the guests will mix and mingle over cocktails (one is included in the cost of the meal-surprise!) before entering our inner sanctum of darkness. We will seat everyone and make sure that you are comfortable before the meal will begin. The rest is up to you. We will be offering a phone check and anything else that might interfere with your meal.
Spread the word and come with a couple of your friends. Seating is limited and will go fast! Don't wait and miss out! Every previous Dining in the Dark event has SOLD OUT.
The cost is $39 per person or $79 for a couple for the full meal with one cocktail/beer/wine, as well as tax and tip. The final price on Eventbrite includes the tax, tip and Eventbrite fees and is all inclusive. What a deal for this truly unique event!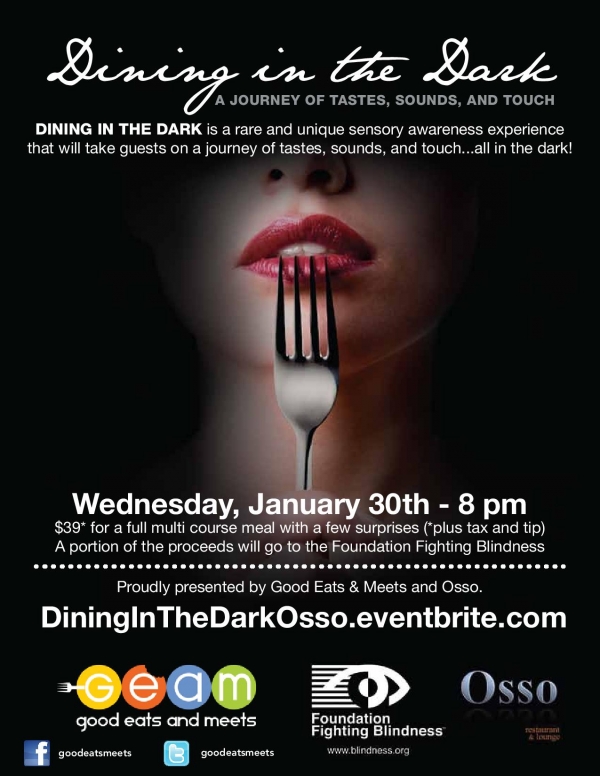 Good Eats and Meets is the largest dining, drinking and socializing group in the US and you can find more information at...
http://www.meetup.com/geamclt
https://www.facebook.com/goodeatsmeets
https://twitter.com/goodeatsmeets
http://pinterest.com/goodeatsmeets
http://instagram.com/goodeatsmeets
Osso Restaurant and Lounge offers Italian cuisine, both classical and modern prepared by one of Charlotte's most followed and recognized Chefs, Gene Briggs of the famed Blue.
http://ossocharlotte.com/
We are now SOLD OUT for this Dining in the Dark...A Feast for the Senses. Thank you for checking this out. We will be announcing our next dinner in the very near future.
Organizer of Dining in the Dark-A Feast For The Senses-SOLD OUT
The premise of Good Eats and Meets is to explore all that each of our cities has to offer in the culinary world, whether it's testing the "Best Of" restaurants or sampling the "greasy spoons." The group is for adventurous people who enjoy sharing a meal and great conversation and the best part about it all?  Membership is absolutely free!  The majority of people living in each of out cities are transplants from other areas and Richard Gruica, the founder, wanted to "provide a gathering place for all those who love food and socializing, with the idea of broadening their knowledge of regional specialties."  The group brings people of all ages and walks of life together in the European style of "breaking bread" and also supports the local restaurant economy.  Road trips, wine tastings, classes, farmer's market tours, dinners, brunches and smaller-scale tasting and dinner parties, as well as many other events can also be found on the social calendar.