Description
Cafe Rue Dix is a French and Senegalese cafe, restaurant, and bar located in Crown Heights, Brooklyn. They serve traditional Senegalese cuisine as well as typical French cafe fare. Cafe rue dis prides itself on using fresh ingredients and bold spices to create some of the best Franco-Senegalese dishes in NYC.
Purchase a voucher online for a 3-course dinner at this participating restaurant. Present the voucher at the restaurant during NY African Restaurant Week for a discounted prix-fixe meal. Prix-fixe menu provided below.
Giveaway: First four voucher purchases for this restaurant win free tickets to the landmark event of the Fall: African Restaurant Week Festival on Saturday, Oct. 13 at Industry City. Winners announced Thursday Oct. 4.
For a full list of participating restaurants please visit nyarw.com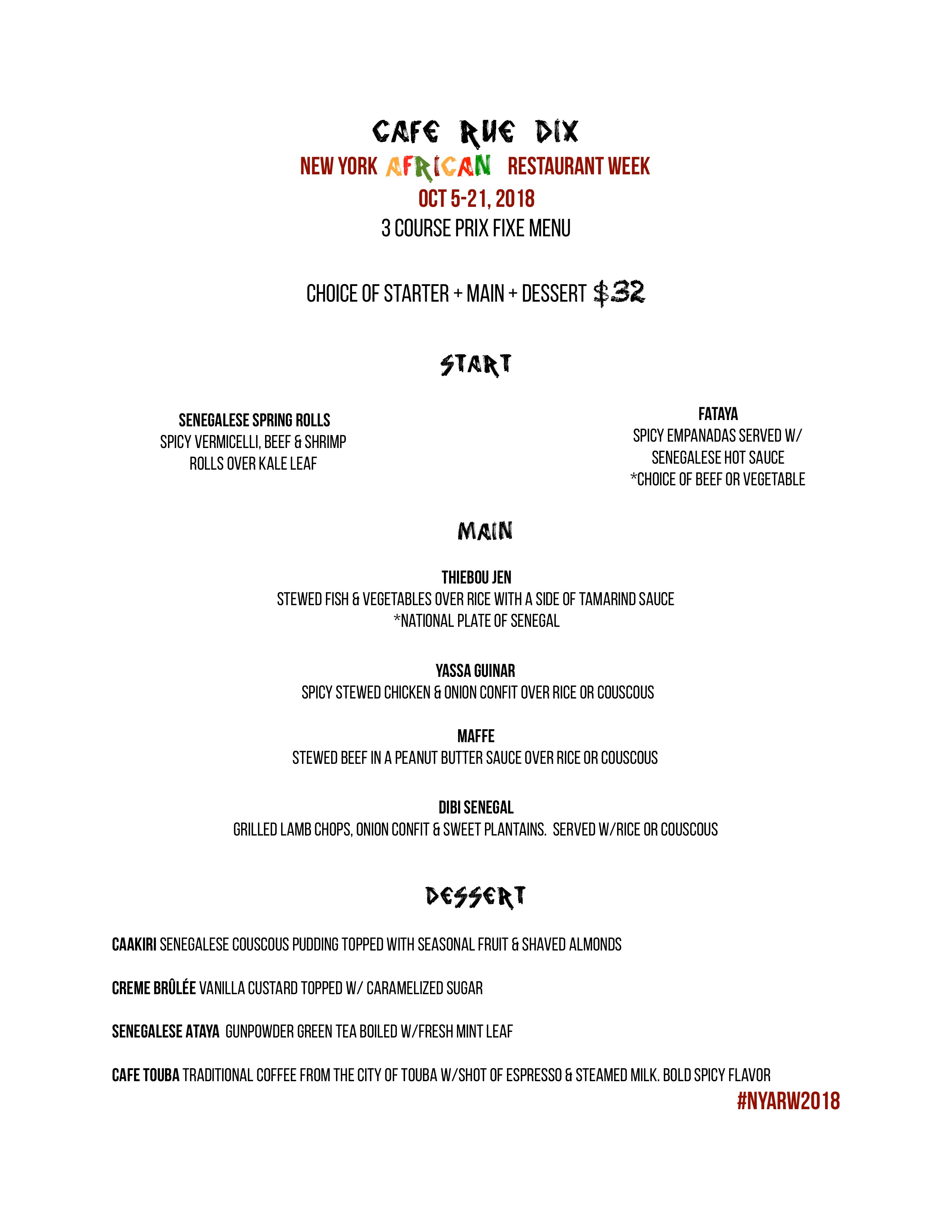 FAQs
How can I contact the organizer with any questions?
You can contact us at africanrestaurantweek@gmail.com or at info@nyarw.com
What is New York African Restaurant Week?
NYARW is a celebration of African cuisine, restaurants, and chefs, it's a promotion of diverse voices in the global culinary movement – both celebrity and emerging, it's a commitment to community development and social impact, and we're inviting all of NYC to be a part of that.
What other events can we expect during African Restaurant Week?
Over 20 events and memorable gastronomical experiences. A mega-food festival event on Saturday, October 13, cooking classes/parties, chef-hosted dinners events and various experiences that showcase the intersection of food , art, culture, entrepreneurship, and social impact. A world-class partnership line-up.
Do you have group rates?
Yes we have group rates. Please contact us at info@nyarw.com
Can I celebrate my Birthday or special occasion at participating restaurant?
Yes you can. Please contact us for special offers and more.