Description
TARGET AUDIENCE
This course is an introduction to different types of cancer and to the care of cancer patients and their families. Although the series is intended for novice oncology nurses or general nurses interested in oncology care, all health care professionals are invited to attend.
COURSE OVERVIEW
This course includes an overview of the biology of cancer and the treatment of specific cancers. Pain management, radiation therapy and oncology emergencies are addressed. In addition, attendees will learn about patient support through complementary therapies.
Learning Objectives
• Describe the steps in the development of cancer (carcinogenesis).
• Identify staging and treatment options for various cancers: brain, breast, colon,
gynecologic, hematologic, lung, melanoma, prostate, primary liver, head and neck
cancers.
• List pharmacologic and non-pharmacologic interventions for pain management.
• List side effects associated with radiation therapy and nursing strategies to help the
patient manage them.
• Describe signs or symptoms and nursing interventions related to treatment of oncology
emergencies associated with metabolic and structural abnormalities.
Agenda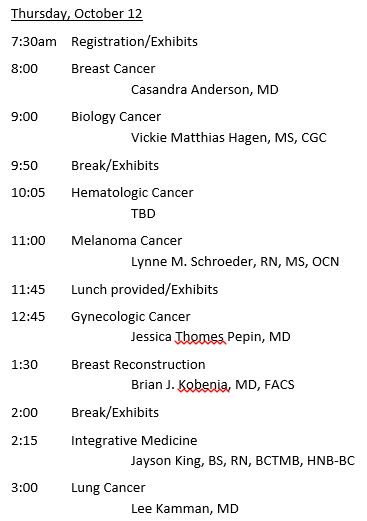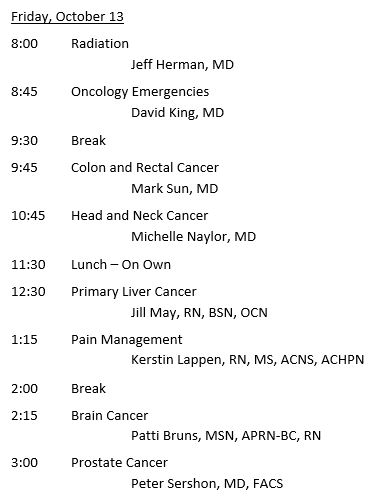 Conference Day Includes
Educational credits, materials, free parking, light continental breakfasst, lunch (day one only) and afternoon snack. Lunch on day two is on your own either in the Global Market or Allina Café. To ensure a comfortable environment, attendance my be capped; early registration is recommended.

Accreditation
Nurse
This activity has been designed to meet the Minnesota Board of Nursing continuing education requirements for 15 hourse of credit. However, the nurse is responsible for determining whether this activity meets the requirements for acceptable continuing education.
Day 1 - 7.5 credits
Day 2 - 7.5 credits
Other
Individuals representing other professional disciplines may submit course materials to their respective professional associations for 12.5 hours of continuing education credit.
Parking
Allina Commons Parking is located in the ramp adjacent to the Midtown Exchange Building on 10th Ave South.
In order to validate your paking, you must bring your ticket with you. We are not able to validate for any other ramps if you mistakingly park somewhere other than the Midtown Exchange Ramp.
Security
Allina Health employees must bring their badge to get through security. All others will receive a temporary security badge for each day that will be collected at the end of each day.