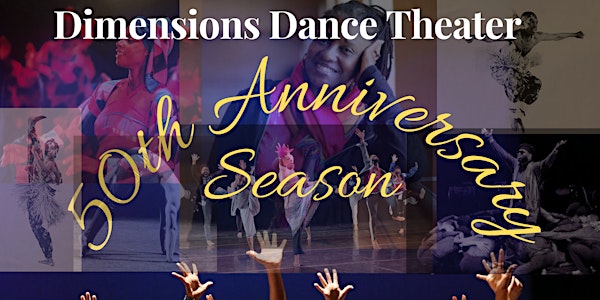 Dimensions Dance Theater's 50th Anniversary Celebration!
Dimensions Dance Theater will celebrate its 50th anniversary with performances of new works!
When and where
Location
Mills College at Northeastern University's Lisser Hall 5000 MacArthur Blvd Oakland, CA 94613
Refund Policy
Contact the organizer to request a refund.
Eventbrite's fee is nonrefundable.
About this event
Dimensions Dance Theater will celebrate its 50th anniversary with performances of new works by company collaborators laura elaine ellis and Nimely Napla in two performances October 22 and 23 at Mills College Lisser Hall in Oakland. One of the country's longest- standing dance companies, DDT at 50 boasts a history of artistic innovation and collaboration, culture keeping and deep community connection that has made it an internationally revered model arts organization for half a century. Performances of ellis' ruminations. [re]visited. and Napla's Dai Zoe Bush — The Breaking of the Poro & Sande Bush will be given Saturday, October 22, at 7:30 pm and Sunday, October 23, at 4 pm and both performances will include a Q&A with the artists and company members. Tickets are priced $15-$50 with discounted four-ticket family package tickets for $100 and legacy tickets for $500-$1000 supporting the future of Dimensions' important work as culture keepers and innovators. Lisser Hall is located on the Mills College at Northeastern University campus at 5000 MacArthur Blvd. in Oakland.
ADDITIONAL EVENTS TBA. STAY TUNED.
About laura elaine ellis and ruminations. [re]visited.
Choreographer laura elaine ellis was commissioned in 2019 by Dimensions Dance Theater and collaborated with its members to create ruminations. [re]visited. During the pandemic, ruminations. [re]visited. became a film project, ruminations., in June of 2021 co-directed by ellis and film-maker Desiree Galvez featuring the members of Dimensions Dance Theater with text by poets Jordon E. Dabney and Atiya Ziyad.
In the spring of 2022, when ellis was SFArtsEd's Artist-in-Residence, with visual artist Tiersa Nureyev, she continued to expand the artistic collaboration with an art and performance exhibition in the MSP Gallery. Nureyev designed the textile-art costumes, worn by members of Dimensions Dance Theater. These dance artists and poets, activated the MSP Atrium in a site-specific version of ruminations. [re] revisited., as a work-in-progress.
Now, laura e. ellis and Dimensions Dance Theater will premiere the proscenium iteration of this collaborative project, in celebration of Dimensions' 50th Anniversary Season.
laura elaine ellis has choreographed and artistically directed numerous projects in the Bay Area including her first large scale project: Pieces of Me (2002) commissioned by ODC Theater, and awarded the Creative Work Fund, presented in collaboration with composer/musician Wayne Wallace and choreographers Robert Moses, Silfredo La O Vigo, Aisha Jenkins, featuring performers Robert Henry Johnson, Clairemonica Dixon, Nora Chipaumire, Valrie Nozipho Sanders, and Marc Bamuthi Joseph. Other notable dance projects created by ellis include; Shadows, Whispers, and Sighs (2003), When Strength is My Weakness (2005), site-specific performance piece Of Flesh & Bone (2017); and performance installation, Soul to Soul: An Artistic Response to Baldwin & Coates (2018). Theater projects choreographed by ellis include The Brothers' Size, Theatre Rhinoceros (2016), and Kill Move Paradise., Shotgun Players (2019).
In 2005, ellis with arts partner Kendra Kimbrough Barnes co-founded and co-presented the Black Choreographers Festival: Here & Now (BCF). She currently curates programming at SF's Dance Mission Theater. BCF is an award-winning festival, recognized by Best of the Bay (2009); Bay Area Spirit Award (2012); Izzies for Sustained Achievement (2020); Commendations by California State Senate and Alameda County Arts Commission for 15 years of preserving African American Art & Culture (2019).
ellis is also an arts educator, with 29 years of service, designing and directing dance and performance programs for the Athenian School and Cal State University, East Bay; serving as an artist mentor for SFArtsEd (1989 – present). She currently performs with Dimensions Dance Theater and Flyaway Productions, and she presently serves as a board member for CounterPulse Theater, Robert Moses' Kin, and Oaktown Jazz Workshops.
About Nimely Napla and Dai Zoe Bush — The Breaking of the Bush
Nimely Napla, former director of the Liberian National Cultural Troupe, has collaborated with Dimensions Dance Theater to create Dai Zoe Bush — The Breaking of the Poro & Sande Bush, based in the ceremonial dance rhythms of the Vai and Gola people from Liberia's remote Grand Cape Mount County.
The work incorporates African American cultural practices with Liberian storytelling. Its performance will bring together internationally recognized Liberian dancers and musicians with dancers from Dimensions' professional company and young participants from Dimensions' Rites of Passage educational program. Dai Zoe Bush represents the ceremonial opening of the Bush schools, which provide young people with support, direction and spiritual connection to ancestors.
The performance incorporates elaborate, sacred, full-body masks that embody divine spirits. Representing these masks is considered a sacred privilege and requires special permission, which Napla has obtained from appropriate elders. Nimely himself is one of only six people living in the United States who are initiated and allowed to make the masks, regalia and dances representing these societies.
The dance and artworks of Liberia convey power, politics, and community ideals and concepts, or artworks that explore spiritual relationships. As a part of normal life in Liberia, cultural dances are a heritage that Liberians follow and cherish dearly. Though dances vary from tribe to tribe and various regions, dance remains a common value to all Liberians.