| | |
| --- | --- |
| DILEMMA- Birthday/Album/Dvd Release Party | |
Event Details
Good Evening, Here at Sigma Sound we are very excited about our upcoming event, Friday, February 18th. Please join us for an evening celebrating the CD/DVD release for Everybody Still Wants a Beat From Dilemma, the sophomore production album from in-house producer Dilemma. Kindly find the press release and event flyer and please do not hesitate to contact us if you need any additional information.
The CD/DVD release party will take place at the Sigma Sound Stage, 212 N. 12th Street on Friday, February 18 from 10pm-2am. The party is in support of Dilemma's sophomore production album effort entitled Everybody Still Wants a Beat From Dilemma. This highly anticipated release is a follow-up to his 2007 release of Everybody Wants a Beat From Dilemma. In addition to being well-attended with appearances by DJ Diamond Kutz, Tone Trump, Illmind and many of the best and brightest in the musical community, the party is also going toward a great cause. A portion of the proceeds from each of the tickets sold will benefit The Relief Foundation, a non-profit organization that helps individuals and families that have suffered loss or hardship based on circumstances beyond their control.
Philadelphia tastemaker, Mike Jackson, will host the event with music by DJ Kaos. Guests will hear tracks off of Everybody Still Wants a Beat From Dilemma with records from Freeway, ICan, Gilbere Forte and AbLiva, Maino, and many more. The evening will also include an exclusive screening of the DVD Reality Dreams. Viewers get to take an exclusive look into the daily routine of Dilemma; in the studio, behind the scenes at performances, his music videos, and an in-depth interview explaining the role music has played in his life. The trailer for the DVD can be viewed here:
Tickets can be purchased for $25 in advance in the lobby of Sigma Sound, 212 N. 12th St. Philadelphia, PA 19107 or online, http://dilemmareleaseparty.eventbrite.com. Based upon availability, tickets will also be sold on the day of the event for $40. All tickets include: entry, CD/DVD, a donation to The Relief Foundation. food and complimentary drinks.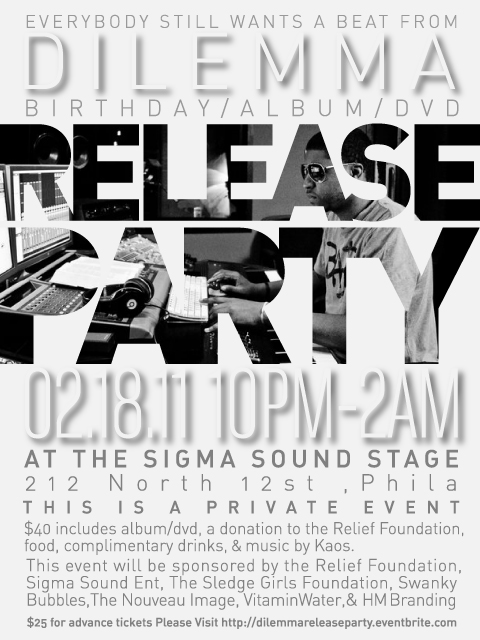 Where

Sigma Sound Stage
212 North 12st
Philadelphia, PA 19107