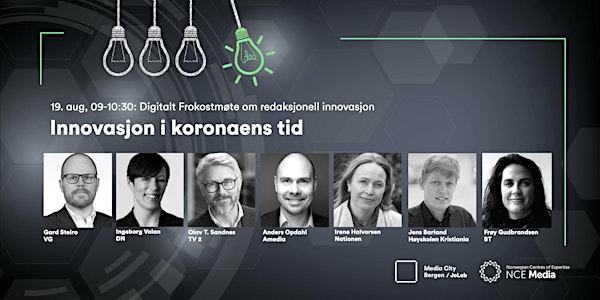 Digitalt frokostmøte om redaksjonell innovasjon
Møt noen av våre mest nyskapende mediehus, som tross koronakrise og global pandemi har tatt nye innovasjonsløft i en særs krevende tid.
About this event
Koronakrisen har vært krevende for mediehusene, men samtidig ser vi at innovasjonskraften i norske redaksjoner knapt har vært større enn nå. Møt noen av dem som har tatt nye løft i en svært krevende tid og som gjennom bruk av teknologi og nye fortellergrep har lansert helt nye tjenester og produkter - midt i krisen.
Innleder:
Jens Barland er førsteamanuensis ved Høyskolen Kristiania, og har en lang fartstid i mediebransjen bak seg. Nå forsker han blant annet på medieinnovasjon, med spesielt fokus på området der journalistikken møter på markedskreftene og ny teknologi. På hvilken måte kan en krise være en katalysator for redaksjonell innovasjon?
Presentasjoner:
Gard Steiro, Sjefredaktør og administrerende direktør, VG: Verdensleder VG har vunnet en rekke priser for grensesprengende journalistikk, med en digital posisjon helt i særstilling. Mediehuset har ved flere anledninger utmerket seg med spesialjournalistikk og formidling knyttet til store hendelser, og går stadig nye veier ved bruk av både ny teknologi og nye fortellergrep. Under koronakrisen har VG igjen satt rekord med en systematisk dekning og egenutviklet koronadata-spesial, i skrivende stund med nær 200 millioner sidevisninger.
Ingeborg Volan, Redaktør for publisering og visuell journalistikk, DN: I Dagens Næringsliv har koronakrisen ført til en sterk satsing på helt nye tjenester, i tillegg til utvikling av journalistikk på realtidsdata for både økonomiske og helsemessige koronakonsekvenser. Krisen har også ført til nye nyhetsbrev-satsinger, etablering av webinar som nytt inntektsområde, nytt livestudio og bruk av live video for å nevne noe. På frokostmøtet møter du Ingeborg Volan, redaktør for publisering og visuell journalistikk, med flere nysatsinger fra mediehuset DN som følge av koronakrisen.
Frøy Gudbrandsen, Sjefredaktør, BT: Dagene før Norge stengte den 12. mars, hadde BT lansert en pod, et nyhetsbrev, to nye live-tjenester om koronaviruset og opprettet en ny avdeling for forklarende journalistikk. For å nevne noe. I praksis ble lesernes tilbud et helt annet, både i form og innhold, i løpet av få dager. Slik gikk det til.
Debatt: Vi runder av frokostmøtet med en liten debatt, ledet av Gry Veiby (NRK), der du møter:
Olav Sandnes er sjefredaktør/ adm. dir. for TV 2 siden 2015. Mediehuset har utmerket seg med sterkt, redaksjonelt innovasjonsfokus og rekordmange spinoffs fra egne rekker gjennom årene.
Gard Steiro er sjefredaktør og administrerende direktør i VG. Han har bak seg fartstid i mediebransjen inkludert som sjefredaktør for Vestlandets største avis, Bergens Tidende. Gard tok over lederstillingen i VG i 2017.
Anders Opdahl er påtroppende konsernsjef for Amedia, og kommer fra rollen som konserndirektør i samme mediekonsern. Tidligere har Anders vært redaktør i Nordlys og regionredaktør i NRK i Nord-Norge.
Irene Halvorsen er sjefredaktør i Nationen, der hun har vært siden 2016. Irene var tidligere samfunnsredaktør i Dagsavisen, og har også tidligere studert Flermedial ledelse samt Nyskaping og kommersialisering ved BI.
Lenke til pålogging for frokostmøtet vil bli sendt alle deltakere i forkant.
Arrangør: Media City Bergen Journalism Lab (MCB JoLab), NCE Media.
---------------------------------
Please note that this breakfast meeting will be given in Norwegian.
This breakfast meeting will discuss innovation in the newsroom, and showcase some of the new services and products launched by key Norwegian publishers during the Covid 19 crisis.