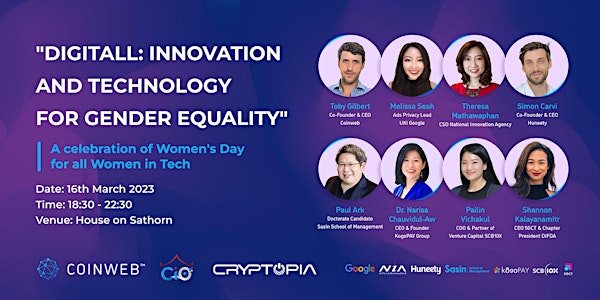 digitALL: Innovation And Technology For Gender Equality
Let's celebrate the women in tech and their achievements, and inspire more women to embrace the industry, together towards gender equality.
Date and time
Thursday, March 16 · 6:30 - 10:30pm +07
Location
The Conservatory, The House on Sathorn 106 North Sathon Road Khet Bang Rak, Krung Thep Maha Nakhon 10500 Thailand
About this event
Announcement: Due to the payment problem in PAYPAL platform, you can only pay using VISA debit/credit card. If you don't have VISA card, you can transfer the ticket fee to our company bank account as below:
Account Name: Coinweb Co. Ltd.
Account Number: 133-844-6388
Swift Code: KASITHBKXXX
Kasikorn Bank
After completing the transaction, send the proof to email:wing@coinweb.io for RSVP and confirmation. We will send you the ticket with QR code you need to show before entering the venue.
Alternatively, cash payment at door is also accepted but will be priced at THB1,000 instead
Apologies for any inconvenience caused and we hope this will not bump off your spirit in joining us!
Women in tech movements have been around for decades, fostering diversity, equity and inclusion within the male-dominated industry. While intentions and initiatives are clear, there are still issues such as lack of mentorships and female role models, unequal funding allocation and gender bias in the workplace that remain challenging to resolve. To elevate women in tech, women advocating for women is simply not enough, all genders' involvement is crucial in ensuring comprehensive, thoughtful and fruitful long-term outcomes.
To commemorate women's 300 years of technology HERstory, growth and achievements, we would like to invite you to an evening of celebration and inspiration, along with panel sessions set to address various topics on "DEI". Together we embrace technology, we embrace equity - "digitALL: Innovation & Technology for Gender Equality"
Ticket includes entrance, free flow of drinks and food. We will also be having a lucky draw where the winner could walk away with USD100 worth of $CWEB!
Panellists Introduction
Toby Gilbert, CEO & Co-Founder Coinweb
Toby built telecommunications networks across 3 continents for a decade before co-founding Coinweb, a layer 2 cross-chain computation platform, with low entry barriers for enterprises to onboard blockchain technology.
Melissa Seah, Ads Privacy Lead, UKI Google
Being part of giant tech firms such as Microsoft, Yahoo and Google for the past 15 years, Melissa believes in diversity, equity and inclusion as crucial elements for the better transformation of workplaces and society.
Simon Carvi, CEO & Co-founder Huneety
As the co-founder and CEO of Huneety, Simon has over 10+ Years of experience in the field of Talent Acquisition and Talent Retention. Through Huneety, he ensures employers quick access to new talent pools of pre-qualified applicants based on skills and behaviours.
Theresa Mathwaphan, CSO National Innovation Agency
Theresa has accumulated 25 years of IT, startup and innovation experience, promoting digital transformation both in the private and public sectors. She is also the Chapter President for Women & Youth under TCIOA.
Shannon Kalayanamitr, CEO 5G Catalysts & Chapter President DIFDA
Shannon is a veteran tech entrepreneur and VC with a mission to utilize tech to drive equality, impact and transformation. She is currently the CEO of 5GCT, an urban data platform, aggregating health care big data for cities and businesses.
Paul Ark, Doctorate Candidate Sasin University of Management
An angel investor and advocate for diversity, Paul is currently focusing on closing gender gaps in funding amongst South East Asia's startup ecosystems.
Dr. Narisa Chauvidul-Aw, CEO & Founder KogoPay Group
Winner of Women in Tech Startup 2019, Dr. Narisa is a qualified auditor who founded KogoPay, and chairing the CEO position of this socially conscious fintech company.
Pailin Vichakul, COO & Partner of Venture Capital SCB10X
Prior to joining SCB 10X, Pailin was an Assistant Vice President at the Siam Commercial Bank in the Payment and Disruptive Technology Strategy Division and has worked across various strategic projects with a focus on financial technology and innovation.
Itinerary:
18:30 : Door Opens
18:50 - 19:00 : Opening Speech
19:00 - 19:30 : Panel of Discussion "Workplace gender bias - Equal opportunities, unequal compensations?"
19:30 - 20:00 : Networking
20:00 - 20:30 : Panel of Discussion "Is diversity the key to closing funding gaps?"
20:30 - 22:30 : Networking