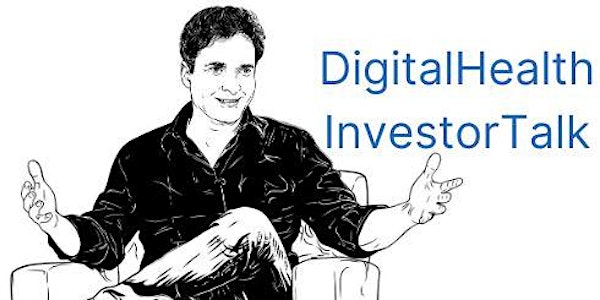 DigitalHealth InvestorTalk: Get Validated Fast!
Strategies that later-stage investors reward in today's macro environment.
About this event
In the call, we'll discuss:
How the evolving macro environment is affecting later-stage investors, consolidators, and partners
What stakeholders are rewarding in young companies is changing
What new strategies to adopt and what old ones to throw away.
And we'll answer your questions
John Sullivan is a Venture Partner at Two Bear Capital. He is the former head of strategy and equity research at SVB Leerink. In this role, John meets with many emerging digital health and life sciences companies to help them develop strategies that satisfies stakeholders.
Steven Wardell is the Managing Partner of Wardell Advisors, a consulting firm focused on growth, fundraising, and strategic alternatives for digital health companies. Follow him at Twitter.com/StevenWardell.
Upcoming Events:
Wed., Feb. 1, at 4:00 - 5:00p Eastern - DigitalHealth InvestorTalk webinar with John Sullivan, former head of strategy at SVB Leerink - Get Validated Fast! Strategies that later-stage investors reward in today's macro environment. https://www.eventbrite.com/e/digitalhealth-investortalk-get-validated-fast-registration-509754598727
Tue., Feb. 7, at 2:00 - 3:00p Eastern - DigitalHealth InvestorTalk webinar with Lisa Suennen, the Venture Valkyrie - Down Rounds for everyone! Surviving the new valuation environment. https://www.eventbrite.com/e/digitalhealth-investortalk-down-rounds-for-everyone-registration-509763726027
Wed., Feb. 8, at 5:30 - 8:30p Eastern - DigitalHealth Drinks Night in Boston on "Artificial intelligence will do 80% of what doctors do" - https://www.eventbrite.com/e/digital-health-networking-night-in-boston-registration-518824326527
Wed., Feb.15, at 4:00 - 5:00p Eastern - DigitalHealth InvestorTalk webinar with Evan Richardson, CEO of Form Health - What's next for Innovators? Challenges for CEOs in the new environment. https://www.eventbrite.com/e/digitalhealth-investortalk-whats-next-registration-509765822297
Wed., Mar. 8, at 4:00p - 5:00p Eastern - DigitalHealth InvestorTalk webinar with Harry Travis, former SVP of CVS Caremark - Who wins the digital pharmacy? https://www.eventbrite.com/e/digitalhealth-investortalk-who-wins-the-digital-pharmacy-registration-519008236607
Wed. Mar. 15 at 4:00p - 5:00p Eastern - DigitalHealth InvestorTalk webinar with Matthew Holt, President of SMACK.health - Who are the consolidators? https://www.eventbrite.com/e/digitalhealth-investortalk-who-are-the-consolidators-registration-519989411327
Thur. Mar. 16 at 4:00p - 5:00p Eastern - Digital Health Drinks Night in Boston on "The Empowered Patient Will See You Now" https://www.eventbrite.com/e/digital-health-networking-night-in-boston-registration-523632227087
Mon. Mar. 27 at 4:00p - 5:00p Eastern - DigitalHealth InvestorTalk webinar with Grady Hannah, CEO of Nightware - Getting DTx Reimbursement to Work https://www.eventbrite.com/e/digitalhealth-investortalk-getting-dtx-reimbursement-to-work-registration-525184289347
To get notifications of future investor calls and access to recordings of select investor calls, sign up at: https://mailchi.mp/de3efbca51f2/digitalhealth_investortalk_signup
To suggest future topics and speakers, visit our survey at: https://docs.google.com/forms/d/e/1FAIpQLSdIdhHlSIY2ed5YjJUjTdbElhPowvBnQvORUl607FUSoCc4Xg/viewform?usp=sf_link