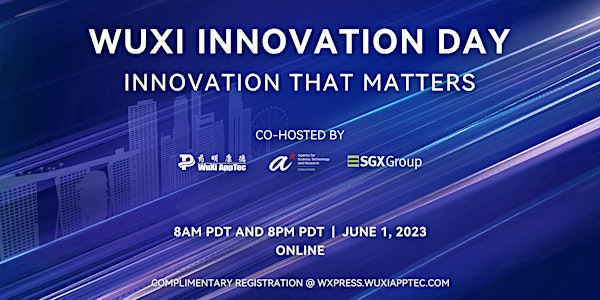 Digital WuXi Innovation Day: Innovation That Matters
Digital WuXi Innovation Day
Date and time
Starts on Thursday, June 1 · 8am PDT
About this event
Dear Colleagues, Partners, and Friends,
We are delighted to share with you that on May 18 WuXi AppTec cohosted the successful inaugural WuXi Innovation Day in Singapore that spotlights the region's strengths and opportunities in advancing innovation that matters to patients and the future of health. We appreciate this collaborative partnership with Agency for Science, Technology, and Research (A*STAR) and SGX Group.
At this dynamic thought-leadership summit, esteemed local and international speakers shared Singapore's opportunities in innovation and how Singapore can make important contributions to global health solutions. We are more inspired than ever to collaborate with leaders around the world to drive transformative solutions that address global health challenges.
For colleagues unable to attend in person, a digital and complimentary recording of this innovation summit will be available on June 1 and will air twice at 8 AM PDT and 8 PM PDT.
Please register NOW to watch the premiere, or access the on-demand link.
Agenda
The time below is AM, Pacific Daylight Time
8:00 Welcome
Hui Cai, Program Chair, Vice President, WuXi AppTec
8:05 Opening Keynote Addresses
Frederick Chew, CEO, Agency for Science, Technology and Research (A*STAR)
Pol de Win, Senior Managing Director & Head of Global Sales and Origination, SGX Group
Edward Hu, Vice Chairman, WuXi AppTec
8:20 Global Challenges. Global Solutions.
Fidah Alsagoff, Joint Head of Enterprise Development Group (Singapore) & Head of Life Sciences, Temasek International
Sharon Chan, Head, JLABS Asia Pacific, Johnson & Johnson Innovation
Benjamin Seet, Deputy Group CEO (Education & Research), National Healthcare Group
Hwee Loo Tan, Managing Director, GIC Private Equity
Sze Wee Tan, Assistant Chief Executive, Innovation & Enterprise, A*STAR
Session Leader: Edward Hu, Vice Chairman, WuXi AppTec
9:05 System. Scale. Speed.
George Vradenburg, Founding Chairman, Davos Alzheimer's Collaborative
9:15 Breakthroughs for the Next Decade: Where are We Headed?
Andrea Maier, Oon Chiew Seng Professor in Medicine and Healthy Ageing, Co-Director at Centre for Healthy Longevity at the National University of Singapore
Ashok Venkitaraman, Director of the Cancer Science Institute of Singapore, Distinguished Professor of Medicine at the National University of Singapore
Joseph Wu, Director, Stanford Cardiovascular Institute; President-Elect, American Heart Association
Session Leader: Yann Chong Tan, Founder & CEO, Nuevocor
09:50 Closing Keynote Address: Building a Future of Health and Healthcare
Wei Yang Cheong, Deputy Secretary (Technology), Ministry of Health, Singapore
10:05 Closing
We look forward to you tuning in on June 1!
About the organizer
As a global company with operations across Asia, Europe, and North America, WuXi AppTec provides a broad portfolio of R&D and manufacturing services that enable the global pharmaceutical and healthcare industry to advance discoveries and deliver groundbreaking treatments to patients. Through its unique business models, WuXi AppTec's integrated, end-to-end services include chemistry drug CRDMO (Contract Research, Development and Manufacturing Organization), biology discovery, preclinical testing and clinical research services, cell and gene therapies CTDMO (Contract Testing, Development and Manufacturing Organization), helping customers improve the productivity of advancing healthcare products through cost-effective and efficient solutions. WuXi AppTec received an AA ESG rating from MSCI in 2022 and its open-access platform is enabling more than 6,000 customers from over 30 countries to improve the health of those in need – and to realize the vision that "every drug can be made and every disease can be treated." Please visit: http://www.wuxiapptec.com