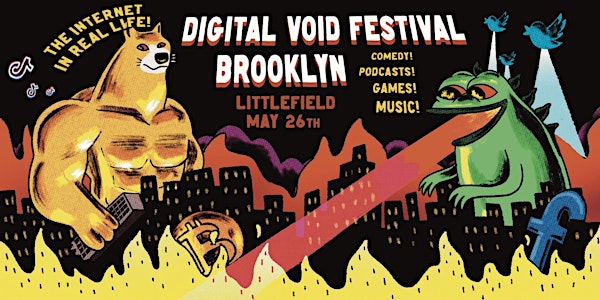 Digital Void Festival: Brooklyn
Location
littlefield
635 Sackett Street
Brooklyn, NY 11217
An interactive festival featuring podcast tapings, panels, fireside chats, music, and comedy.
About this event
Digital Void Festival: Brooklyn brings the internet to life in an interactive festival featuring podcast tapings, comedy, games, talks, and music!
We're bringing together academics, creators, comedians, creatives, researchers, and writers to explore the ways the internet influences culture, media, and technology -- and how we influence it.
Join us as we explore the blockchain, conspiracy movements, digital identity, digital public space, polarization, memes, the metaverse, social media, streaming and technology, with an all-star lineup!
It's our chance to celebrate - and interrogate - the internet in real life. Don't miss a lineup including…
There Are No Girls on The Internet: Bridget Todd (Director of Communications, Ultraviolet) will host a live taping of her award-winning podcast There Are No Girls on the Internet! featuring writer Ashley Reese!
Scam Economy Live!: Host Matt Binder (The Majority Report w/ Sam Seder, DOOMED) dives into the world of cryptocurrency in order to reveal the frauds, grifts, and scams featuring Southern Poverty Law Center Senior Reporter and Spokesperson Michael Hayden!
Dylan Adler is a comedian, actor, writer, and musician based in NYC. He's written and performed for Comedy Central and has opened for comics Chris Gethard, Joe Pera, and Atsuko Okatsuka. He performed musical comedy at "Comics to Watch" at the New York Comedy Festival, Asian Comedy Festival, and was featured in the New York Times and Vulture.
Joi Rae is the Head of Operations and Partnerships at New_ Public, a project building more flourishing, healthy, and equitable digital spaces.
Kalhan Rosenblatt is NBC News Digital's youth and internet culture reporter, covering all things memes, teens and social media. She specializes in covering TikTok, including both the trends that have emerged from the platform and the ways in which those trends influence the behavior of young people. When she's not working, she spends way too much of her time — you guessed it — scrolling TikTok.
Steven Castillo is one of the most original performers in New York City. He formerly wrote for Saturday Night Live and was recently named one of JFL's top comics to watch.
Jake Flores' material has gotten him raided by the government, retweeted by everyone from Tom Morello to Bette Midler, and published in The New York Times. His stuff has been quoted on CNN by Wolf Blitzer and taught at Yale.
Offbeat's Emily Berk explores the world of Augmented Reality storytelling with live, interactive demonstrations!
Ryan Broderick is a journalist, video producer, podcaster, and community moderator. He's the writer of the Garbage Day newsletter and the host of The Content Mines Podcast.
Dr. Jamie Cohen is a digital culture expert and a writer, speaker, educator, and producer. He founded a college degree in internet studies, wrote a textbook on the subject and is the co-author of the first peer reviewed paper on Pepe the Frog.