Jak využít příležitosti a vyhnout se nástrahám digitální transformace firmy?
About this event
Tempo digitální transformace firem se za poslední rok mnohonásobně zrychlilo, a to nejen ve světě, ale i v regionu CEE a u nás.  Ten, kdo o změně dříve přemýšlel, se do ní konečně pustil a ten, kdo si její nutnost nepřipouštěl, nyní sleduje nejnovější trendy a na transformaci se připravuje.
Přesuňte se 13. května 2021 s námi na Havaj (virtuální 3D prostředí) a inspirujte se leadery českých i zahraničních firem, kteří jsou připraveni sdílet své zkušenosti a diskutovat o příležitostech i nástrahách digitálního světa.
Digital Transformation Summit je určen:
Všem, kteří vidí, že digitalizace mění svět, mají oči otevřené a zajímají se o nové trendy.
Všem, kteří chtějí zvýšit výkonnost v jejich firmách.
Všem, kteří se chtějí podívat na Havaj, aniž by se museli pohnout z místa :).
Zejména pro: majitele a manažery firem z oblastí strategie, marketingu, obchodu, CRM & IT.
Sestavte si program podle Vašich přání. Vybírat můžete ze dvou paralelních stagí - na jedné zazní příběhy v češtině a na druhé v angličtině.
Těšit se můžete na:
8 zajímavých příběhů digitální transformace v úspěšných firmách
osobní konzultace s odborníky pod palmami (na stáncích)
3D virtuální networking s účastníky konference

Své příběhy představí firmy jako DPD, ČMSS, Zonky, Price fx, Equa bank, Moneta Money Bank, Getinge nebo Salesforce.
Akci otevře keynote speaker – Petra Jenner, General Manager & Senior Vice President Switzerland and Eastern Europe.
Nenechte si ujít nezapomenutelnou událost roku 2021! Těšíme se na Vás :).
Více informací i možnost se registrovat zdarma najdete na https://www.enehano.cz/digital-transformation-summit.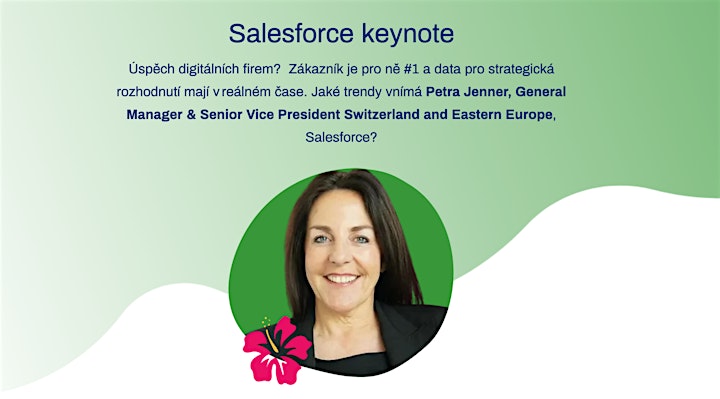 Příběhy digitální transformace
ČESKÁ STAGE
14.30 Salesforce Keynote "Success from anywhere in our new digital world"
15:00 První implementace Marketing Cloudu v bankovním prostředí - Equa bank
Equa bank byla jako první bankovní instituce na českém trhu, která přenesla marketingové kampaně do Cloudu. Jak dosáhnout zkrácení time-to-market pro nové kampaně, drag-and-drop tvorby zákaznických cest s vyšší mírou personalizace celé komunikace a ušetřit na nákladech při upgrade na vyšší verzi? Podařilo se dynamické synchronizování části on-premise marketingového datamartu do Marketing Cloud bez nutnosti zásahu IT? Jaké výzvy při projektu nastaly a jak dlouho celá implementace trvala?
Ondřej Ševeček, Head of CRM, Equa bank
Jakub Lysáček, Marketing Automation Lead, Enehano Solutions
15:35 Jak na úspěšnou digitální transformaci a nasazení Salesforce velké společnosti jakou je ČMSS/ČSOB stavební spořitelna?
V rozhovoru se dozvíte: ✓ Jak a proč digitalizovat procesy v oblasti obchodu a klientského centra ✓ Zjednodušení systému IT a přechod na cloudovou platformu Salesforce ✓ Výzvy a přínosy celé implementace pro 100+ po 2 měsících ostrého provozu.
Pavel Kottink, Ředitel IT, ČMSS
Jiří Mach, CEO, Enehano Solutions
16:20 Digitální transformace obchodu a zákaznického servisu u B2B zákazníků - DPD
Zjistěte jak v data-driven společnosti digitalizací podpořit obchodní cyklus pro malé zákazníky i největší e-shopy v ČR? Jak zefektivnit práci pro více než 200 obchodních zástupců nebo jak budget i termín dodávky projektu ovlivnila akvizice společnosti Geis?
Vladimír Puschner, IT ředitel, DPD
Jiří Mach, CEO, Enehano Solutions
17:00 Implementace Lead Managementu a napojení Marketing Cloud
Dovězte se jak složité bylo implementovat lead management pro onboarding proces zákazníka, jak lze využít Marketing cloud nejen pro lead management a zhlédněte ukázku onboardingu procesu zákazníka do P2P platformy nebo přínos multi-cloudového řešení.
Filip Paseka, CRM Lead, Zonky
Petr Kampů, Senior Business Analytik, Enehano Solutions
17:30 Networking – vyhrajte o pěkné ceny v kahoot kvízu, užijte si ohňostroj i společný seskok padákem.
ZAHRANIČNÍ STAGE
14.30 Salesforce Keynote "Success from anywhere in our new digital world"
15:00 Growing from start-up to mid-company with Salesforce CRM - Price fx
We will describe Salesforce Sales Cloud as the new CRM and its advantages and disadvantages. You will get inspired by the DEMO of the process of tracking and coordinating our customer references that we provide to potential new clients, partners or other external entities. Last but not least we will demonstrate the process of tracking and assigning internal resources - experts to the sales cycle, who help salespeople.‍
Emel Idriz, Senior Manager Sales Operations, Price fx
Tadeáš Kinkor, Internal Systems Manager, Price fx
Tomáš Vrzák, Certified Business Consultant, Enehano Solutions
15:35 How does Moneta utilize Salesforce in B2B?
What are the best practices of using Salesforce Sales Cloud? Find out more about how Moneta Money Bank benefits from Security – Salesforce shield experience, Lightning transition and de-customisation story, Tableau CRM, or myTrailead they use for onboarding.
Petr Šrámek, Salesforce efficiency manager (SFE) in Commercial banking department, Moneta Money Bank
Petr Mudroch, Senior Business Architect. Enehano Solutions
16:20 Digital transformation as a key success factor for a global medical technology company - Getinge
Interview highlights: ✓ Dynamics of medical technology market driven not only by Covi-19 ✓ Globalization of manufacturing and sales processes ✓ Digital transformation as a precondition for future growth
Peyu Petrov, CRM Director, Getinge
Jakub Šimuni, Senior Project Manager, Enehano Solutions
17:00 How to Optimize Field Service Operations
Field Service is truly an extension of a company's business processes. Not only mobile workers are the brand ambassadors for the company and are the ones providing a wide range of services, but they also have the opportunity to cross sell and upsell to monetize each touchpoint.
Some of the questions we will discuss: ✓ How can we optimize the available resources for the work with the necessary skills and tools? ✓ How can we improve customer engagement and visibility and reduce operations costs? ✓ What opportunities are there to provide remote service?
Paulo Jorge Fernandes, Regional Service Cloud Lead Salesforce
Jaroslav Havrda Sales Director, Enehano Solutions
17:30 Networking – join the Kahoot quiz and win awesome prizes. Enjoy fireworks or jump with us from the balloon.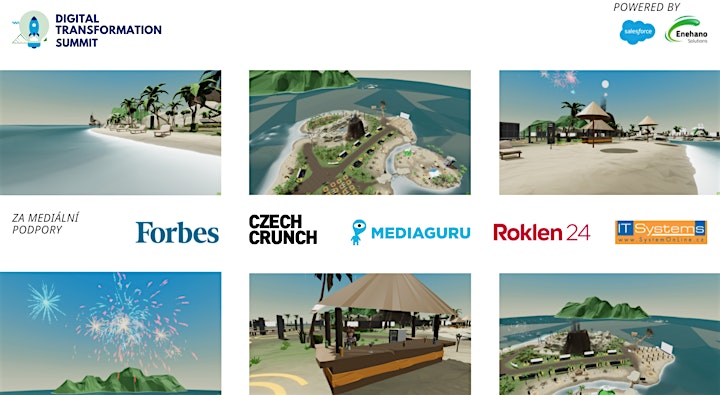 Organizer of Digital Transformation Summit
Enehano Solutions combines business and IT, consulting companies in marketing, CRM, and digital transformation services.

Our unique proprietary methodology and tools allow us to seamlessly integrate Salesforce into your marketing, sales and CX models in just 10 weeks, saving you both time and a whole lot of money. As a certified Salesforce Gold Partner, our team is ready to help you scale the global market.

www.enehano.com