Digital Thailand: Accelerating Your Technology Business in Thailand
Description
Looking to reach consumer, talent and resources beyond the domestic market of the US?
Thailand could be the right strategic move as you scale your business - it's the second largest economy in Southeast Asia with one of the region's highest number of internet users and a booming startup ecosystem, making it an attractive market for tech expansion. Thailand has the largest automotive industry in SE Asia and is one of the world's largest manufacturers of hard disk drives with a robust manufacturing supply chain now open to innovative business opportunities. With the progressive incentives and forward-thinking government policies, the Land of Smiles is embracing a future of innovation.
Come meet Thailand's Board of Investment this July in San Francisco, to learn more about how Thailand has prioritized supporting tech businesses with expansion efforts into this country. With a strong focus on digital transformation and technology, Thailand 4.0 aims to broaden its outreach and has initiated many new policies to support these overseas investment opportunities. #Expand2Thailand
Address: SAP.iO - 334 Brannan Street, San Francisco, CA 94107
*** Food and Drinks will be provided ***
SPEAKERS & HOSTS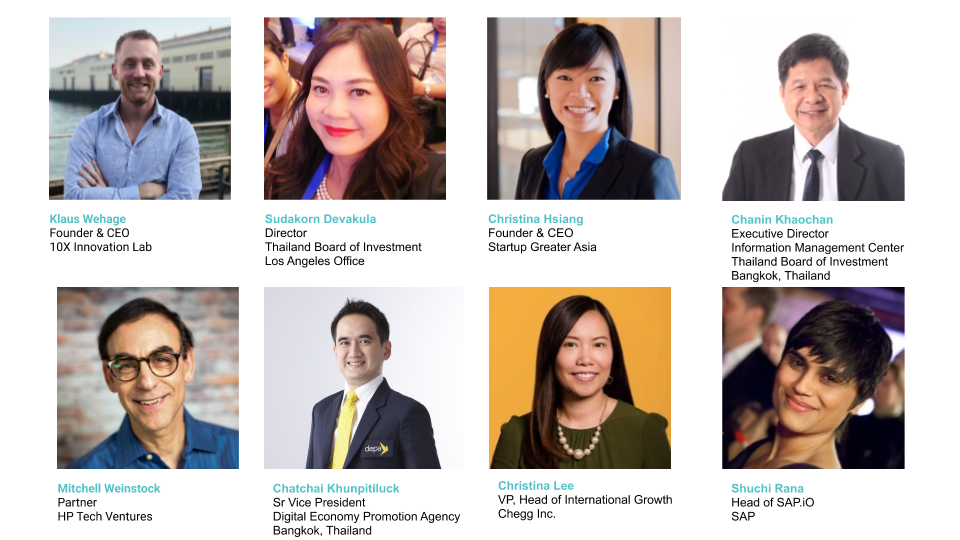 AGENDA
5:30-6:00 PM - Registration & Networking
6:00-6:15 PM - Welcome Remarks by Mr. Klaus Wehage, CEO of 10X Innovation Lab and Sudakorn Devakula, Director of Thailand Board of Investment Los Angeles Office
6:15-7:00 PM - Panel Discussion: Asia Expansion: How Local Resources Enable Exponential Growth
Mitchell Weinstock, Partner at HP Tech Ventures

Christina Lee, Vice President of International Growth at Chegg Inc.

Shuchi Rana, Director of SAP.io Foundry

Chatchai Khunpitiluck, Sr Vice President, Digital Economy Promotion Agency

Christina Hsiang, CEO of Startups Greater Asia (Moderator)
7:00-7:20 PM - Keynote: "Think Asia, Invest Thailand" by Mr. Chanin Khaochan, Executive Director, Information Management Center, Thailand Board of Investment
7:20-8:00 PM - Conclusion and Networking with Food and Drinks!
PARTNERS