Digital Telepathy: When Every Thing Connects
When and where
Location
Omni Downtown Lone Star 700 San Jacinto Austin, TX 78701
Description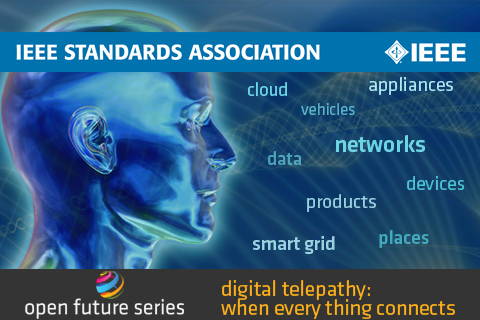 Response to this event has been terrific and it seems we've reached capacity in Event Brite. However, SXSW will allow access to registered SXSW attendees on a first-come, first-serve basis to this Session. Getting in a bit early is a good idea.
Click here to add this to your Official SXSW schedule
This event is part of the IEEE & W3C Open Future Series at SXSW and is open to all Registered Badge Holders.
Once upon a time, our phone, the fridge and TV were distinct devices, manufactured in distinctly different environments. Not anymore. Today, our devices share technologies in an unprecedented manner. We can use our phone to watch on-demand programming.
When the power goes out, we may get a text notification from our fridge. If you're higher tech, the grocery list can transfer easily through your wireless network from your Smart Fridge to any device. Convergence and interconnection are the new name of the game, and along with apps and wireless networking, several revolutionary interconnection technologies will soon change every detail of our lives - forever.
This is the Internet of Things - a future where people and objects communicate in unprecedented ways. In this panel we'll explore the dynamics of interconnection and convergence and address the need for a more interdisciplinary approach to design, engineering, development, communication and privacy.
Questions Answered
In real terms, what is the "Internet of Things" and is it just a buzzword?

What are the big social changes we might predict as millions of users effectively imprint the Internet onto our physical environments?

We can all see that more of our devices, tools and toys are becoming connected in ways we never imagined even 5 years ago. What benefits can connectivity and convergence bring to society and culture? How can these benefits support developing countries and building a more sustainable world?

As we move towards a world of very realistic interaction with physically remote experiences, what are the implications on our personal relationships, geography, careers, privacy and personal identity?

Even with all this convergence and connection, there are moments where I want to be by myself, or just share with a couple of people. If I don't want others to know what I am doing and where I am, how can I ensure the privacy and proper partitioning of my information? Will sharing be "the norm" or my choice?
Presented by:
Joe Weinman

,

Sr VP

,

Telx




Oleg Logvinov

,

Dir Market Dev Industrial & Power Conversion Division,

STMicroelectronics

Wael Diab

,

Sr Technical Dir

,

Broadcom

Karen Bartleson,

Sr. Director, Community Marketing, Synopsys and IEEE-SA President
Hashtags:

#sxsw #DigTel