Digital Tech and Future Media - Driver of Growth for Tourism Companies
Description
Tourism orientated companies are facing a new reality, one in which it is necessary to become adopters of the latest technological advances in the interest of business. New technologies and communication channels provide business opportunities, regeneration and freshness to the industry as well as new ways to communicate with the customer, create new experiences, but also tackle some of the challenges, such as seasonality.
At this event you will:
learn about the latest digital trends in the tourism industry

hear about the latest development in immersive technology and future of the media

appreciate the use of creative technologies in tourism to create new experiences and revenue streams, such as digital storytelling and Virtual/Augmented Reality (AR/VR)

learn how to engage with some of the new technologies

get immersed in the first-hand accounts of companies who have had successes with digital technology, enabling them to expand their reach, scale and grow internationally

network and connect.
Speakers and topics will include:
9:30-9:45 Registrations
9:45 - 10:00 Welcome & CAST Projects Introduction, by Helena Deane, WestBIC
10:00-10:25 John Carty, GMIT - Digital Trends in the Tourism Industry
10:25-10:50 Geoff Allen, Mersus Technologies - Future Media & Digital Tools
10:50-11:20 Francois Colussi, Pure Magic - Passion, Vision, Creativity & Technology
11:20-11:35 Coffee Break
11:35 - 12:05 Aaaron, Jay, Emagine - Case Study on VR/AR in Tourism 'The King of Vikings'.
12:05-12:35 Fergal Nealon, StoryTracks - Embracing the Power of Digital Storytelling
12:35-12:50 Panel Q&A
12:50-13:00 Closing Remarks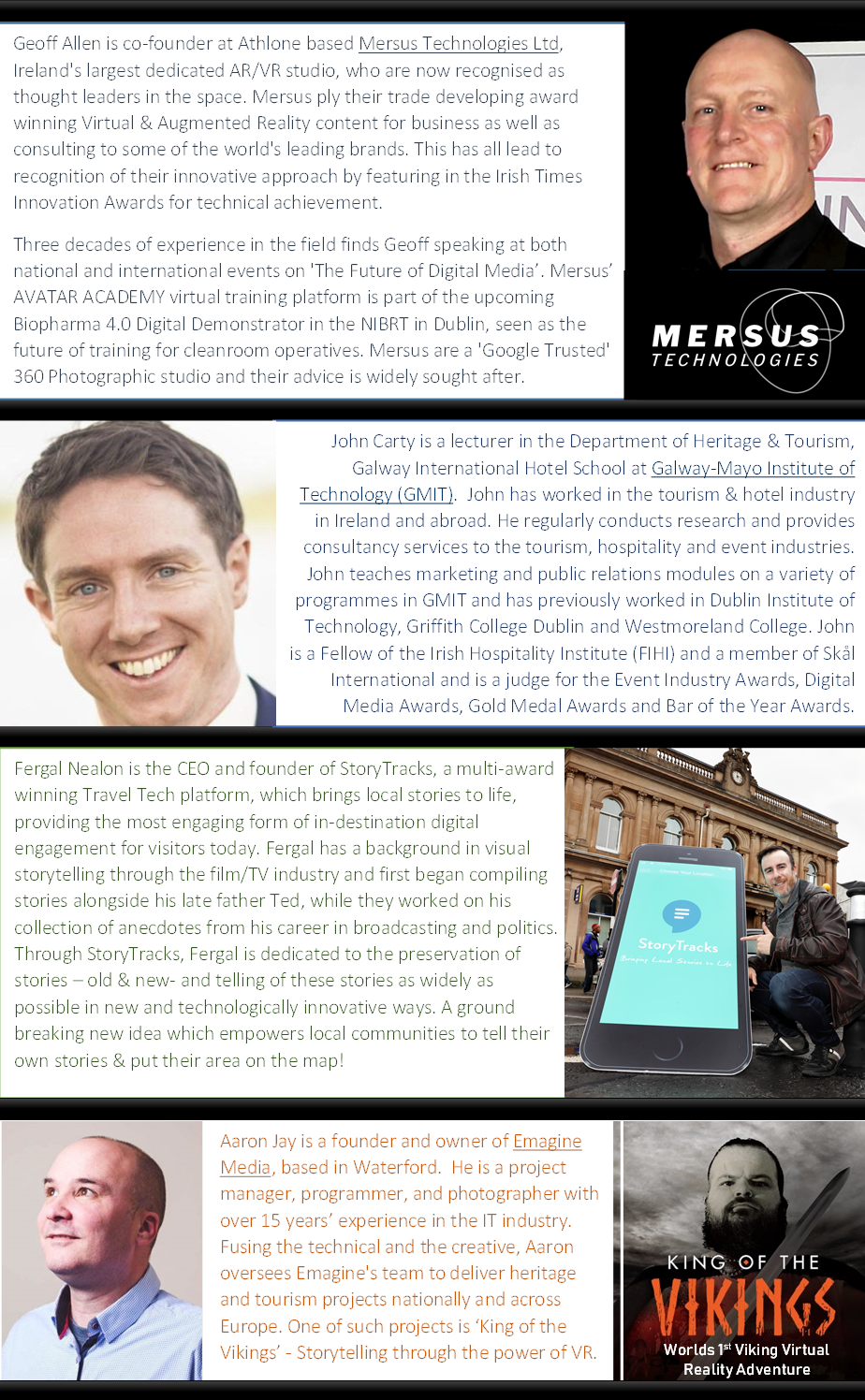 The event is taking place as a part of the Mayo Ideas Week.
Final and detailed schedule of the event will be published in the advance of the event.
Places are limited.