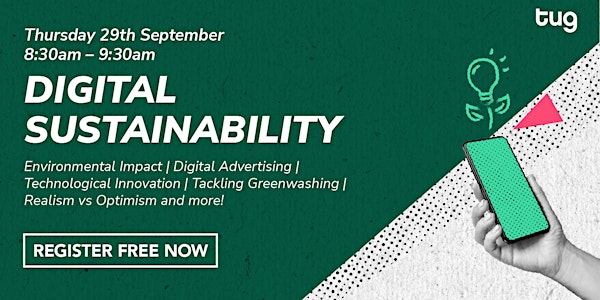 Digital Sustainability: realism drives more progress than optimism
What can your company realistically do to help tackle climate change and make genuine steps towards being more digitally sustainable?
When and where
Location
Tug Agency 1 Leonard Circus #3rd Floor London EC2A 4DQ United Kingdom
About this event
Join us in person for breakfast and networking 8.30am - 9.30am at the Tug Shoreditch office.
Brands are tackling greenwashing accusations, and even lawsuits in some cases, but what actions can they realistically take to make a tangible difference?
Brands can't stick a green label on advertising operations and call it a day, especially when a typical digital campaign emits over two-fifths of a UK consumer's average annual carbon footprint. With this in mind, Tug's upcoming event will explore the technological innovations and industry collaborations that can both accelerate and measure progress towards genuine digital sustainability.
Performance driven, global digital marketing agency, Tug will be joined by Panellists'
Rebecca Lovelady, Senior Sustainability and Social Innovation Manager at Danone
Anne Coghlan, Co-founder and Head of Product at Scope 3
Rosalind Holley, Director of Communication & Marketing at B Labs
Hannah Thompson, Group Media Director at Tug
Victoria Usher, CEO at GingerMay (host)
Register for free (breakfast included!) to hear what our panellists have to say.