Description
#coding #code #digital #apps #digitalstrategy #digitaltraining #web #webdesign #webapps #graphicdesign #eCommerce #learningcode #IoT #realtimeweb #training #course
Want to survive and thrive in the digital age? Join us for a series of four intensive in June hosted by internationally renowned innovator and digital educator Professor Tom Barker. This course is a deep dive and offers highly professional, cutting edge content from a worldclass professional in the digital sector. Competition in the digital sector is tough and simply taking a coding class will let you make a basic website but little more. There are many jobs out there but companies would rather keep vacancies open than hire people who don't fit. This course will help you stand out by developing your thought leadership, deep knowledge, design thinking and digital strategies. All of this is on top of hands on technical guidance needed to create amazing Web and Mobile Apps.
View the detailed course content here
Learn how to enhance or create successful enterprises with the help of amazing mobile Web Apps. It is an intense introduction for enterprises and students alike, not just computer wizards. The course provides insights into the nature and anatomy of a successful Web App, and how to achieve success in a crowded market. The course explains how to build an audience and grow a business through digital transformation. Simply writing great code won't be enough to ensure a blockbuster reception. A course like this would not have been possible a few years ago but the tools for Web App development are now accessible and far easier to use, even as they have become incredibly powerful.
80% discount & free to Gilda's Club Greater Toronto members
Normally offered to corporations at many times the price, this course is being discounted by 80% at only $50+tax per class for general participants. Teenagers (must be 15 or older) and participants over 60 years old pay only $25+tax per class. As part of Six Trends' special collaboration with Gilda's, the course is free to Gilda's Club Greater Toronto Members. Participants register to take up classes from 6pm-8pm (2 hours in duration) Wednesdays on June 6th, 13th, 20th and 27th. We recommend taking all 4 classes. All participants receive a certificate only on completion of all four of the classes.
All participants will also be entitled to a 25% discount off retail price of Professor Tom Barker's highly recommended forthcoming book: "Build Web Apps".
Is this course for you?
Do you want to unravel the mysteries of the Web, the Cloud, AI, chatbots and code? You might be a manager who feels hopelessly out of touch with new technology that you are being asked to make important decisions about. Or you may want to learn how to make Web Apps for your club, a school, or your friends and family.
Perhaps you are a graphic designer or animator wondering how to get started with digital Web Apps? Or a film maker who sees potential in mobile multimedia? Maybe you are a User Experience designer struggling to communicate with coders, or a game designer who wants to break free from the game platforms that everybody else uses. Maybe you studied design or you are in marketing and just realized just how important some web and mobile digital skills are to your career.
All ages from 15+ welcome, no prior knowledge of coding is necessary, although coders are also welcome. All attendees will need to bring a laptop: Mac or Windows. All participants will have built their own Web App prototype by the end of the course – not just a mock up but working code running on the Cloud.
About Professor Tom Barker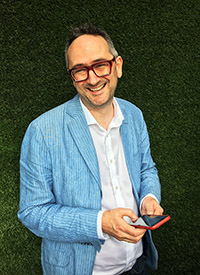 Digital expert, entrepreneur and innovator, President and Chief Technology Officer of Six Trends Inc. Tom is the author of "Build Web Apps: the Full Stack Guide to Creating Amazing Web and Mobile Applications – digital strategies, design and tech skills to create outstanding cross-platform solutions for your enterprise and beat the competition" published by McGrawHill and available in Summer/Fall 2018.
Tom is a digital thought leader with a degree in electronics and graduate degrees in industrial design and interdisciplinary design. With both visual design and technical skills, has worked extensively with Web Apps, systems integration, digital transformation, supercomputers, complex computer algorithms, and chatbots. He has even created a digital fortune teller. President of Six Trends, he was Founding Chair of the Digital futures Initiative at OCAD University, full professor at The Royal College of Art in London UK, and full professor at the University of Technology in Sydney Australia. His projects include the world's first Bluetooth headset, the London Eye ferris wheel capsules, and collaborations with the late architect Zaha Hadid. Tom founded an $18M digital business in the UK before working in Australia and more recently Canada.
Read Tom's articles on Medium, and Follow Six Trends on: instagram, twitter and facebook
Register now to avoid disappointment
With competing commercial training courses charging sky high prices, this course is certain to be hugely popular. Register right away to make sure you secure your place on the digital highway. Note that your registration information will be used to keep in contact with you about this course and related activities that we think will be of interest. You will have the option to opt out of communications at any time.