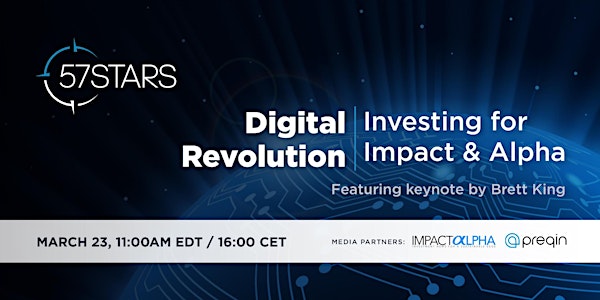 Digital Revolution | Investing for Impact & Alpha
Insights on emerging impact investing trends from 57 Stars, an independent Global Alternative Asset Manager focused on venture and growth
Date and time
Starts on Tuesday, March 23, 2021 · 11am EDT
About this event
A conversation between 57 Stars and ImpactAlpha: Technological disruption is having a revolutionary effect on the lives of the next billion, creating compelling opportunities for impact investors.
Technology has changed the landscape forever: Brett King, a world-renowned futurist and a bestselling author, will share insights on the profound implications of the digital transformation across sectors - from financial services and food security to climate change solutions.
Company success stories: Hear from companies that take advantage of this convergence with innovative business models that contribute to solving environmental and social challenges and have the potential to generate explosive returns for investors.
Founded in 2005, 57 Stars is an independent global alternative asset manager with more than USD 4 billion in capital raised and managed. With a team of two dozen professionals and presence in six cities across the world, the firm is focused on private capital investments in sectors characterized by long-term dynamic growth benefiting from innovation, technological disruption, and rapid adaption while concurrently generating demonstrable positive impacts.