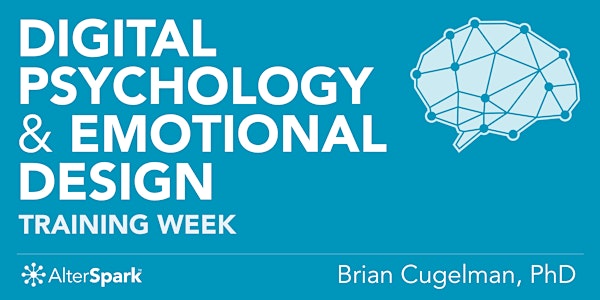 Digital Psychology & Emotional Design - Training Week (Toronto)
Learn how to apply psychology to websites, apps & digital campaigns. Complete both courses in just one week.
By Behavioral Design Academy
Date and time
April 17, 2024 · 9am - April 21, 2024 · 5pm EDT
Location
University of Toronto (Hart House) 7 Hart House Circle Toronto, ON M5S 3H3 Canada
About this event
Fast-track your skills in applying psychology to websites, apps and campaigns.
Our educational system contains two courses that cover distinct approaches to digital behavioral science.
Take either course. Or take both back-to-back for a comprehensive learning experience.
------------------------------------------
SAVE 25% with the super early rate by 20 Jan 2023
When registering, use the promo code (SUPER_EARLY25_2023_1_20) to get the super early rate. After the deadline, fees increase.
------------------------------------------
1. PSYCHOLOGY FOR DIGITAL BEHAVIOR CHANGE [DBC]
17-19 Apr 2023 (3-days)
Over 3 days, you'll learn how to translate psychological strategy into highly engaging websites, apps and campaigns. You'll learn over 50 behavior change principles, psychological design patterns, and go step-by-step through the behavioral design process. You'll gain experience translating psychology into creative inspiration, and into standard industry tools for digital strategy, UXD, interactive design, editorial and more.
By the end of this class, you'll be ready to run behavioral design processes and use psychology in a wide range of digital media.
This is our most popular course and the one we recommend as a starting point for most people.
2. EMOTIONAL DESIGN PSYCHOLOGY & NEUROSCIENCE [EDP]
20-21 Apr 2023 (2-days)
Over 2 days, you'll gain deep insight into the emotions that drive online behavior while learning how to build technologies that inspire and motivate users. You'll learn the neuroscience of user perception, cognition, and behavior. Next, you'll go on a deep dive into human emotion, covering the full spectrum of emotions that shape how users think, feel, and behave online.
You'll learn how to build for emotion with deeper insight using standard industry tools for digital strategy, creative design, UXD, editorial and more.
You can take this workshop at any time, and while there are no formal prerequisites, you'll get more out of it if you complete DBC first.
TRAINING KIT
You'll get a suite of educational resources and a step-by-step behavioral design workbook. Across both classes, your training kit includes training guides, reference manuals, behavioral design workbooks, the wireframing kit and cheat sheets.
WHO THESE COURSES ARE FOR
Usability and UI/UX professionals
Graphic designers and interactive designers
Digital marketing and advertising specialists
Product marketing managers
Content strategists and web writers
Health promotion specialists
Conversion optimization & marketing researchers
Anyone managing digital projects
BEHAVIORAL SCIENCE, MADE EASY
We've spent years translating online behavioral science into a format that is intuitive, practical, and fun. We teach digital psychology using:
Infographic and visuals content
Hands-on prototyping
Design challenges
Scenario-based learning
Experiential learning exercises
Group exercises
Live poling
And lots more
WHICH COURSE: DBC or EDP?
We recommend DBC as the starting point for most students. However, if you only have time for one and/or can't make up your mind which one, check out our page to help people decide.
BRING YOUR OWN PROJECT (BYOP)
If you wish to bring a project to class, you'll leave with psychology-inspired specs and prototypes. In DBC, you'll learn the behavioral design process while building a behavior change product or campaign. In EDP you'll give it charm and fine-tune it with an emotionally intelligent polish.
ONLINE AND BLENDED LEARNING
If you can't make our classroom training, we also offer these courses online. Learn about our online training here. Contact us if you wish to blend classroom with online training.
LOGISTICS
Our classes run from 9:00 am – 5:00 pm, with an hour for lunch and two 15-min breaks in the morning and afternoon. We don't supply lunch to keep our prices modest and to get our participants out of the room for a proper break. You'll need a smartphone if you'd like to join the group polls.
CERTIFICATION
We offer two certificates. You will receive a certificate of completion for each course you attend.
If you wish to upgrade your qualifications, your ticket also includes 2 free attempts to write the test for these mastery certificates:
Digital Behavioral Design Certificate (DBDC)
Emotional Design Psychology Certificate (EDPC)
NEED A PAYMENT WORKAROUND?
We understand that institutional policies and unknown online payment failures can make it difficult for you to order your tickets online. If you experience any complications or the systems fail for no apparent reason, contact us. We'll send an alternative payment gateway or option. We're happy to help.
HAVE QUESTIONS?
See our FAQs or get in touch:
Phone: +1 (888) 977-2055
Email: team@alterspark.com
Visit: www.behavioraldesign.academy
LIMITED CLASS SIZE
To ensure a beneficial learning environment, we limit the class size to a manageable number of participants. For this reason, we recommend that you reserve your spot as soon as possible. If our workshop sells out, join our waitlist.
100% SATISFACTION GUARANTEE
We're so confident you'll love our workshop that we're offering a 100% refund to anyone who wishes to withdraw. To qualify, simply return all your training materials and notify your instructor by the start of the lunch break on the first day. That's pretty much it. Read the details.
COVID 19 SAFEGUARDS
This course is confirmed. But if the pandemic continues, here's our plan.
We follow the public health requirements for each city where we train.
If COVID 19 variants trigger lockdowns or border closures, we may have to postpone the class. If this happens, we'll offer each student a refund, postponement, or alternative training options. If you are traveling, we recommend getting trip cancellation insurance.
Regardless, everything's scheduled. We look forward to meeting you.
About the organizer
We're a training and consulting firm that specializes in user psychology and digital media.
We help professionals build products their users love, that make an impact too.