Digital Prototyping: Building Innovation up from within your Business - Fazer crescer o seu Negócio cultivando Inovação.

Tuesday, April 5, 2011 from 7:00 PM to 10:30 PM (BST)
Event Details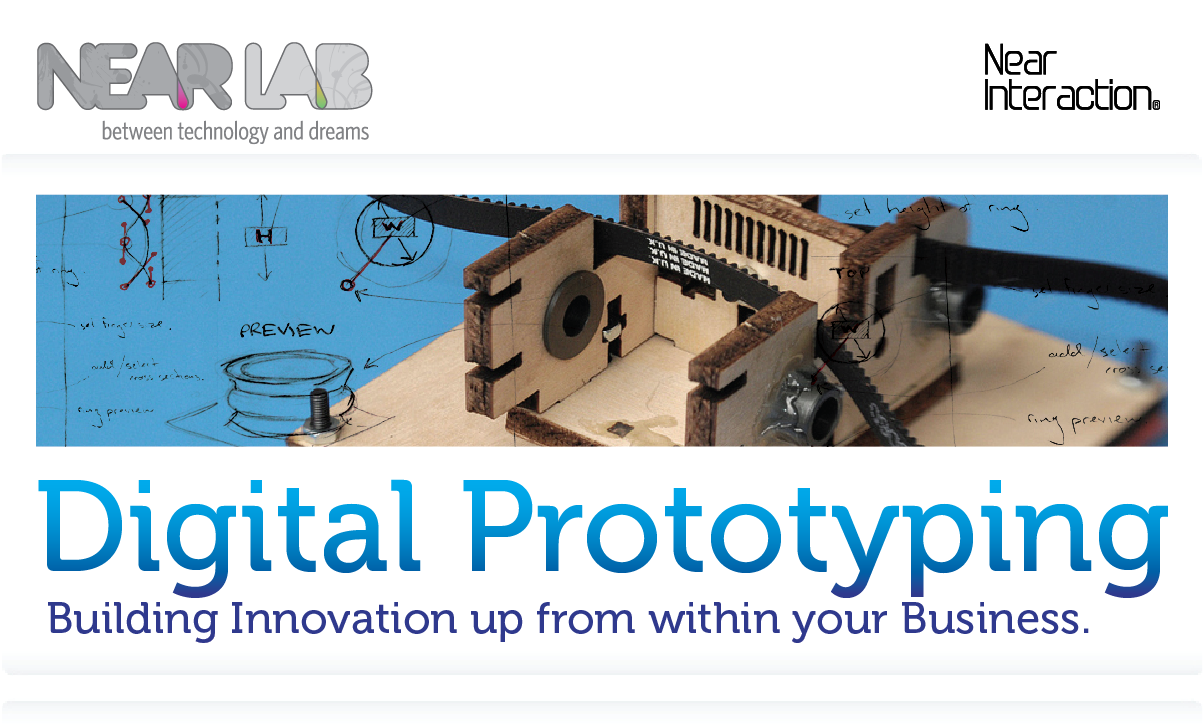 Innovation is achieved by a shared passion for problem solving and for turning ideas into realities. Enter a new generation of digital fabrication tools that allows for the easy creation of tangible products, with the potential to empower individuals to create smart devices for themselves. These devices foster continuous innovation, and allow for bottom-up re-invention of new markets, products, services, and even business models.

Nearlab invites you to a 3 hour evening event that runs in the format of an introduction to digital fabrication, a mini-workshop to collaboratively discuss techniques to build  innovation from within your business and a hands-on "learning by doing" experience working with a Makerbot. The event is a sampling session, with invited guest Tiago Rorke of Diatom, a design studio exploring user-end design tools, and facilitated by the team at NearInteraction.

Workshop ministrado em Português e Inglês.

Resumo do Programa      

Convidado/Invited Guest: All the way from Wellington, New Zealand, Tiago Rorke (with Greg Saul) have collaborated to form Diatom, a design studio that is exploring the possibilities that digital fabrication offers, to give the end user a role in the design process. By developing tools and experiences that produce this collaboration, they hope to create products that are enriched by the individual and supersede the capabilities of discrete design.

Workshop ministrado em Português e Inglês.
19.00
Registration & Drinks
19.30
Introduction presentation by Tiago Rorke - 'DigiFab'' -a very broad and light overview of what digital fabrication is and what the different tools are, (Lasers, 3d Printers, cnc Milling, Makerbot).
20.00
Overview of the 'Paranel app' and get people starting to make designs in small groups.
20.30
Start printing the first designs that are ready. Continue printing through the following presentation.
20.45
Presentation by Diogo Terroso - on innovation as a shared passion for problem solving and turning ideas into realities.
21.15
Nearlab Innovation worksheet to be discussed as a group, reflecting on the nature of innovation and the experience of 3D printing as a tool to achieve this.
21.30
Discussion and reflection of worksheet results faciliated by Diogo Terroso and Tiago Rorke.
22.00
Return to playing with 'Paranel', as well as the opportunity to print more designs.
22.30
End

Os participantes irão desenvolver exercícios suportados no "learning together by doing", em sessões de trabalho conjunto. Estas prácticas incluem brainstorms, exercícios assistidos de resolução de problemas, aprendizagem baseada na componente experiêncial, métodos específicos e sessões de protótipagem física.
Funcionalidades Técnicas
Contexto social das Aplicações
Hands-on Design Thinking
Modelos de Previsão de Negócio
Workshop ministrado em Português e Inglês.

No final do workshop, os participantes serão capazes de combinar as informações adquiridas para produzir novas ideias e planos de acção, e informar as necessidades das suas organizações, instituições, produtos e serviços. Os eventos da NearLab resultam na criação de produtos com propriedade intelectual unica, que é co-propriedade da NearLab e dos participantes, e que por sua vez, são publicados, registados e distribuídos como uma cópia digital para os participantes presentes, disponível para uso futuro.

Quem participa?
A audiência do workshop é geralmente multi-disciplinar, incluindo profissionais de sectores que vão desde a cultura ao lazer e ao ambiente, serviços sociais, instituições, empresários, inovadores, desenvolvedores de produto, designers e profissionais  posicionados nas áreas de conhecimento de mercado / cliente, pesquisa e desenvolvimento, estratégia e inovação.

O que devo levar?
É importante que os participantes tragam ideias e um caderno pessoal. Tudo o resto será fornecido. Este é um workshop "hands-on", com as pessoas e para as pessoas criando vinculos activos de participação.

Queremos que pense, fale e conecte!
---
More info:
NearInteraction email
When & Where

NearInteraction
Calçada do Sacramento 18
2º Esq
1200 394 Lisbon
Portugal


Tuesday, April 5, 2011 from 7:00 PM to 10:30 PM (BST)
Add to my calendar
Organizer
facilitated by Crystal Campbell + Diogo Terroso
Crystal Campbell and Diogo Terroso facilitate workshops for the conception of future products and services. By utilising the combined intelligence of the participating group and 'learning together by doing' practices, including a hybrid mismatch of facilitated brainstorms, curated problem solving exercises, experience-based-learning, storytelling, case methods and physical prototyping sessions. The results is the rapid generation of valuable, tangible outcomes available for all participants future use. Expect the unexpected.
Digital Prototyping: Building Innovation up from within your Business - Fazer crescer o seu Negócio cultivando Inovação.