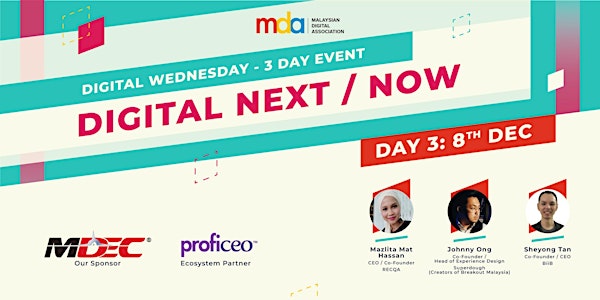 Digital Next/Now Day 3: Tech in Education, Escape Game & Digital Sports
Join us to learn about tech's potential in education, creating experiences through brick & mortar and opportunities in digital sports.
About this event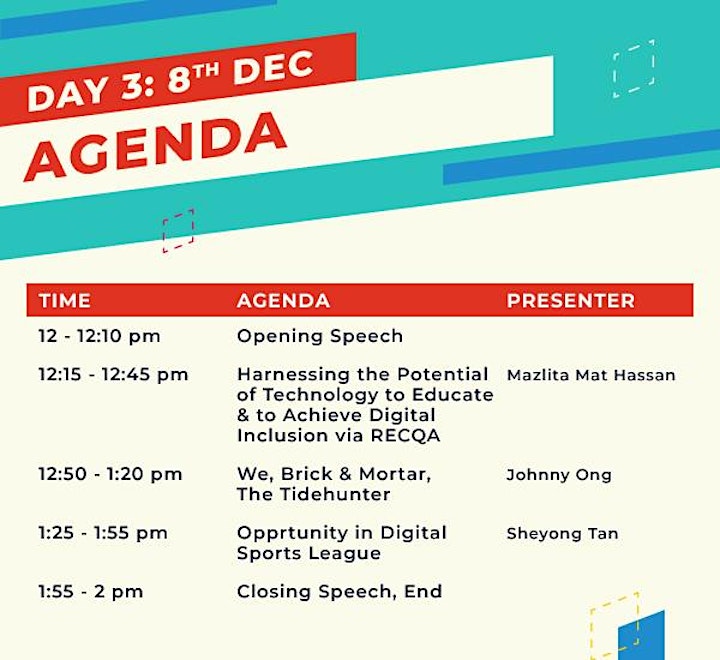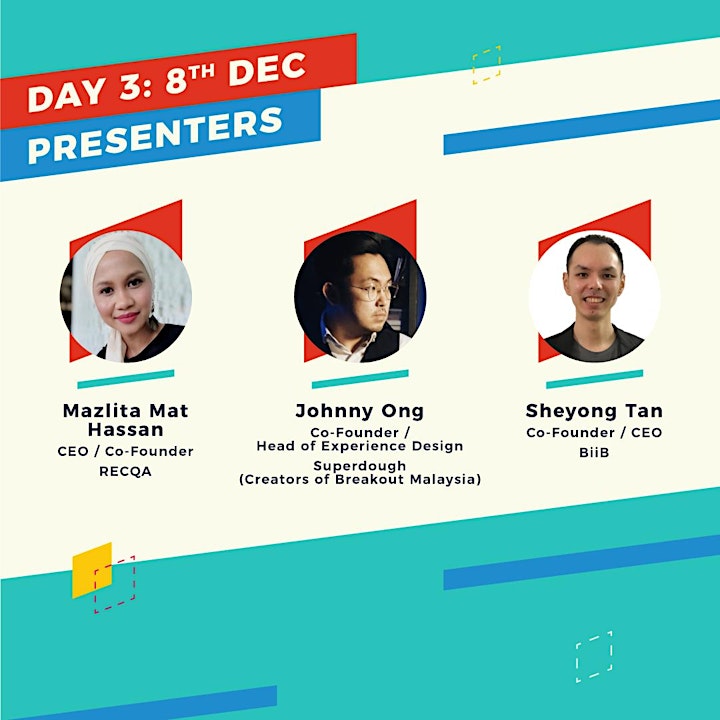 Digital Wednesday will be happening across three consecutive Wednesdays and we'll be discussing all matters regarding emerging tech in Malaysia across 3 sessions and 9 talks.
Join us with our sponsor, Malaysia Digital Corporation Economy (MDEC) and Ecosystem Partner, ProfiCEO!
Day #3: A deeper dive into understanding audience through operating systems, exploring cryptocurrencies & NFTs, and understanding how the Circular Economy works for the construction & renovation industry.
Date: 8th December 2021, Wednesday
Time: 12pm - 2pm
Platform: Zoom and streamed on MDA's Facebook Live
Fee: FREE for MDA members and non-members
Speakers:
RECQA: Harnessing the potential of technology to educate and to achieve digital inclusion via RECQA
Presenter: Mazlita Mat Hassan, CEO and Co-Founder OF RECQA
Mazlita is the CEO and Co-Founder of RECQA, an Edutech startup based in Kuala Lumpur, Malaysia. RECQA is a platform for learning communities. We provide an easy to set up digital space for communities to share, preserve and monetise knowledge, and align with shared goals and interests.
With more than 30K users from 9 learning communities such as the Ministry of Education Malaysia, RECQA also connects members with other members and with experts and thought leaders within the community and is also used as the knowledge-sharing platform for teachers nationwide to share their teaching resources with other teachers.
Superdough: We, Brick and Mortar, The Tidehunter
Presenter: Johnny Ong, CEO and Head of Experience Design of Superdough
Superdough's focus is to provide offline and online unique edutainment experiences to the world. With Johnny's role as the Head of Experience Design, he designs new experiences by combining tech and art which is to inspire our player's minds and senses. Up until now, their products have been experienced by more than 1 million happy customers worldwide.
His life goal is to create his own version of Disneyland, a product proudly made by a nerdy and geeky Malaysian man.
BiiB: Opportunity in Digital Sports League
Presenter: Sheyong Tan, Co-founder and CEO of BiiB
Sheyong Tan is known among the avid running communities in Malaysia as the co-founder of BiiB as well as the race director of RUNLIGA Malaysia Challenge - the largest running league that connects more than 160 runners groups from all over Malaysia to celebrate the spirit of camaraderie and teamwork. Sheyong's team in BiiB is committed in making the creation of sporting leagues accessible to all, inspiring teamwork in both big and small organizations, turning the world into a fitter, healthier and a more collaborative place.
---------------------------------
This event is open to the public. Do share and forward this invitation to your peers, teammates or colleagues who will benefit from this exciting series!
Other sessions in this Digital Wednesday series:
Day #1: 24th Nov 2021, Wednesday: Tech, Digital Marketing & Media
Day #2: 1st Dec 2021, Wednesday: Audience in OS, Cryptocurrencies & Circular Economy
This event is open to the public. Do share and forward this invitation to your peers, teammates or colleagues who will benefit from this exciting series!
SIGN UP NOW!
Organizer of Digital Next/Now Day 3: Tech in Education, Escape Game & Digital Sports