About this Event
Hi there! I'm Beryl Young founder and CEO of Momtography Club!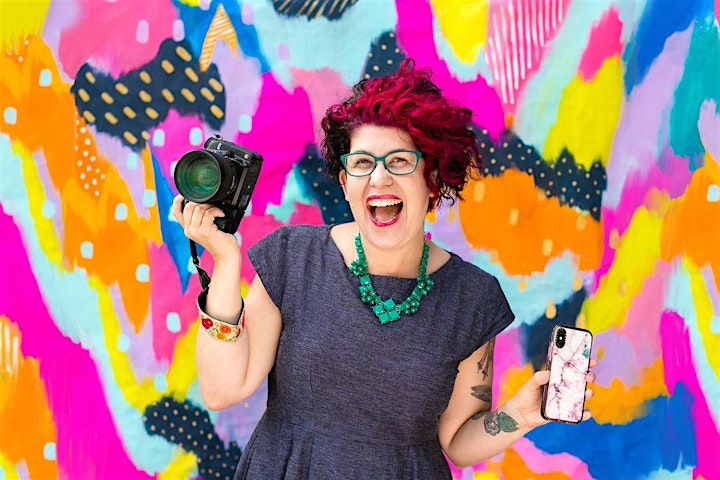 Come 2020 we're bringing you a completely NEW Momtography.
Over the last 10 years of journeying through life with a camera and supporting other moms along the way...
What I've learned is that at heart of the Momtography mission is connection with like-minded women.
We've been quietly working behind the scenes all of 2019 on a "New Momtography"
The solution we came up with?
A photography club open to moms across the globe.
We piloted the idea throughout this year...and the response has been incredible.
We grew an intimate digital club that ran for all of 2019...
...and started 16 local meetups across 11 states in the fall.
Which is why Momtography Club is a membership that includes BOTH digital and local meetup access.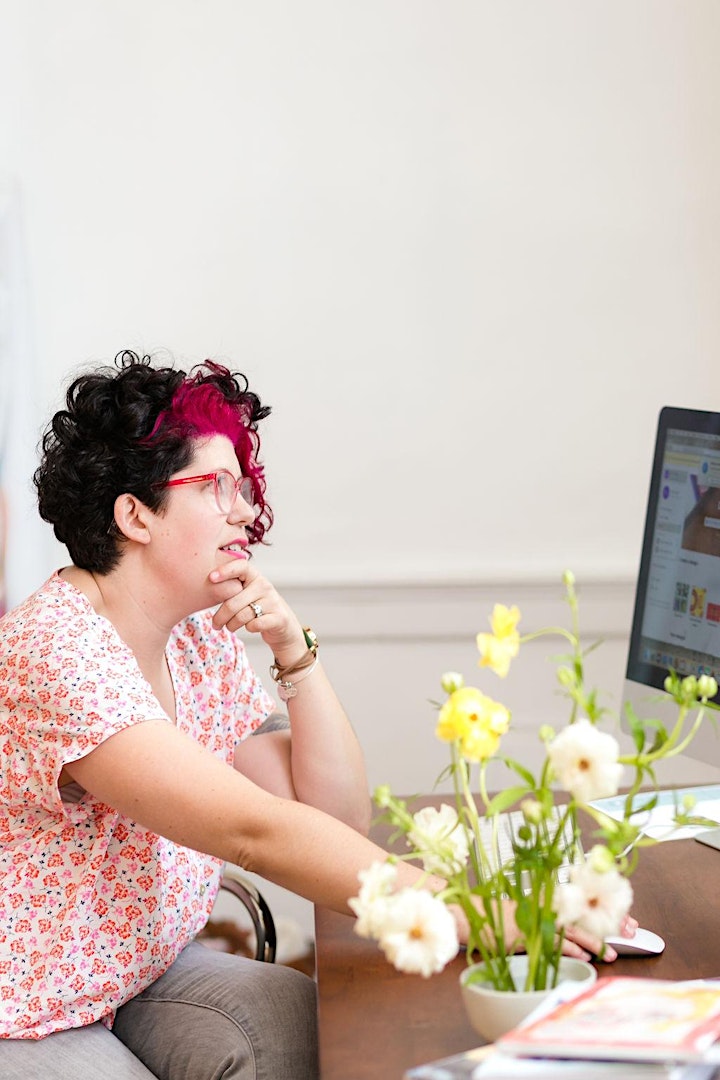 Right now you're invited to become one of our founding members.
When you join today, you'll get immediate access to our digital club.
And if there happens to be a local monthly club meetup in your town you'll also get access to attend there too!
(no local club yet...no problem! We can totally talk more about how to start one after you join...)
If you are SERIOUS about taking care of YOU in 2020 and are craving more creativity, more connection, and more confidence in your life next year....
you're going to want join as a founding "Momtography Club Member" today!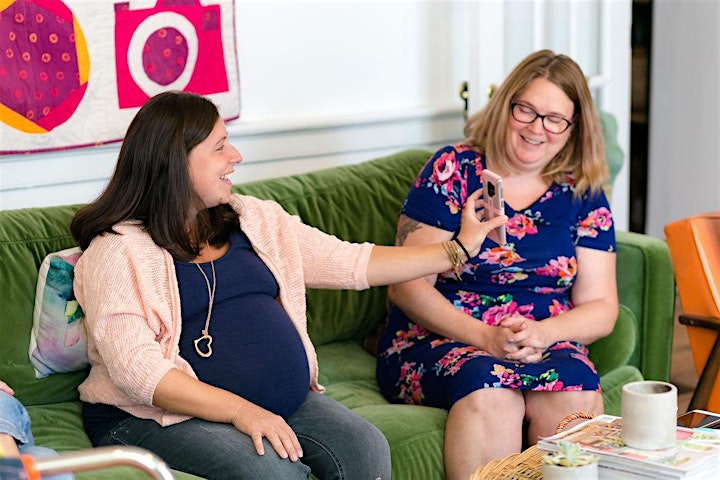 Still have questions? We're answering some of the most common ones below.
How does this club work? Is it online? Do I have to go in person somewhere?
Our favorite thing about Momtography Club is that it's BOTH! If you're here on this page you'll most likely be joining for the online digital membership, but we are growing a network of club "motivators" throughout 2020 who will be leading local monthly meetups as well!
If you have a local meetup in your area, attending those events is 100% included in your 12 month membership. And if not, we can TOTALLY talk how to go about starting one after you join.
But..both digital and local members will benefit from the same education. Each month Momtography club will explore a specific theme and photography skill.
This will be done through monthly photo challenges, projects, and activities that will allow you to connect more deeply with your camera, with your family and with other club members!
Curious to see our 2020 themes and skills? Here they are!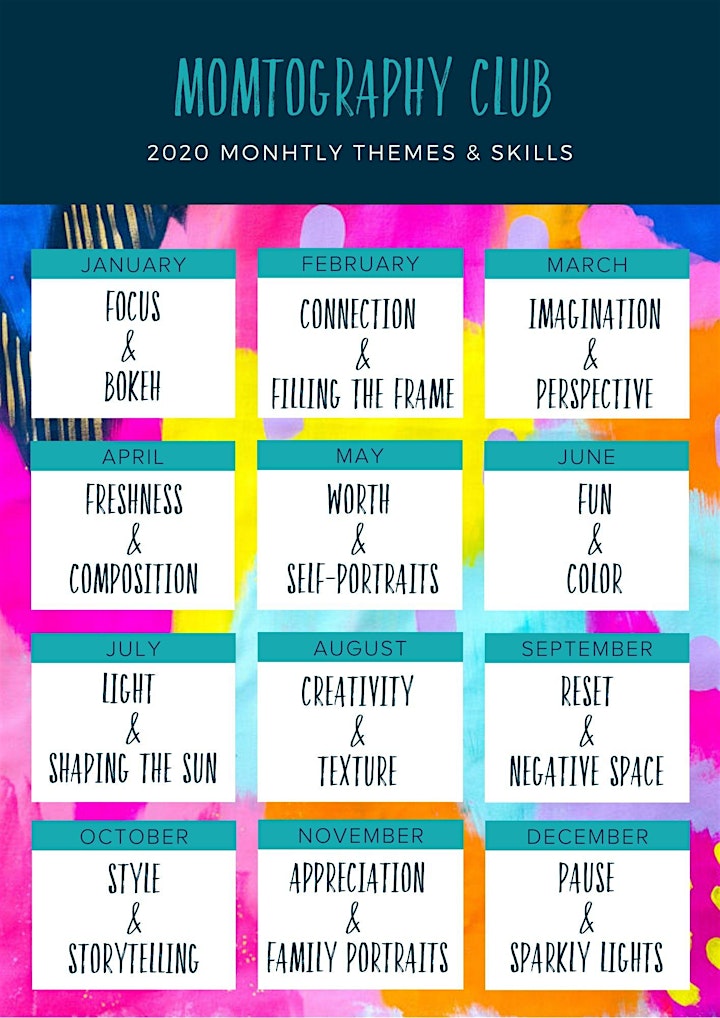 What other benefits are there if I join?
Beyond the support and teaching you'll receive from our community coaches, you'll also be...
celebrated with a Welcome Kit of goodies to induct you as an official club member. (yay snail mail!!)
first in line to hear about new Momtography online classes and programs as they are offered.
given access to "member pricing" on any additional online classes and programs you choose to purchase during your annual membership
Will this club teach me how to use my camera?
Yes and No. We believe that the best way to improve your photography is through practice and consistency. Our club is designed to give you the education, motivation, and guidance you need to learn targeted photography skills and practice with your camera.
However, we do have other online programs (such as our signature "Camera Confidence" course) that are more of a deep dive into the technicalness of DSLR or Phone photography. As a member you will have access to discounts on these other online courses should you choose to take that deeper dive with us.
How is this club different from all the other photography communities out there?
Oooooo we're so glad you asked! Momtography Club to us is about MORE than just photography. The women here love photography, they love their camera, but what's most important to them is what that camera adds to their life.
We're all about "capturing what matters" and aiming for photos that bring us to greater levels of joy, appreciation, and gratitude for life.
Here it isn't about snapping the "perfect" photo. It's about taking photos that allow us to be present in our life and balance capturing the moments with fully experiencing them.
Do I have to sign up for a whole year?
At this time, for our digital club...yes. We know the best way to make the most of what we offer is through a consistent commitment to yourself and your creativity.
And if you join before December 31st, as one of our "founding members", you'll not only be giving yourself an amazing gift...but you'll also be locking in an annual rate that will never be this low again.
Ready to join us? Click the TICKETS button now to become our next member!