Digital Media 3.0 w/ Larry Weber, Harvard, CBS & Hill Holliday

Monday, July 11, 2011 from 7:00 PM to 9:30 PM (EDT)
Event Details
Digital Media 3.0

Expert Panel: Larry Weber, Harvard, CBS & Hill Holliday

The media world is changing rapidly and it's becoming harder to stay relevant and tuned in. Digital Media 3.0 is an event that will help you understand all of the latest technologies and how to leverage them to grow your brand. If you want to know what the future of media is going to look like and how to prepare for it now, you can't miss this event! Our panel is composed of some of the most well-known and respected media and marketing professionals in the area. On the panel, we have Larry Weber (Digital Influence Group), Perry Hewitt (Harvard), Mike Proulx (Hill Holliday), and Stephanie Miller (Formerly at CBS). The panelists will share cutting edge advice, the latest case studies and examples, and you will be able to ask them questions at the end. There will be a cash bar and free food at the event.
Note: This event is 21+ only.
Twitter Hash Tag: #branducambridge
Sponsors
For sponsorship information, please contact William Connolly at William@MillennialBranding.com.

Platinum Sponsor: Domain.Me

.Me is a domain name extension for personal brands. With its unforgettable meaning and limitless word combination possibilities, .Me gives a truly personal tone to your domain name. If you are looking for a name that speaks for itself .Me is your best choice. Let .Me speak for your online business or personal blog. .Me potential is enormous and it simply asks for you to be creative and coin the name that suits you best. If you have a great, original idea for a domain name, register .Me before it's taken.
Sponsor: Brand Networks

Brand Networks is proud to partner with Millennial Branding's events to provide attendees the Social PIX experience, a revolutionary event photo solution technology. Social PIX is your Brand's solution to organically increase your social reach and fan engagement by creating an unique user photo experience that extends instantly to the world of Facebook. See why brands like Johnnie Walker, L'Oreal and JetBlue rely on Social PIX to bring their events to life on Facebook in real-time. For more info call 617.275.7050 or look for the Social PIX crew Lisa and Matt at the next event for your free demo.

Free Book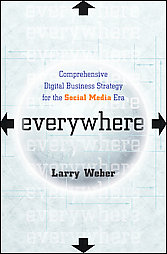 With every purchased ticket, you will receive one copy of Larry Weber's new book Everywhere: Comprehensive Digital Business Strategy for the Social Media Era. Larry's previous books have been bestsellers and he says that this is his best yet. The book retails for $24.95 and is published by Wiley & Sons. 100% of the royalties for this book goes to charity. Larry will be doing a book signing following the panel.
Agenda
7:00 - 8:00 pm - Networking

8:00 - 9:00 pm - Digital media panel with experts from across the media world
9:00 - 9:30 pm - Larry Weber book signing for "Everywhere"

Media branding panel
Tim Hare (Moderator): Tim is the Director of Events for Millennial Branding.

Larry Weber (Panelist): Larry is the author of Marketing to the Social Web (Wiley) and chairman of W2 Group, a digital ecosystem of marketing services companies that includes Digital Influence Group, a full-service digital marketing agency that is social media at its core, and Racepoint Group, a global public relations agency. Weber previously founded Weber Shandwick, the world's largest PR firm. He is the cofounder and Chairman of the Board of Directors of the Massachusetts Innovation & Technology Exchange, the largest interactive advocacy organization in the world. His latest book is called Everywhere: Comprehensive Digital Business Strategy for the Social Media Era (Wiley).

Perry Hewitt (Panelist): Perry is Director of Digital Communications and Communications Services at Harvard University, where she is charged with the University's efforts to develop a comprehensive digital footprint across the internet, as well as to bring editorial, multimedia, and technology best practices to enhance websites and applications. Hewitt has held significant digital marketing, editorial, and client services roles at firms including Crimson Hexagon; Razorfish; ArsDigita; Harcourt Online; and Lotus Development Corporation. Areas of particular interest include: social software; multimedia; data visualization; content strategy; user experience; and online communities and networks. Perry holds an A.B. from Harvard University in Russian and Soviet Studies. 

Mike Proulx (Panelist): Mike leads Hill Holliday's Digital Strategy team with a passionate eye towards cross-channel integration, strong online anchors, and brand democratization through social media. Mike is fascinated by the impact of media convergence and believes that 1+1 can equal 3 when marketers are determined to break down the artificial boundaries of media channels and approach marketing as a harmonic experience. Mike has spent the last 15 years working at various interactive, high-tech, and new media companies on the agency-side, client-side, and as an entrepreneur. Prior to Hill Holliday, Mike was most recently at Digital Influence Group (a social media marketing agency). He holds a Masters degree in Computer Information Systems from Bentley University.

Stephanie Miller (Panelist): Stephanie is the Director of Sales and Development for Triad Retail Media managing the CVS Online account. Stephanie had served as the Director of Digital Media for Boston's CBS Local Media digital property cbsboston.com until May 2011. As Director of Digital Media, Stephanie was responsible for implementing the CBS Local digital strategy; developing multi-media promotional and brand strategies for cbsboston.com; and integrating those strategies with the broadcast properties WBZ-TV, WSBK-TV (TV38), WBZ NewsRadio 1030, and 98.5 The Sports Hub. Stephanie oversaw the creation and implementation of programs to transform the company with education, social media, integrated media experiences, and operational procedures. Stephanie graduated from Boston College in 1996 with a BA in History. She resides in a neighborhood of Boston with her husband and two children.
Attendee List
Sort by:

Date

|

First Name

|

Last Name
When & Where

Ryles
212 Hampshire St.
Cambridge, 02139


Monday, July 11, 2011 from 7:00 PM to 9:30 PM (EDT)
Add to my calendar
Organizer
Millennial Branding, LLC is a leading personal branding company, focused on delivering online branding strategies for both personal and corporate brands, in order to help them stand out in the marketplace and achieve their goals.
Millennial Branding was founded by world renowned personal branding expert and bestselling author of Me 2.0, Dan Schawbel.