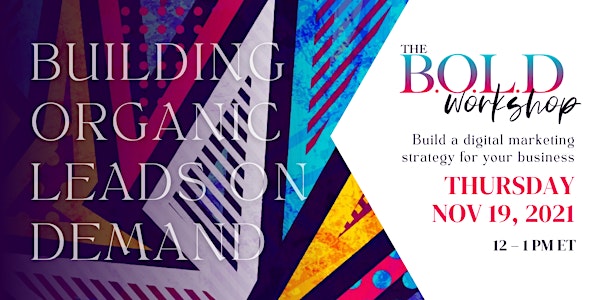 Digital Marketing Workshop
A workshop is to help you with understanding, creating, and building a digital marketing strategy for your business.
About this event
At this workshop, we will cover graphic design as well as website design and development.
Let's get the answers to your questions so your business can reach your ideal clients and grow in revenue.
Why you need to attend the workshop
Your audience wants to connect with you, why not make it easier for them through your:
Business Strategy | You need clarity on who you are and the solution you provide. We help you identify your voice, message, and marketing strategy.
Engaging Graphics | You need to evoke emotions that resonate with the problem you solve. We design compelling graphics that make a lasting impression.
Virtual Presence | You need a home base to introduce your high-end offers and connect online. We build you a dynamic website to create a strong foundation.
About The B.OL.D. Workshop
The BOLD Workshop is the informational pre-event to The B.O.L.D. Retreat in 2022.
BOLD stands for Building Organic Leads on Demand. We the B.O.L.D. platform for entrepreneurs who want to launch a business with high-end offers and connects with their target audience.
Learn more @: www.workshop.theboldretreat.com
Sign up for The B.O.L.D Retreat 2022 @: www.theboldretreat.com