Description
Digital Markeitng One Day Workshop at AIMS Training Center
Link building refers to the process of getting external pages to link to a page on your website. It is one of the many tactics used in search engine optimization (SEO). In this workshop we will cover how to create good quality links to your website.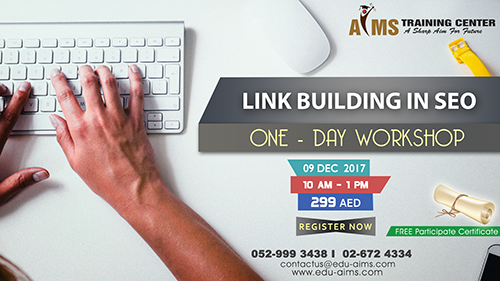 Subject : Link Building in SEO
Topic includes: 1) how to list your business on google search engine.
2) How to connect your business on google listing.
3) Proper SEO link building techniques.
4) Get familiar with google SEO tools
Date: 09/12/2017
Time: 10:00 AM to 1:00 PM
Venue: AIMS Training Center
mail id: contactus@edu-aims.com
Call us on : 0529993438
Register at : http://www.edu-aims.com/events/