Description


Prepare for Digital marketing success.


We invite you to join the DIGITAL MARKETING MASTER CLASS, a two-day master class thoughtfully designed to give participants an intensive understanding of concepts and opportunities in the digital marketing landscape namely SOCIAL MEDIA, STRATEGY, SEARCH/SEO, CONTENT and VIDEO.


The event will be held on Sept 28 & 29, 2017 at SMX AURA, Taguig City.


This 2-day masterclass will delve into elements that engage consumers and drive brand conversation on different digital marketing channels to generate successful digital marketing plans.


The course offers theoretical lectures plus exercises from leading industry experts to give you a broader understanding of the current digital trends and how these will help you formulate an effective digital marketing plan.


MASTERCLASS LEARNING OUTCOME
At the end of the masterclass, participants are expected to gain advanced skills and knowledge in digital marketing core aspects: Social Media, Strategy and Search and how to make a solid digital marketing plan.


WHO SHOULD ATTEND


Marketing specialists
Brand advertisers
Agencies
Entrepreneurs/SME's
Academe
Professionals
BPO sourcing & marketing personnel
Government personnel
Business leaders
Website owners


Areas Covered (3 Hours per session which includes exercises at the end of each session)


Digital Marketing Strategy - integrating your digital efforts with the rest of your marketing output to create a seamless user experience.


Social Media - key platforms & opportunities, creating an effective social strategy & getting started


Search -This session puts emphasis on keyword selection, search engine optimisation, search engine marketing


Video for Digital Marketing
Video is touted to be one of the most effective marketing tools. This session will teach all you need to know about video and future trends and basics on how to create effective videos for business

Content Marketing
This session focuses on how to attract attention and generate leads through creation and publishing content for a targeted audience.




*organizer reserves the right to make changes on topics and schedules due to unforeseen circumstances


The digital marketing masterclass is perfect for those who have basic or intermediate knowledge of digital marketing and looking to build confidence when talking about the digital channels.


It brings to fore updated industry insights, skills, knowledge needed for marketers to plan and implement their own digital marketing strategy.


MASTER CLASS FEES (Inclusive of VAT, snacks and certificate):


Application Fee: PHP500. -Waived-



5-Course Package:


Super Early Bird: P11,800
must be paid on or before August 14, 2017
Early Bird: P13,500
for payments from Aug 15 to August 31, 2017
Regular Full Course Reg : P15,500
for payments from Sept 1 to Sept 21, 2017
Closing Date of Registration: Sept. 21, 2017
Inclusions: 2-day Class, Certificate ,
pdf seminar presentation after event, VAT, snacks.
Individual Courses
at P3,500 each
must be paid on or before Aug 21, 2017 (Only 5 slots available per course)
Group rate: 3 plus 1 (does not apply to Individual courses)


*Terms and conditions apply.

Seats limited to 25 participants only. First come first served.


To register and for more info, click here
For inquiries, call 9380837, 09156779797 or email neotrade168@gmail.com


Register now.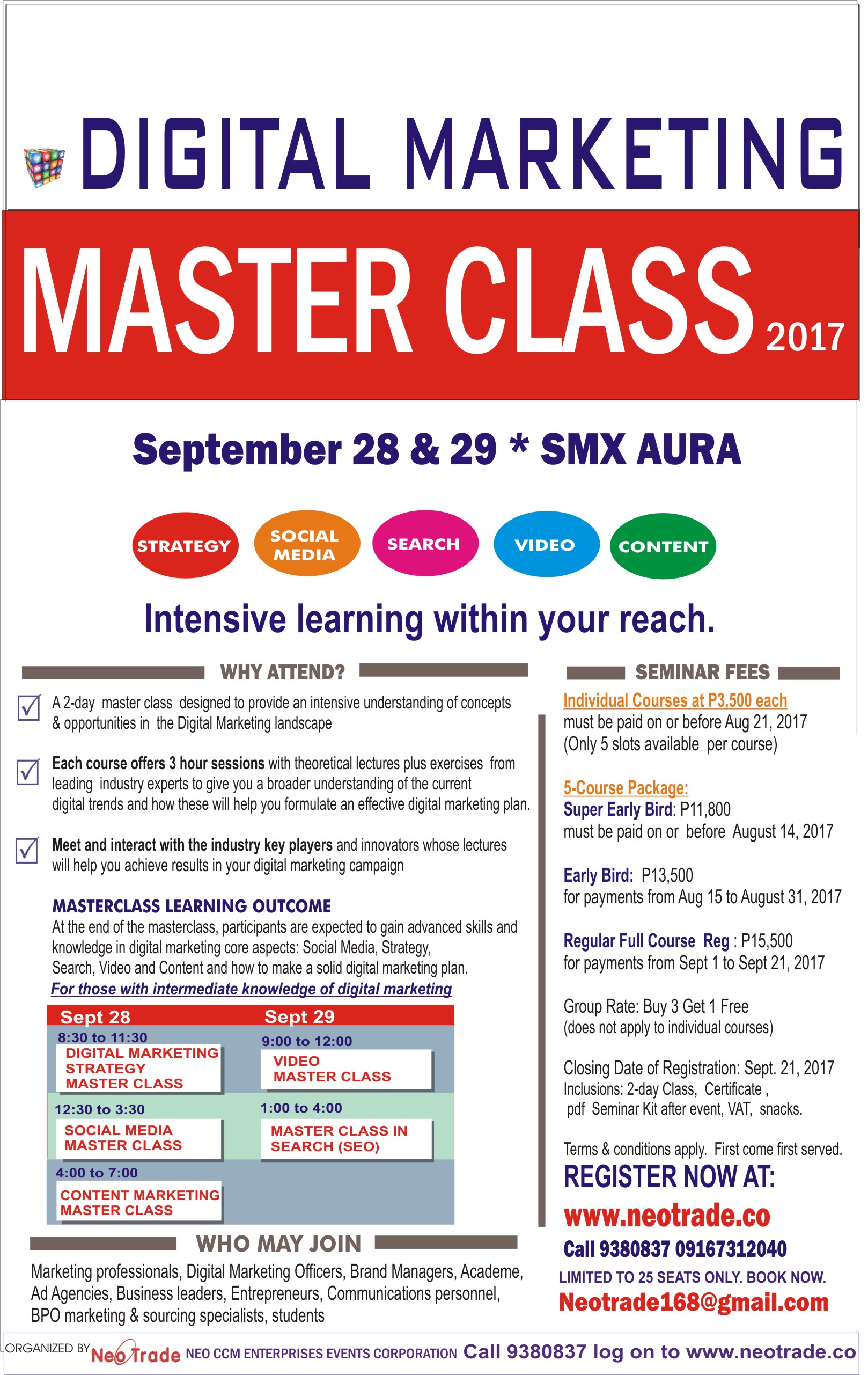 Thank you.


Truly yours,


NEOTRADE (NEO CCM ENT EVENTS CORP)