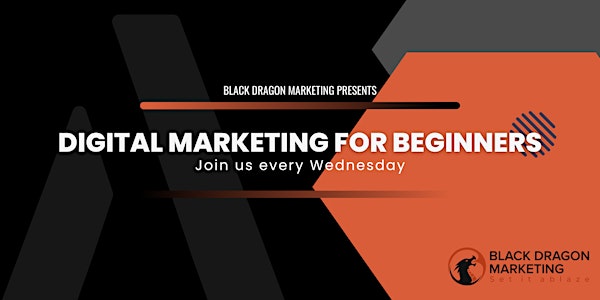 Digital Marketing for Beginners
Solopreneurs and business owners, join us every week as we take a progressive look at some of the basics of digital marketing.
About this event
Let's face it. We live in a digital-first world.
With most new consumers checking their phones for the most recent news, products, and services it's important that your business has the ability to get the attention it needs and stand out from the crowd.
Join us as we break down some of the hurdles many businesses are facing when it comes to building their business with so many new tools and resources.
We will be breaking down concepts around:
social media marketing
website conversions
building online courses
using sales funnels
video marketing
keeping up with trends
and much much more
Register today!
Learn how to put these tools and resources to work in your business.

About Black Dragon Marketing
Black Dragon Marketing is a full service digital marketing agency that provides SaaS (software as a service), consulting, and white glove services. That means that whether you are a DIYer or want it all done for you, we've got you covered.
Founded in 2022 we help businesses create and implement a holistic digital marketing strategy that includes:
website development
social media management
course creation
marketing assets and branded content
search engine optimization
sales funnels
and over 75 SaaS products and services
To learn more about us, visit us online at https://blackdragonmarketing.com