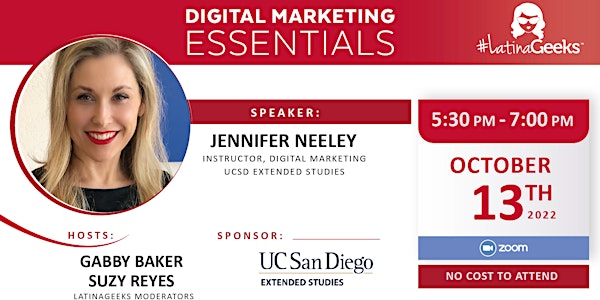 Digital Marketing Essentials Workshop
Receive an overview in the development, production & implementation of digital-marketing delivery methods with UC San Diego Extended Studies
About this event
#LatinaGeeks invites you to join us for an interactive digital marketing workshop that will teach and introduce tools to appropriately measure and evaluate the effectiveness of digital marketing campaigns that are designed to improve the experience of the consumer while also educating on new trends, as well as key opportunities for innovation.
Attendees of the workshop will walk away with:
- An understanding of the importance of a strong online presence and how it is achieved through strategic digital marketing practices
- A comprehension of core digital marketing channels and how they are managed in a business setting
- Tools to evaluate the performance of each marketing channel using e-commerce metrics
- An understanding of how to interpret web analytics data critically, and how to identify key takeaways to make actionable business decisions
- A grasp on tangible tools to build a digital marketing strategy
Meet Our Speaker:
Jennifer Neeley, Instructor, Digital Marketing, UCSD Extended Studies
Meet Our Hosts:
Gabby Baker, San Diego Chapter President, #LatinaGeeks
Suzy Reyes San Diego Chapter VP, #LatinaGeeks
Follow us on Twitter & IG: @LatinaGeeks
RECOMMENDATION & REQUIREMENTS:
· Must register via Eventbrite registration page.
· All registered #LatinaGeeks attendees will receive an email before the event with the link to access the event.
· Platform: Zoom (download app if accessing through mobile device)
· Recommended browsers: For the best experience, please use one of these browsers: Edge, New Chromium Edge, Chrome or Firefox.
EVENT POWERED BY: