Description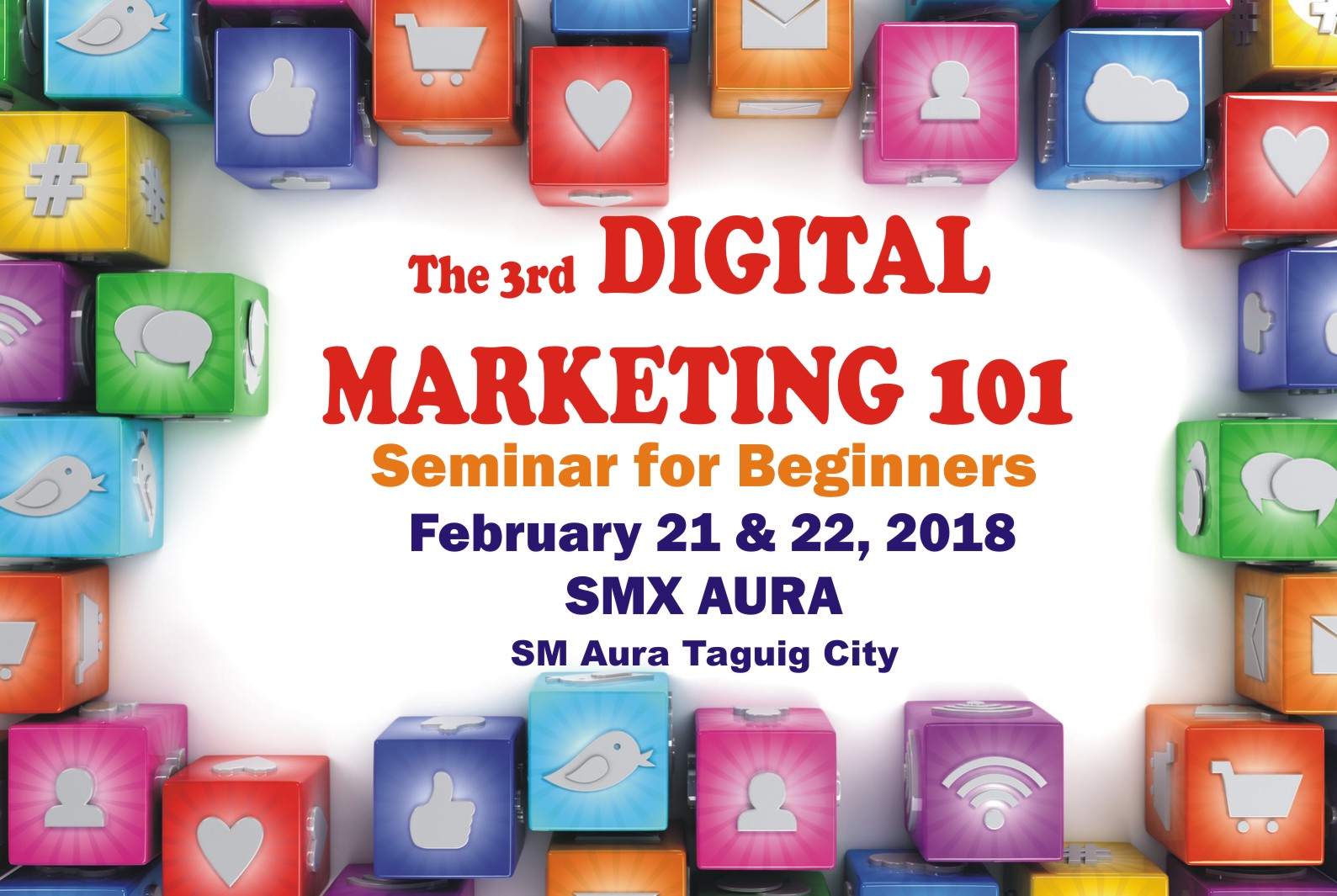 Digital Marketing Success starts here!
The 3rd DIGITAL MARKETING 101,
a two-day seminar designed to make beginners learn and get ahead with Digital Marketing is set for February 21 & 22, 2018 at the SMX AURA Taguig City.
The event aims to address the growing present need to ably guide beginners to shift to digital.
It gathers the key players and respected digital marketing experts in the industry to share their knowledge on digital marketing topics such as MOBILE MARKETING, VIDEO, SOCIAL MEDIA, SEARCH, STRATEGY, CONTENT, EMAIL MARKETING
It is designed for BEGINNERS and all who have basic knowledge of digital marketing.
Target Attendees are marketing personnel,
Entrepreneurs/SME's, Academe, BPO sourcing & marketing personnel, Government personnel, Brand personnel, Ad Agencies, Business leaders, Website owners, Students
Why attend?
The seminars will give attendees a complete and concise overview of the key aspects of digital marketing, and how they can effectively utilize them in their marketing plan.
End objective: by the end of the full-day seminar, attendees will be ready to formulate their own digital strategy for their company or business.
Super Early Bird Reg : P4,700 for payments on or before Oct 26, 2017
Early Bird Reg: P5,600 for payments from Oct 27 to Nov 18, 2017)
Super Regular Reg : P6,500 (for payments from Nov 19 to Dec 20, 2017);
Regular Reg : P7,500 (for payments from Dec 21 to Jan 19, 2018);
Standard Reg : P8,500 (for payments feom Jan 20 to Feb 17, 2018)
Walk In/Onsite Reg: P9,500
Academe: P4,500
Students: 4,000
Group Rate is : Buy 4 get 1 slot Free; Inclusions: Certificate , pdf Seminar Kit, VAT.
To register, please click log on to www.neotrade.co
For queries and clarifications, please do not hesitate to call
Neotrade (NEO CCM) at
Tel: 9380837 or 09167312040
Or log on to www.neotrade.co
Facebook:Neotrade Events, Phil3DExpo
Register online at www.neotrade.co
Thank you and best regards
Neotrade (NEO CCM ENT EVENTS CORP)
9380837, 09167312040