Description
Digital marketing offers a lot of great opportunities for your business but if you don't have a strong plan in place or aren't using the right tools for the job, it can also take up a lot of precious time, without delivering the right results. This class offers a high-level overview of the most widely used digital marketing tools, and where they serve you best in the buying cycle of your customer. Our goal is that you exit the class with an understanding of your options and tools you may use in your communication, a draft media mix and a few seedling ideas for the content of each.
We are going to look at:
Understanding your sales cycle
How to move customers along the funnel
Widely used, cost-effective digital marketing tools
Tips, tricks and best practices
The most important metrics to keep an eye on if you are running online advertising campaigns
How to pick the right mix of tools for your marketing plan
This class aims to give an overview of digital marketing tools and best practices. It is suitable for business owners with no specific marketing experience or those who are just venturing into digital marketing and would like to have a better understanding of the landscape before launching campaigns.
This class is part of the 5-week Marketing Strategy Course by GetSet for Growth
Ready to grow your business but unsure where to start? Does your marketing feel a little ad-hoc and reactive most of the time? Would you like to build a strong foundation learning repeatable methods for constructing a sound marketing strategy?


GetSet for Growth London workshops are tailored for business owners, to enable the creation of a marketing plan that makes sense, actually helps day to day execution and facilitates growth. Each class is a practical and interactive session designed to help you create a consistent presence, shape your messaging, pick the right communication channels and maximising ROI on your marketing spend.
For the best results, we suggest you take all five classes in the course.
Of course, you can also pick any of the comprehensive and self-contained workshops that match the specific areas and challenges you are interested in or attend a whole series in order to learn all the necessary skills enabling you to create a sound, long-term marketing strategy.
Order of weekly classes:
Week 1: Marketing Strategy for Growth
Week 2: Building a rich & helpful customer persona.

Week 3: Why & How to Build a Meaningful Brand? Marketing Strategy
Week 4: Understand your sales cycle and Digital marketing tools 101
Week 5: Social media and content marketing
Please bring a pen, paper or another note-taking device to be able to participate in the exercises and use your time with us meaningfully and come with an open and inquisitive mind.
Doors open at 5:30 for a 5:40 start. Please try to be on time as much possible to get the most out of this session.
Speaker:
Orsi Toth, Marketing Advisor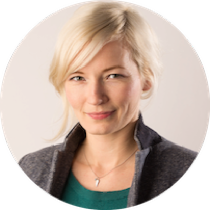 Orsi is a marketing and business strategist with a decade of experience in brand building, online communication, workshop facilitation and product development. Most recently author of the book The Lowest Hanging Fruit, a guide to target audience persona building.
Over the last decade, she has transitioned from classic advertising, coordinating ATL projects and creative teams, to digital communication, product development and user experience, working with brands like Johnson & Johnson, Nissan, Peugeot and Reckitt Benckiser.
In 2012, she co-founded travel tech startup Drungli, the adventure generator for spontaneous people. As the CEO and Product Manager, she was instrumental in the growth of the site from zero to 50k unique visitors per month, mostly through social media, PR and consistent, vivid branding.
Please be advised that while the workshop is free of charge, we will ask you to fill in a registration form and session feedback form. GetSet for Growth is a fully funded program set up to support East London entrepreneurs and these bits of paperwork enable us to track our progress, measure our impact and continue providing you free services. Please follow this link to do it in advance, saving hassle at the workshop itself: https://www.getsetforgrowth.com/london/register/
Registered participants based in Hackney, Newham, Tower Hamlets, Waltham Forest, Lewisham, Southwark and Lambeth are also eligible for free of charge ongoing one to one marketing or financial support with our advisers.
Accessibility
If you would require special assistance in the event of an emergency for any reason, please let us know so we can make any necessary arrangements by calling us on 0800 121 4458 or emailing london@getsetforgrowth.com.