Description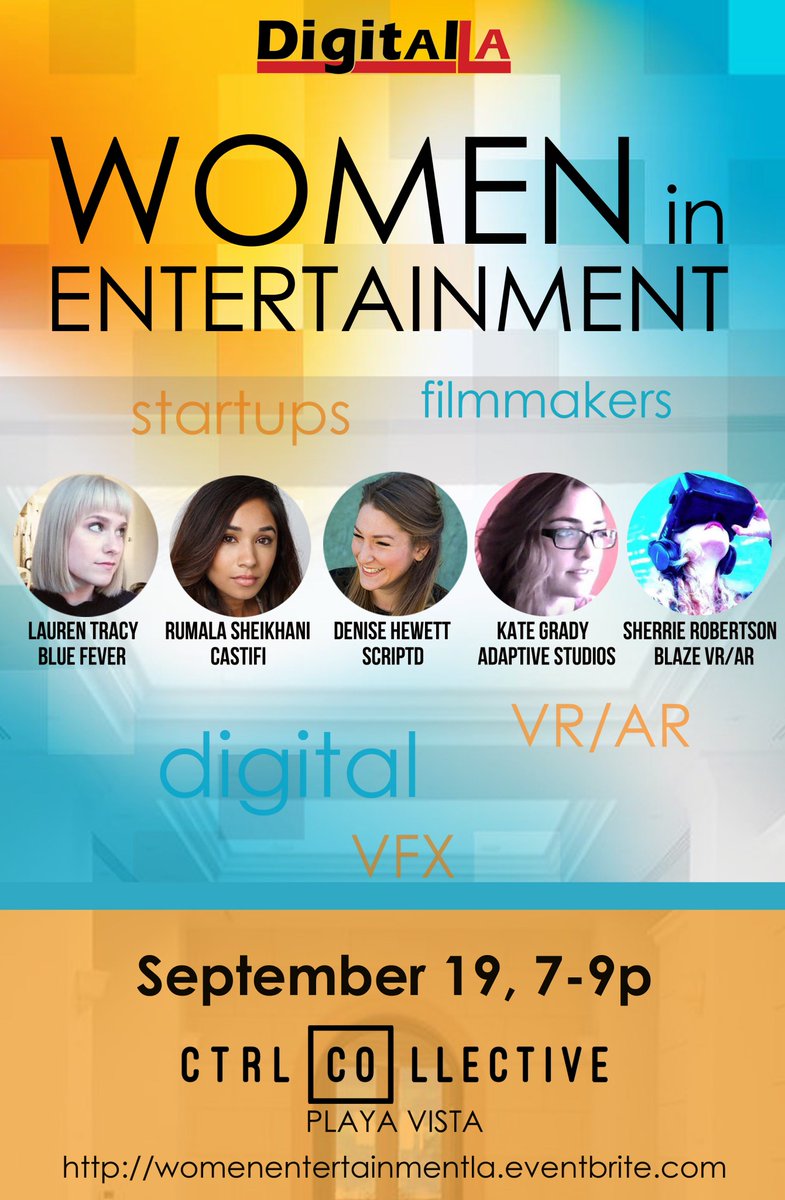 In this next panel in our Women-focused series, we focus on Digital Women in Entertainment. Join us for this discussion with startup founders and CEOs, and digital filmmakers and content creators. Startup founders and CEOs will discuss how they founded their companies, developed their products, built their teams, raised money, get clients and customers, and do marketing and social media. Digital filmmakers and content creators will discuss how they adapt to digital, and use digital tools to create content and tell stories differently, from online to VR/AR/MR. We will also discuss how to increase more women in entertainment in tech: What is needed? What are resources? What can we as a community do?
SCHEDULED SPEAKERS
Lauren Tracy, Blue Fever, CEO; Filmmaker. Recently accepted into Techstars LA inaugural class, Blue Fever is a 'Netflix for millennial women.' Since mainstream Hollywood serves women only 15% of the time, Blue Fever fills this market gap by providing the high-quality women-focused movies and series (short and long-form). @BlueFevr
Rumala Sheikhani, Castifi, CEO. Castifi lets casting directors and managers sourcing talent, coordinating talent on set, and payroll. Castifi is paperless and can handle rush castings of any size. Rumala pitched at our Silicon Beach Fest Downtown a few years ago. @castifiapp
Denise Hewett, Scriptd, CEO/ Founder. Scriptd is a script database for the entertainment industry (google for scripts if you will) that is a true pipeline for diversity and content discovery. We are also creating script culture like book culture so the public can pay to read scripts for the first time ever (like e-books) and upvote them on the site. This allows us to tap into audience bases, capture the data behind them and make better buys and bets to achieve greater commercial success. @scriptdinc
Louise-Marie Marguet, EmoJam, Founder /CEO, animated emoji with music

Kate Grady, Adaptive Studios, Executive Director, Physical Production. Adaptive identifyies and acquires undervalued IP, and adapt it to new digital content on various digital platforms for new audiences. Adaptive has worked with a variety of partners that include HBO, Facebook, Verizon, Netflix, Samsung, Barnes & Noble, Stylehaul, Gunpowder & Sky, Matt Damon & Ben Affleck and many others. @adaptivestudios
Shero Robertson, Blaze VR/AR, Founder. Shero Robertson, Blaze VR/AR, Founder. Sherrie is a traditional filmmaker who has ventured into VR/AR/MR over the past 2.5 years. Past clients in traditional film include Red Bull, Body Mints, Triple Crown of Surfing. She recently won several awards for her ViR storytelling/producing workincluding "Best in Show" at the SFVR hackathon and Google's Project Tango hackathon. Dramatic feature script, Juke Box Hero, is a two-time Sundance Feature Film Lab finalist currently in post-production. She was offered Panavision's New Filmmaker grant as well.
Alia Daniels, REVRY, Co-Founder and COO. REVRY is like a Netflix for LGBT content, curating and distributing short films, shows, live events like LA Pride, and more.
AGENDA
- 7-7:30p Networking and Check-in
- 7:30-8:30p Panel
- 8:30-9p After Networking
PARKING
- Complimentary parking in the CTRL Parking Lot after 6p