Actions and Detail Panel
Digital LA - Women Gamers: eSports, Twitch, YouTube, VR
Thu, February 16, 2017, 7:00 PM – 9:30 PM PST
Description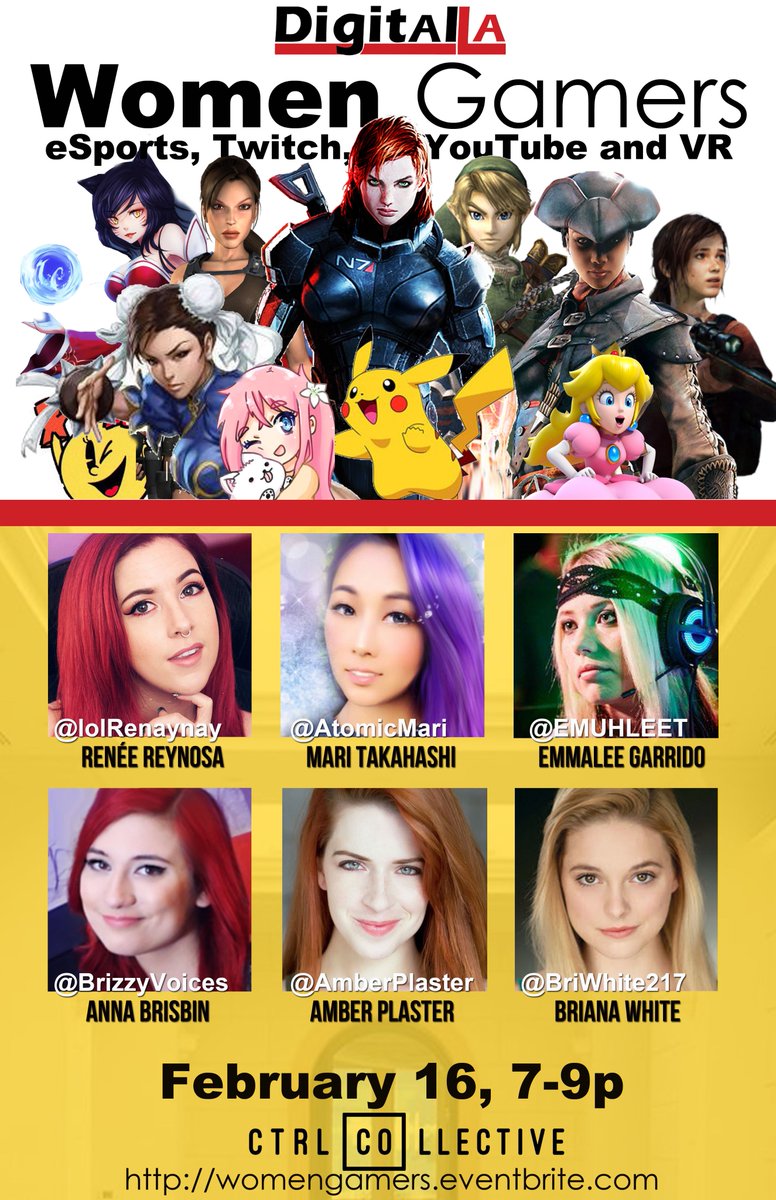 Join our pre-GDC panel where game influencers will discuss how to build their audience, engage fans across social media platforms, and start to work with brands.
SPEAKERS
- Renée Reynosa, also known as lolRenaynay in the gaming community, has been a Twitch broadcaster and online content creator since 2011. She focuses primarily on shooters, adventure titles, and bad jokes. @lolRenaynay
- Mari Takahashi, @AtomicMari is a professional ballerina turned Internet personality and gamer. She is best known for hosting and producing shows for her popular YouTube channel, Smosh Games, as well as being a contestant in the 33rd season of CBS' Survivor.
- Emmalee Garrido, Leader of SelflessGG, team of women gamers. 2nd ESWC 2016- 2nd ESWC 2014- Female World Champion CPH 2015- 3rd IEM 2016. @emuhleet @selflessGG
- Anna BrizzyVoices 's favorite games at the moment are Overwatch, League of Legends, and Pokemon. Her YouTube channel, though not entirely gaming focused, has 1,500,000 subscribers while her Twitch has 33,000 followers. @BrizzyVoices
- Amber Plaster. Amber is the first person to complete an entire gameplay on Periscope. She has since specialized in third person shooter games such as Tomb Raider and TLOU. You can find her gaming and creating videos on YouYube, and she is on HBO's second season of Silicon Valley. She covers This Is Us on Afterbuzz TV. @amberplaster
- Briana White is a YouTuber and actress
- LilyPichu - YouTuber gamer with 800,000 subscriber and cute anime characters. @lilypichu
CALL FOR SPEAKERS: If you are or know a women gamer, YouTuber, influencer, Twitch streamer with more than 10,000 subscribers and followers across all channels, email info@digitalla.net with GAMERS as subject.
AGENDA
- 7-7:30p Checkin and Networking
- 7:30-8:30 Panel w Q&A
- 8:30-9p After Networking
PARKING: Complimentary parking in the CTRL Collective Parking lot after 6p