Description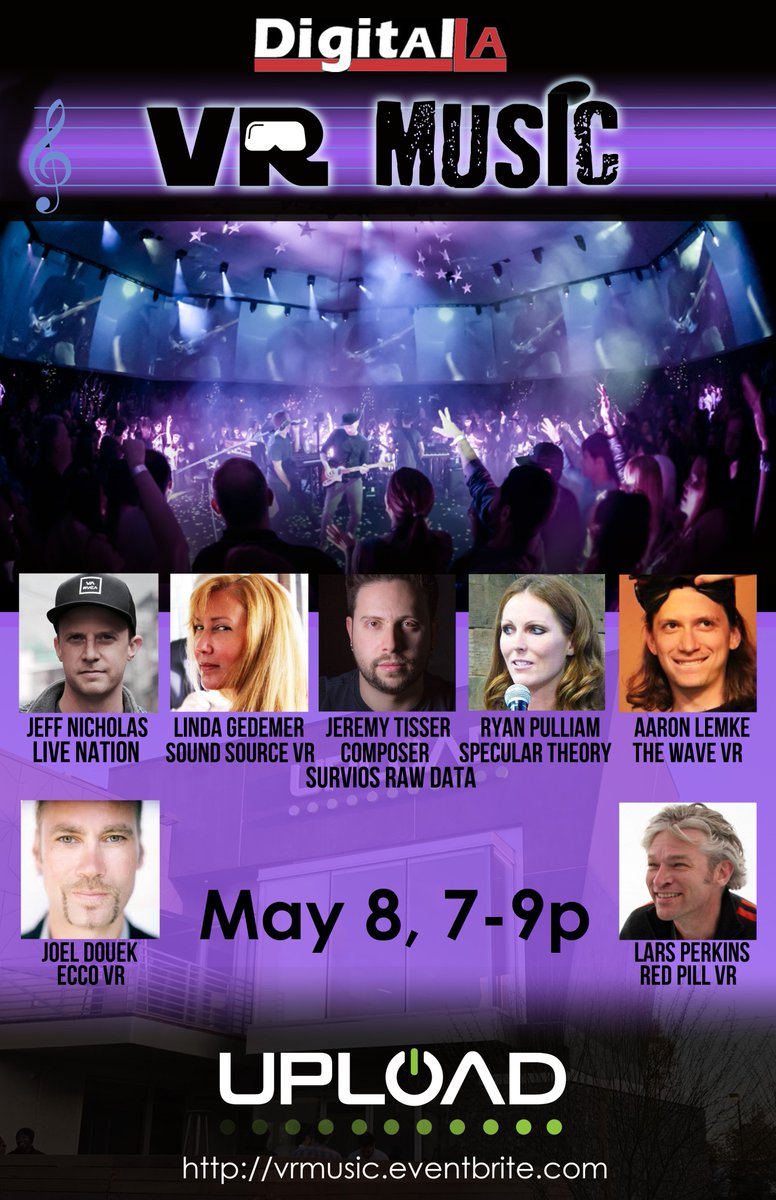 Music is key to VR. Join us for this discussion where VR and Music experts will discuss:
- How spatial-surround music in VR can help enhance your VR experience, e.g. music of whatever you're looking at gets louder, etc., how to technically do spatial music
- Composing: How is composing music for VR similar or different from composing for film or video games. How can music composers can get into VR?
- Bands: What are bands and artists doing in VR, from music videos in VR 360 to livestreaming 360 their concerts with onstage or backstage cams.
- Startups: VR Music startups let fans and composers interact, create, discover and listen to music in VR environments.
SPEAKERS
- Jeff Nicholas, Live Nation, Director of VR Creative and Production. Jeff oversees the development and execution of all of Live Nation's live and episodic VR content initiatives. Prior to his work with Live Nation, he spearheaded VR experiences with CBS, WEVR, Oculus, Ford, Mike Shinoda, Budweiser, and many others. He has directed and produced music videos, commercials, digital and experiential campaigns for clients including Rihanna, Dreamworks, Justin Timberlake, Bud Light Platinum, Shakira, Apple Music, Jason Mraz, Beats By Dr Dre, Linkin Park, AKQA, Black Rebel Motorcycle Club, Sony, Foo Fighters, Nixon Watches, Beastie Boys, and many more.
- Joel Douek, ECCO VR, Co-Founder. Joel's recent music projects include launching ECCO's musical VR experience with Within & Lytro at Tribeca Film Festival, completing the VR music video for Facebook launched at F8, and creating the spatial sound for the first ever VR CGI music video. His other projects have included Live Nation, JauntVR, NBC, IMAX and Hulu Originals. He has scored more than 80 documentaries, as well as film, TV shows, and commercials. He has numerous BAFTA and EMMY-winning productions. @EccoVR
- Aaron Lemke, TheWaveVR, Co-Founder and Chief Creative Officer. TheWaveVR is a recently funded VR music startup building a musical metaverse, where musicians and fans can create, perform and attend shows together in VR. @theWaveVR
- Linda Gedemer, Sound Source VR, VR Audio Evangelist
- Peter Martin, Valis Studios, CEO. Peter has directed several high-profile msic projects, including Run the Jewels "Crown" music video with WEVR, released on NYTVR, Ray Lamontagne's "Hey, No Pressure" video for Jaunt VR. He directed the 2016 Sports Illustrated Swimsuit Issue which was released by Time Inc on a bespoke Swim VR app sponsored by Lexus. Most recently Peter created his first room scale VR project for the Smithsonian with Intel, Framestore, XRez and 8i.
- Ryan Pulliam, Specular Theory, Co-Founder. Specular Theory has won numerous awards including best live-action 360 music video in 2015 for The Donnies The Amys "Runaround" video (one of the first to successfully move between different shots with no cuts in one continuous long shot). In 2016 Specular Theory was chosen by Dolby to create their signature piece for Dolby Atmos to showcase the effective use of spatial sound and importance of ambisonic sound in live-action VR. In addition to their music video work for clients including Sony and Interscope, Specular Theory is now creating original IP for music-based LBE games and VR Arcades.
- Jeremy Nathan Tisser, Composer is the composer of the score of Survios' hit VR game Raw Data. He has strengthened projects in film, television and video games with his scores, and enjoys the musical challenges that VR presents. His other credits include Jurassic World, Pixar in Concert and dozens more. @jeremytisse
- Lars Perkins, Red Pill VR, COO, Breakthrough VR Music Visualization in development. @RedPillVR
- Moderator: Kevin Winston, Digital LA, CEO and Founder
CALL FOR SPEAKERS and DEMOS: If you are a speaker with music VR experience that people want to hear about, or company which would like to demo a product related to VR and Music, email info@digitalla.net with MUSIC as the subject.

AGENDA
- 7-7:30p Check-in, Networking and Demos
- 7:30-8:30p Panel with Q&A
- 8:30-9p After-Networking and Demos
PARKING: Free parking after 6pm in the lot.
Venue: Upload just opened its Marina del Rey office, which offers office space for VR startups and companies, VR/AR events, and its classroom. Details http://uploadvr.com