Description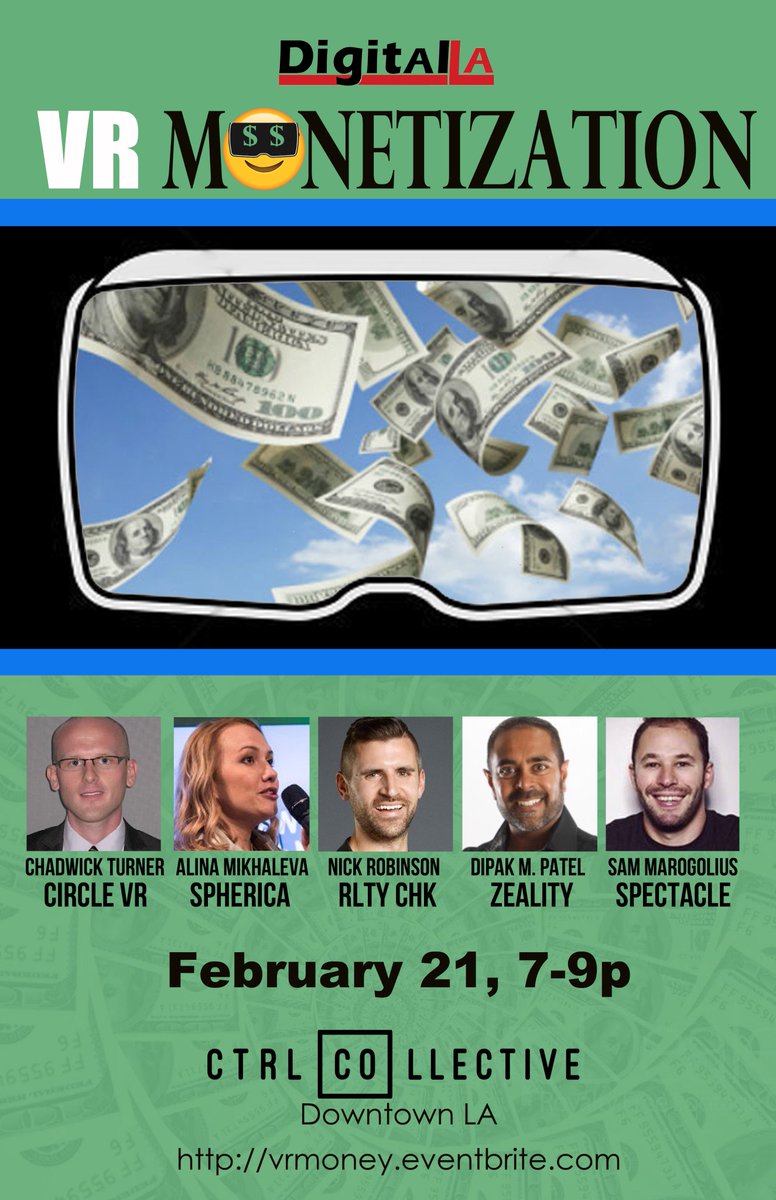 Join us for our panel where we'll discuss VR Monetization revenue streams from companies and startups that are making money doing them. We will discuss revenue opportunies for B2B (project work, industry, etc.) and B2C (games, experiences, rides, etc). VR Monetization is always the question that is skipped or glossed over on VR panels, so we are gonna roll up our sleeves and get down to the revenue models that are working, and are coming.
SPEAKERS
- Chadwick Turner, Circle VR, Founder, and Mandt VR, Founder. Circle VR is creating a 360-video platform with programmatic interstitial advertising, a automated ad platform for 360-video advertising.
- Alina Mikhaleva, Spherica, Managing Partner. Spherica creates cinematic VR experiences with its unique 360 filming technology used in multiple VR projects from the Associated Press to HuffPost RYOT. In addition to generating revenue through production, Spherica has generated additional reveneus via licensing its content.
- Dipak M. Patel, Zeality, Co-Founder & CEO. Zeality is a cloud based platform that enables media, sports, and entertainment brands to take immersive media experiences to market by creating new engagement models for their fans and audiences
- Nick Robinson, RLTY CHK, CEO, Co-Founder. RLTY CHK is an immersive experience studio focused on transforming entertainment through story, technology and community. RLTY CHK has released games for the HTC Vive and Oculus Rift with thousands of paid downloads in less than six months. Through community building and Steam marketing the VR startup is building an audience with month-over-month growth. Their new social VR platform will be seen for the first time as part of Valve's booth at GDC 2017.
- Caspar Bohme, Navel.Live, Co-Founder. Navel Live is a VR livestream company that immerses you in the world of your favorite influencer via 360 VR livesreaming. Revenue model: sponsored experiences and native advertising.
- Sam Marogolius, Spectacle, Executive Producer. Spectacle creates branded VR experinces for Haggan Daaz and other companies. It created a Swimsuit Illustrated freemium expereince which is free to download, with in-experience purchases for more features.
CALL FOR SPEAKERS:
- If you are making money via VR right now (beyond just getting paid for projects, like getting paid by consumers), and can speak about it on our panel, email info@digitalla.net with VR as the subject.
AGENDA
- 7-7:30p Check-in and Networking
- 7:30p - 8:30p Panel
- 8:30p - 9pm After networking