Actions and Detail Panel
Digital LA - VR Access
Wed, March 29, 2017, 7:00 PM – 9:00 PM PDT
Description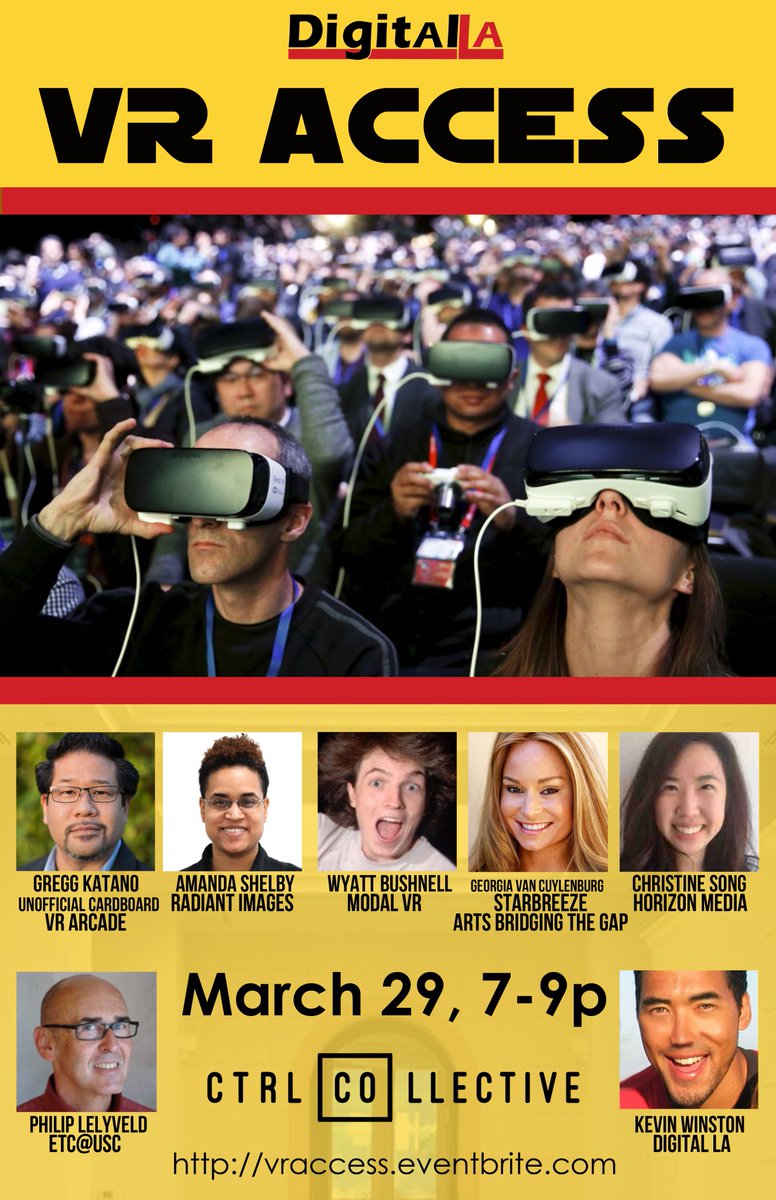 Join us for our panel on VR Access where we'll discuss how to increase access to VR beyond demos at conferences. We will discuss how to increase VR awareness and sampling it by the mainstream via:
- Public access VR demos and arcades
- Venue based VR like IMAX VR in LA or Ghostbusters VR in NY
- Cardboard viewers, which make mobile VR available to more.
- VR programs for women and girls, children, elderly
- VR diversity programs to bring VR to communities not usually exposed
- VR in fashion, art or education to bring VR exposure to more people
SPEAKERS
- Gregg Katano, Unofficial Cardboard, Partner, and VR Arcade, Partner. Unofficial Cardboard creates custom branded cardboard VR viewers for brands and advertisers, increasing mobile VR exposure among mainstream users. Gregg is also a partner of VR Arcade, which creates free events with VR demos during tech conferences like SXSW and CES. He is also MaiTai Global's first official VR Ambassador to help to bring VR awareness to events produced with partner, Sir Richard Branson / Virgin. Gregg speaks at several tech and VR conferences and events. @greggkatano
- Amanda Shelby, Radiant Images, Head of VR Production. Amanda helps people who want to start VR productions scope out their projects via onsite consultation visits at the Radiant Images facility in Glassell Park. She has held workshops at Radiant inviting UCLA and USC students as well as DGA members to expose them to VR and 360 video. Amanda also has worked with the Blackhouse Foundation to increase awareness of VR among African American content creators. Instagram: @ProducedByShelby.
- Wyatt Bushnell, Modal VR, location based VR company founded by his father Nolan Bushnell (founder of Atari, Chuck E Cheese). Formerly at Two Bit Circus, VP Engineering
- Georgia Van Cuylenberg, Starbreeze Studios, Producer of Location based VR including Walking Dead and John Wick; Founder of Arts Bridging the Gap, noon-profit that uses arts education the bridge the achievement gap which uses VR for donor engagement and in programing with the students. Founding member of Girls Make VR - classes for underserved teen girls to learn VR content. Owner of production company "I Am Spartacus Entertainment" which creates socially conscious positive content. @georgiavanc
- Christine Song, Horizon Media, Associate Manager, Social Strategy and Influencers. Christine helps clients with their social media strategy for projects including VR. Horizon has worked with Jack in the Box and GSN on partnering with influencers to promote its VR content and create branded cardboad viewers.
- Philip Lelyveld, USC Entertainment Technology Center, VR/AR Project Lead, manages a state-of-the-industry think tank of the creative, technical, and business issues that will shape this new, emerging art form
- Kevin Winston, Digital LA, CEO, moderator
CALL FOR SPEAKERS: If you can speak on Access to VR for mainstream or niche communities beyond tech conferences, email info@digitalla.net with your background.
AGENDA
- 7-7:30p Check in and Arrivals. Snacks included BARE dried apple chips and cranberry Red Bull
- 7:30-8:30p Panel
- 8:30-9p After panel networking
PARKING: Comp parking after 6p in the CTRL Collective private lot.