Description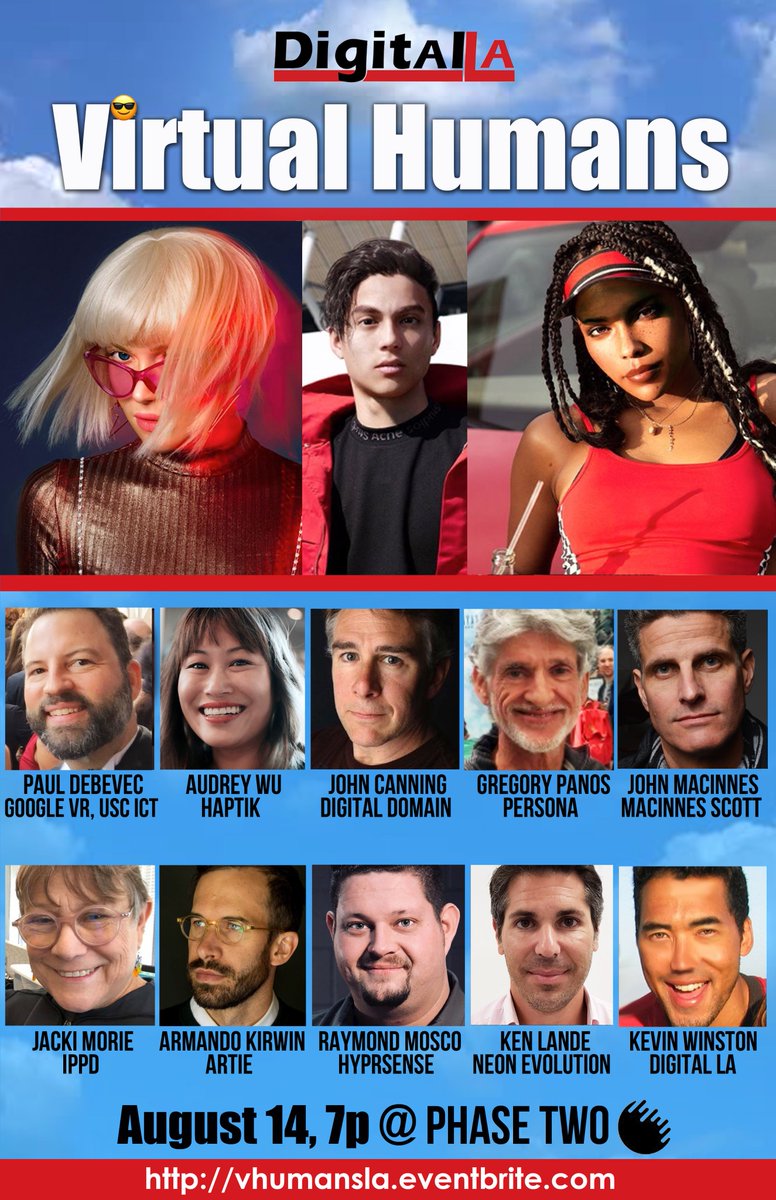 At our panel on Virtual Humans, Academy and Emmy winning industry innovators will discuss creating virtual humans for entertainment, influencers, and other uses. We will discuss resolution of characters, distribution (online, programs, social), and more.
SCHEDULED SPEAKERS

- Paul Debevec, Google VR, USC ICT researcher professor. At Google VR, Debevec works on the Daydream team. At USC ICT, Debevec has led the development of a series of Light Stage devices for capturing and simulating how objects and people reflect light, used to create photoreal digital actors in films such as Spider Man 2, Superman Returns, and The Curious Case of Benjamin Button, and Avatar, as well as 3D Display devices for telepresence and teleconferencing. He won a Academy SciTech Award in 2019 for his work on Polarized Spherical Gradient Illumination facial appearance capture method, and in 2010 for his Light Stage work. He serves as Vice President of ACM SIGGRAPH and is a member of the Visual Effects Society, the Academy of Motion Picture Arts and Sciences, and the Academy's Science and Technology Council.
- John Canning, Digital Domain, Executive Producer, New Media and Experiential. John helps the Digital Domain award-winning team create innovative VFX campaings to platforms beyond film and television including holograms, VR, AR, experiential indoor and outdoor, and virtual humans.
- Audrey Wu, Haptik, VP of Strategic Partnerships, Americas. Audrey was recently named one of the top 25 chatbot influencers in the world. Haptik has been recognized as one of the Top 25 AI Companies in the World 2018 by AI Time Journal, having reached over 100 million devices, and processed over 2 billion conversations till date fo clients inclding Samsung, KFC, Coca-Cola, and more. Prior she was Co-Founder and CEO of CONVRG (acquired by Haptik), a voice and messaging platform for with customers such as Estee Lauder, Sephora, the GRAMMYS, Proactiv and Aveda. She previously headed imperson Studios, powering AI based chatbots for Disney, Lionsgate and Amazon.
- John MacInnes, MacInnes Scott, Co-Founder. John specializes in creating hyperreal digital human characters. MacInnes Scott won the 2018 Lumiere Award for Best AR for their work on the global marketing campaign for the Netflix show Altered Carbon. Its art installation We The People, featuring hyperreal interactive avatars of Presidents Obama and Trump, was the center piece of the Sotheby's Art Of VR exhibition in 2017. In 2016 they delivered their TEDx Talk, Digital Alchemy and the Quest for Immortality. MacInnes Scott is currently working with Ryot Studios, spearheading a digital human pipeline for Verizon. As a screenwriter John is best known for writing CALL OF DUTY, ADVANCED WARFARE, the biggest selling video game of 2014, and he is the recipient of a Nicholl Fellowship from the Academy of Motion Picture Arts and Sciences (the Oscars). As well as continuing to work at the bleeding edged of VR/AR/XR, John is producing two feature films using a pipeline that combines deepfake ML and the Unreal game engine.
- Gregory Panos, Persona Foundation, Founder. Gregory is a virtual human evangelist, speaker an author. He is founder of Persona, dedicated toward the creation, adoption and usage of Virtual Human simulation technology in daily life and whole life existence. He recently completed some chapters of an upcoming book on the history of virtual humans.
- Jacki Morie has more than 20 years of experience in VR and immersive technologies. She worked with NASA to create astronaut avatars in simulated Virtual Environments. And at USC - ICT, she consulted with the Boston Museum of Science on Ada and Grace, life-sized conversational twin girl guides who greeted visitors and gave directions, etc.
- Raymond Mosco, Hyprsense, Director of Business Development. Hypersense provides real-time facial motion capture technology to enable live animation. His previous company Mira Labs won the SXSW VR award category.
- Ken Lande, Neon Evolution, Co-Founder. Ken leads the Neon Evolution team of artists, storytellers and CG technologists. Neon is focused on the blending of the physical and digital worlds and recently launched two virtual personalities, Binxie (@itsbinxie) and Aliza Rexx (@alizarexx).
- Armando Kirwin, Artie, Co-Founder. Artie is a LA-based technology company building software for content creators and mediacompanies to create intelligent avatars for mobile augmented reality. He has helped create more than 20 notable AR/VR projects for Apple, Google, and Facebook. Several have won multiple Emmy and Webby nominations, the Grand Prix at Cannes, along with numerous debuts at Tribeca, SXSW, and Sundance.
- Moderator: Kevin Winston, Digital LA, CEO, Founder.
If you work in virtual humans and can join us to speak about your virtual human that's already released, email info@digitalla.net with VHUMAN as subject.
AGENDA
- 7-7:30p Checkin and Networking
- 7:30p - 7:50p Paul Debevec Keynote
- 7:50-9p. Panel
SPONSOR via a sponsor table to demo your product before and after the event. Select the sponsor table option. You'll get a sponsor table.
PARKING: Complimentary parking in the Phase Two lot after 6p.