Description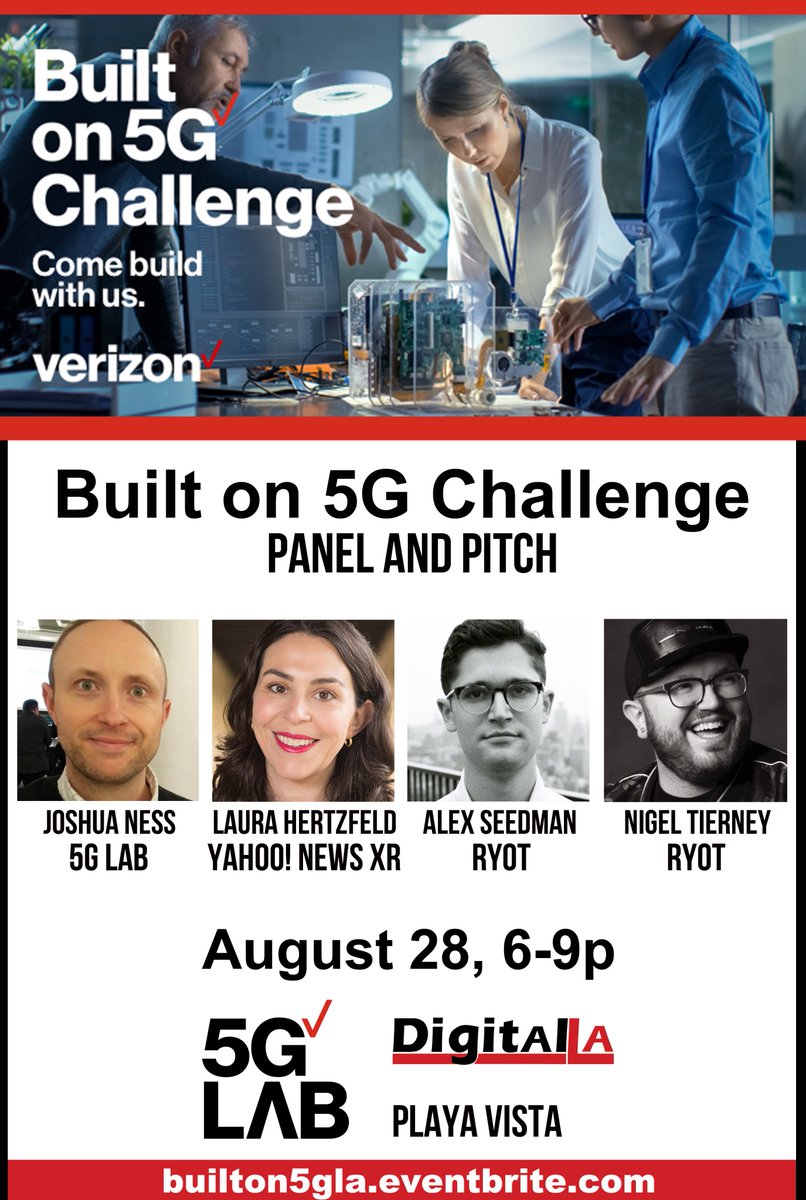 Attend our panel where experts in 5G from Verizon, Ryot, and more will discuss how 5G's faster speeds will change the entertainment landscape and spur startup innovation at Verizon's new 5G Lab in Playa Vista. After the panel, 3-4 startups can pitch their 5G startup ideas to the speakers, for a chance to win prizes.
SCHEDULED SPEAKERS
- Joshua Ness, 5G Labs team NY, oversees the Bo5G Challenge initiative
- Laura Hertzfeld, Director, Yahoo! News XR Partner Program
- Alex Seedman, RYOT, Associate Producer, Emerging Technologies
- Nigel Tierney, RYOT, Head of Content for RYOT
AGENDA
6 - 6:45p Check-in and Networking. Light snacks will be provided.
6:45-7:30p Panel with Q&A
7:30p-8:15. 5G Pitch: 3-4 startups will pitch their startup idea with prizes. 5 min pitch, 5 min judge/aud Q&A.
- LifeScope, Time Machine for Magic Leap, Liam Broza, CEO
- GISGPSMAP, Adam Bridge
- Drift - Matt Sason
- Alternate: Making XR by Victoria Grant
8:30 - 9p After Networking
The Built on 5G Challenge is a nationwide search for the best products, services, and applications that will bring the true power of 5G to life. The winners will be awarded up to $1 million, access to our 5G Lab, and an opportunity for Verizon to invest in your company in a future fundraising round. Submit your concept by September 15 https://verizon5glabs.com/builton5g/
What is 5G? Ultimately, 5G will be faster, with massive bandwidth, greater opportunities for connectivity and improved network reliability. Up to 100 times the capacity of today's 4G LTE network and 20 times faster download speeds than 4G. Additionally, network latency – or lag – of less than 10 milliseconds or many times faster than the blink of an eye.
About Verizon 5G Lab: The 5G Lab works with startups, academia and enterprise teams to build a 5G-powered world. The lab works on 5G trials, hackathons, industry partnerships, prototyping challenges and more. Learn More.
CALL FOR STARTUPS TO 5G PITCH: If you have an idea for a startup that uses the power of 5G, and can pitch for 5 minutes with a 5 min judges Q&A, th email info@digitalla.net with 5G as the subject and your
PARKING: The entrance gate to the parking lot is all the way down to the very end of Alla Road (dead end street) through main gate # 1 (The Reserve). Grab a ticket at the gate and park in any open space. Walk through to building 900, which is directly to your left (a grey building, that reads "Verizon Digital Media Services," with glass windows.) Upon arriving at building 900, you should see people working the event that will direct you on where to go from there.