Description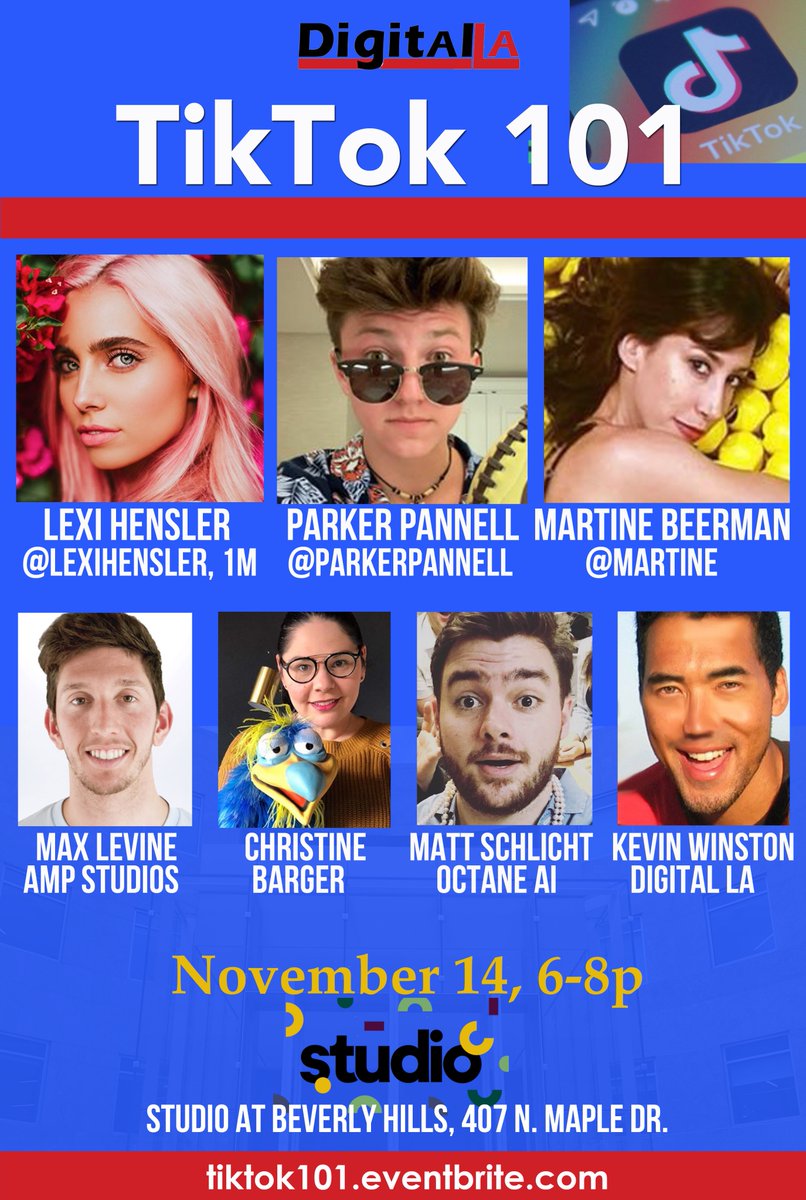 TikTok has been rapidly increasing in users at a faster rate than most social media platforms, with especially high engagement among pre-teen and teen users. Yet many marketing and agency executives aren't on it, or aren't familiar with how to use it. Join our discussion where TikTok creators and experts will discuss how TikTok is uniquely different from Instagram, Facebook, and Snapchat. We will discuss how to create content, engage fans, and how to partner with TikTok creators to promote brands uniquely via TikTok.

SCHEDULED SPEAKERS
- Lexi Hensler, @lexihensler, 1M followers. Lexi is a model and actress and influencer who has gained fame thanks to her YouTube channel and Instagram where she has worked with Bumble, LG, Monster, Crocs. She has grown her following on TikTok to more than 1M followers, and worked with Chipotle and Countdown (STX Entertainment Film) on TikTok.
- Parker Pannell, @parkerpannell. Parker is known for his TikTok channel where he does impersonations, pranks, and improv. He has over 800k followers. He recently hosted a red carpet event for Flight House and has performed stand up comedy at The Laugh Factory in LA and the Ice House in Pasadena. He also has acted in several indie films. Parker is athletic and plays baseball, basketball and swimming. Parker grew up in Lexington, KY, but now lives in Burbank, California. http://parkersplayground.com
- Matt Schlicht, Octane AI, CEO. Matt recently created a TikTok account @mattcatbat and has figured out some techniques to grow, amassing more than 340,000 followers in a few months. He recently wrote a Medium article descibing how TikTok is different for marketing and advetisers.
- Max Levine, Amp Studios, COO. Amp Studios is a content studio that incubates digital creators and builds IP. Amp's top creator, Brent Rivera, has 47 million followers and the studio generates 1 billion monthly views across social media. Amp has worked with top brands including Chipotle, Just Dance (Ubisoft) , Apex (EA) , Amazon, American Eagle, Wendy's, etc. Previously, Max was the co-founder of Shimmur, a tech and media company that was funded by WondrCo, Sony, Techstars, Greycroft, etc.
- Martine Beerman, Producer and Host at What's TrendingProducer and Talent on Circa Pop Live
- Christine Barger, actress and ventriloquist, has been on good Mythical Morning, iCarly, Penn and Teller Fool Us. 600K followers.
- Moderator: Kevin Winston, Digital LA, CEO and Founder
SCHEDULE
- 6-6:30p Check-in and Networking
- 6:30-7:30p Panel with Q&A
- 7:30 - 8p After Networking.
PARKING: Parking in the building is available but pricey. Try parking on little Santa Monica.