Description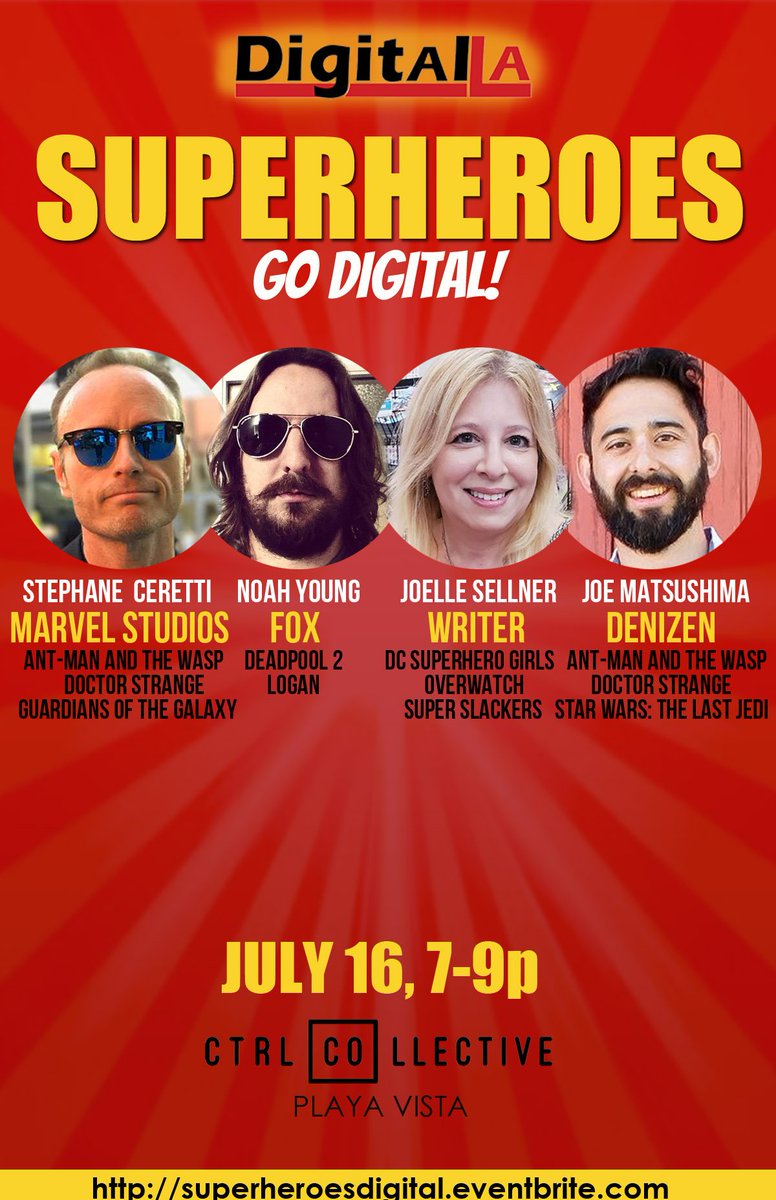 Join us for our annual Superheroes Go Digital panel, on the Monday in LA, before San Diego Comic-Con.
Experts in digital VFX, marketing, content and more will discuss how superheroes go digital.
SPEAKERS
- Stephane Ceretti, Marvel Studios, Visual Effects Supervisor on Ant-Man and the Wasp, Doctor Strange, and Guardians of the Galaxy. Stephane has been nominated for two Oscars in Visual Effects for his work on Doctor Strange and Guardians of the Galaxy. He also worked on Thor: The Dark World, Captain America: The First Avenger, Harry Potter and the Goblet of Fire, and several other titles. @stefceretti
- Noah Young, 20th Century Fox, VP Digital Marketing. Noah oversaw the digital marketing campaigns for Deadpool 2 and Logan, as well as several other Fox films. @nogoyo.
- Joelle Sellner, Writer, DC Superhero Girls, Overwatch, Monster High, Super Slackers. Joelle has written for animated web series including DC Superhero Girls, Mattel's Monster High, and Super Slackers, which she created. Her animated shows include Sonic Boom, Ben 10: Omniverse, Teen Titans, Shin Chan, and Avengers: Earth's Mightiest Heroes.Joelle has written comics for DC, Marvel, Dynamite, Blizzard and IDW, as well as Lion Forge/Roar Comics (including Saved By The Bell, Punky Brewster and MER). In addition, she has written several live action made-for-cable romantic comedies which have aired on the Lifetime Movie Network and Hallmark Drama. @joellesellner
- Joe Matsushima, Denizen Company, Co-Founder, Co-executive creative director. Joe has created and developed digital marketing campaigns for movie studios including Disney, Paramount Pictures, and Warner Brothers, creating innovative digital campaigns that contributed to the film's box office success. He has created campaigns for Marvel films including Doctor Strange VR, Ant-Man & The Wasp forced-perspective shrink-and-grow room, Star Wars: The Last Jedi NY Comic Con Experience (winner of two Webby Awards), Solo: A Star Wars Story meet Chewie at Star Tours, and more. Denizen specializes in viewer-first branded content to create unique campaigns that integrate VR, experiential, and new technology. @denizencompany @joematsushima
More speakers to be announced!
AGENDA
- 7-7:30p Check in and Networking
- 7:30-8:30p Panel
- 8:30 - 9pm After Networking