Description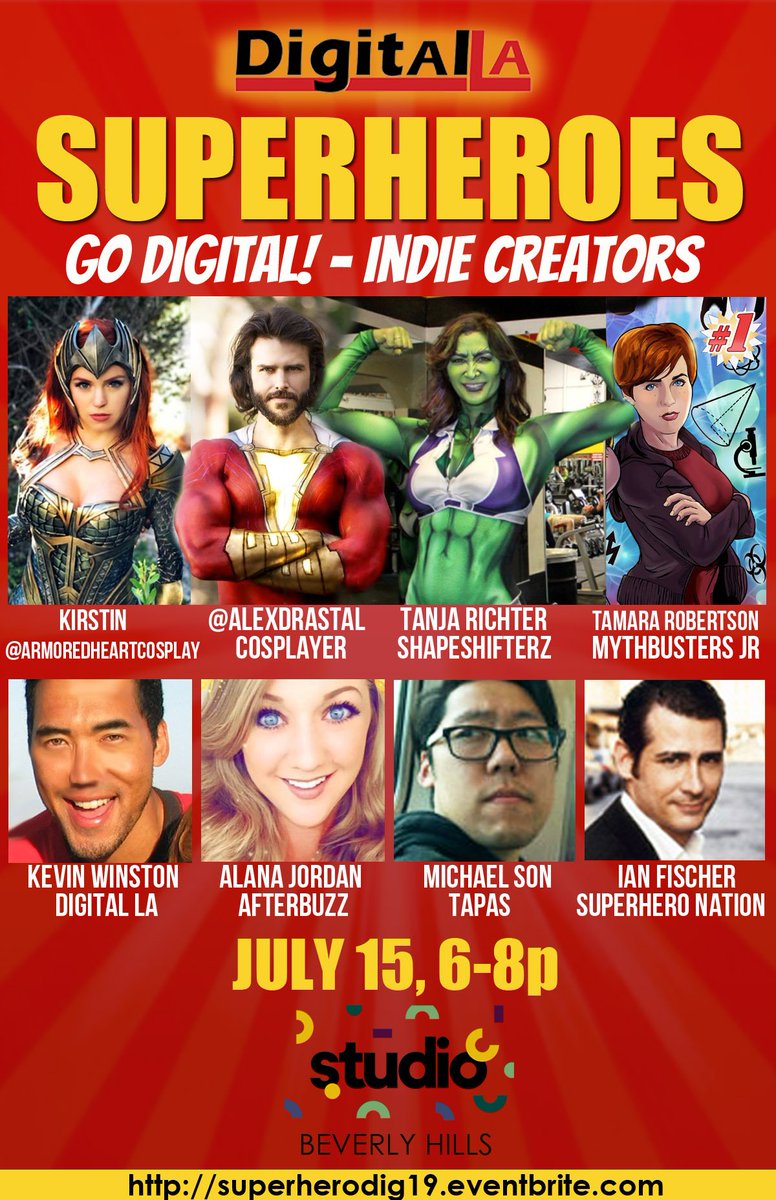 At our annual Digital LA - Superheroes Go Digital panel held in LA the Monday before San Diego Comic-Con SDCC, the topic is: Indie Creators! This panel features independent creators and filmmakers who will discuss how they use digital tools to create and market their own projects, and independent actors and cosplayers who use Instagram and social media to build their following and engage fans.
SPEAKERS
Tamara Robertson, Mythbusters Jr., Engineering and Design Expert, Co-Host SciJinks, Mythbusters Guest Host. She graduated North Carolina State CBE Engineering. Tamara speaks on panels about superhero science, and increasing women in STEM. She also likes to cosplay. She is co-creator of the outreach comic "Seekers of Science" (S.O.S.), starring two real-life engineers (Tamara and her co-founder Dr. Tracy Fanara) who utilize science and technology to solve real world problems, from handling pollution to the science of making medicine. Each issue concludes with a DIY at home experiment where readers can take part in a small scale version of what the S.O.S. team battles in the issue (aim of <$5 in materials each time) as well as read Q&A's with the experts who joined in that issue. More than 1,500 comics have been distributed to a several STEM and community organizations. Her second issue releases on the day of this panel!
Alex Drastal, @alexdrastal, is an actor model and cosplayer in LA with more than 50K Instagram followers @alexdrastal. He is most known for cosplaying Stain and All Might from My Hero Acadamia as well as the Slave Leia and Broly from Dragonball Super. Most recently, he was Yamcha in the crater at this year's Anime Expo. He engages with his Instagram fans to grow his following via Q&As and other tools.
Kirstin, @ArmoredHeartCosplay, likes to cospaly as Marvel and DC superheros, and other characters, with more than 106,000 Instagram followers. She has recently started using 3D printing to create some of her costumes and accessories.
Alana Jordan, AfterBuzz, Host. Alana has hosted for numerous superhero-themed shows on digital platforms, most notably DC Movie News which ironically has discussed the digital shift in comics on a digitally streaming show. She is also lead moderator and programming director for Amazing! Comic Con.
Tanja Richter, ShapeShifterZ, Creative Director/Founder and Lead Designer. Tanja Richter founded ShapeShifterz to incorporate fun and expressive ready-to-wear into technical athletic-wear. A former texture map designer for Digital Domain, she trained with some of Hollywood's elite entertainment industries most influential special effects masters. Personality, athleticism and timing propelled her in the limelight as a professional wrestler on television's Women of Wrestling. Behind the scenes, she made costumes for her vignette videos and some of the series other characters. Eventually, Tanja combined her love of costume creation and technical skills as a digital artist with her understanding of athletic performance to conceptualize the prototypes for ShapeShifterZ. She has created superhero themed outfits inspired by She-Hulk and other superheroes. Her outfits are sold primarily online.
Michael Son, Tapas, Senior Editor-in-Chief. As Editor, Michael has grown Tapas' community of independent creators, from 8 to 45,000 membrs. He has helmed notable digital comics projects including Cheshire Crossing with Andy Weir (author of The Martian) and Sarah Andersen (creator of Adulthood is a Myth), as well as Meg, Jo, Beth and Amy, a modern adaptation of Little Women with an all-star art team physically published by Hachette." He graduated from UC Berkeley where he facilitated a course on publishing creator owned comics.

Ian Fischer, Superhero Nation, Producer / Director. Ian has been working on Superhero Nation, a documentary that examines which explores America's love affair with Superheroes and what that says about American culture.. He has interviewed dozens of top comics writers, artists, and fans to try to find the answer. His film, several years in the making, follows fandom from sevearl years ago to recent Marvel Cinematic Universe films today.
Moderator: Kevin Winston, Digital LA, CEO
CALL FOR SPEAKERS: Email info@digitalla.net with SUPERHERO as the subject.
AGENDA
- 6-6:30p Check-in and Networking
- 6:30-7:30p Panel with Q&A
- 7:30-8 After networking
PARKING is avaiable in the building (pay on your own, not valiadated) or you can try street parking.
ABOUT STUDIO: Studio at Beverly Hills is a differentiated, global workspace where your company can thrive. Studio at Beverly Hills provides world-class, customized workspaces to meet every need – from open seating, to private suites, to your own dedicated space – all with move-in ready convenience. Studio offers you a seamless solution in an exceptional space, complete with IT solutions, carefully curated spaces, premium furniture and access to other global Studio locations. Schedule a tour BeverlyHills@yourstudio.com.