Description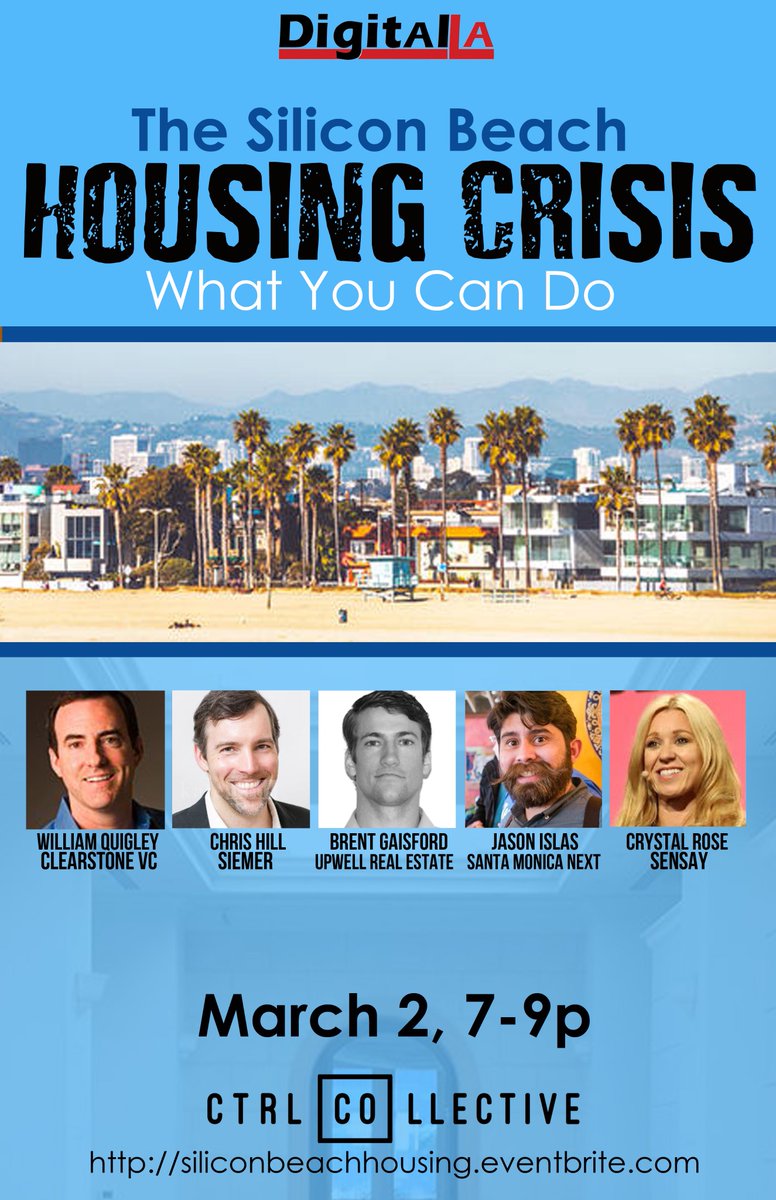 Join our panel discussion on Silicon Beach, the housing shortage, and Measure S. We will discuss rising housing costs in Silcon Beach, what you need to know about the March 7 election and its impact on real estate development in Los Angeles.
William Quigley, Clearstone Ventures, Managing Director
Chris Hill, Siemer & Associates, Principal
Brent Gaisford, Upwell Real Estate Group, develops affordable, modern housing in Los Angeles by creating innovative living spaces which disrupt traditional rental markets. Upwell seeks to use co-living and other innovative housing solutions to reduce rents, as well as provide economic and neighborhood community benefits. Upwell also advocates for long-term solutions to the crisis via zoning and planning changes to allow for more housing to be created.
Jason Islas, Editor of Santa Monica Next, an online news site published by the nonprofit California Streets Initiative. He also worked as the communications and community outreach director for the Santa Monica Forward No on Measure LV campaign.
Crystal Rose, Sensay, COO, Co-Founder.
Moderator: Kevin Winston, Digital LA, CEO and Founder
Thanks to Lara Wojahn of Abudant Housing LA and Pamela Day for organzing this panel.
CALL FOR SPEAKERS: We are looking for speakers from a Silicon Beach startup or tech company to comment on what they are doing to help with affordable housing on the West Side.
AGENDA
7-7:30p Checkin and Networking
7:30-8:30p Panel w Q&A
8:30-9p After Networking
FREE PARKING after 6p in the CTRL lot