Description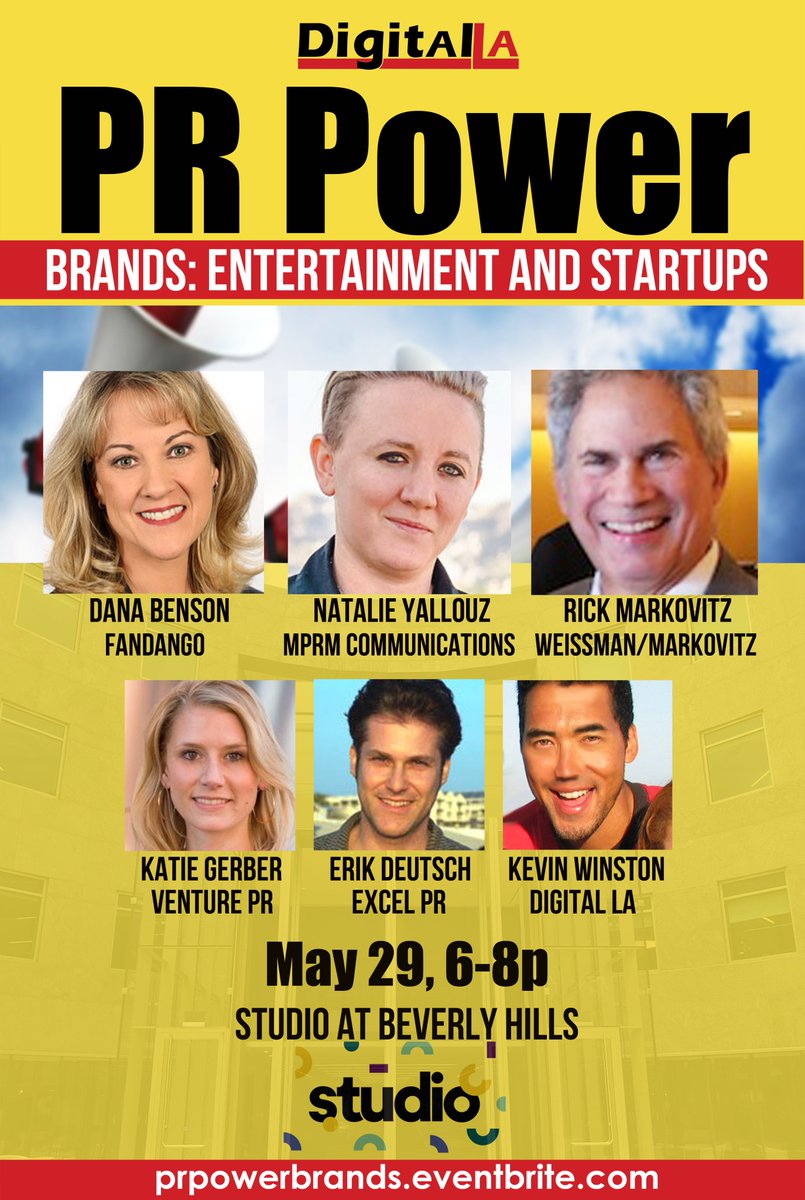 Join us for our PR Power: Brands - Entertainment and Startups panel. Expert speakers will discuss using PR to promote digital brands from entertainment to startups, and using digital tools to promote via PR. We will discuss Effective Press Releases and Social Media, How to find your story hook, relevance, Telling your PR Brand Story for an event or long-term, and PR for Tech and Entertainment, and more.
SPEAKERS include:
Dana Benson, Fandango, Vice President of Communications. Benson leads Fandango's corporate communications and publicity programs, developing strategic and creative plans that position Fandango as a marketplace leader and authority in the movie space. Prior to joining Fandango, Benson was the director, public relations at Disney Interactive leading publicity efforts for The Walt Disney Company's Internet businesses including Disney.com, DisneyFamily.com, and Disney-branded online and mobile games and apps. She has held senior PR positions at Hasbro, Mattel, Edelman, Bender/Helper Impact ,and The Lippin Group. She has launched campaigns for flagship digital entertainment brands and platforms: Microsoft Xbox, Guitar Hero, Rollercoaster Tycoon, Barbie and Tonka-branded video games, and more.
- Natalie Yallouz, MPRM Communications, Vice President. Natalie specializes in corporate communications, leading publicity efforts for digital media, entertainment and tech clients such as Google Play, Krikey, Digital Media Management, and Serial Box, among others. She's helped launched digital entertainment brands such as Snap Originals, Warner Bros. Stage 13, Fullscreen & AT&T's Hello Lab and more.
- Rick Markovitz, Weissman/Markovitz, President. Rick oversees PR for clients inclulding guilds and awards shows.
- Katie Gerber, Venture PR, President. Katie works with startups on their PR strategy. She was previously President of PMBC Group, a fast-growing public relations firm specializing in social and digital media, technology, health care, corporate communications and consumer packaged goods. She also worked at Disney Interactive Media Group.
- Erik Deutsch, ExcelPR, Principal. Recent clients include the California Film Commission, FilmL.A. (L.A. Regional Film Office), Bausch & Lomb, STAAR Surgical and the Italian Trade Commission.
More speakers to be added.
- Moderator: Kevin Winston, Digital LA, CEO
AGENDA
- 6-6:15p Check-in and Networking
- 6:15-7p Panel: Brands- Entertainment
- 7-7:45 Panel: Brands: - Startups
- 7:45-8 After networking
PARKING is avaiable in the building (pay on your own, not valiadated) or you can try street parking.
ABOUT STUDIO: Studio at Beverly Hills is a differentiated, global workspace where your company can thrive. Studio at Beverly Hills provides world-class, customized workspaces to meet every need – from open seating, to private suites, to your own dedicated space – all with move-in ready convenience. Studio offers you a seamless solution in an exceptional space, complete with IT solutions, carefully curated spaces, premium furniture and access to other global Studio locations. Schedule a tour BeverlyHills@yourstudio.com.