Description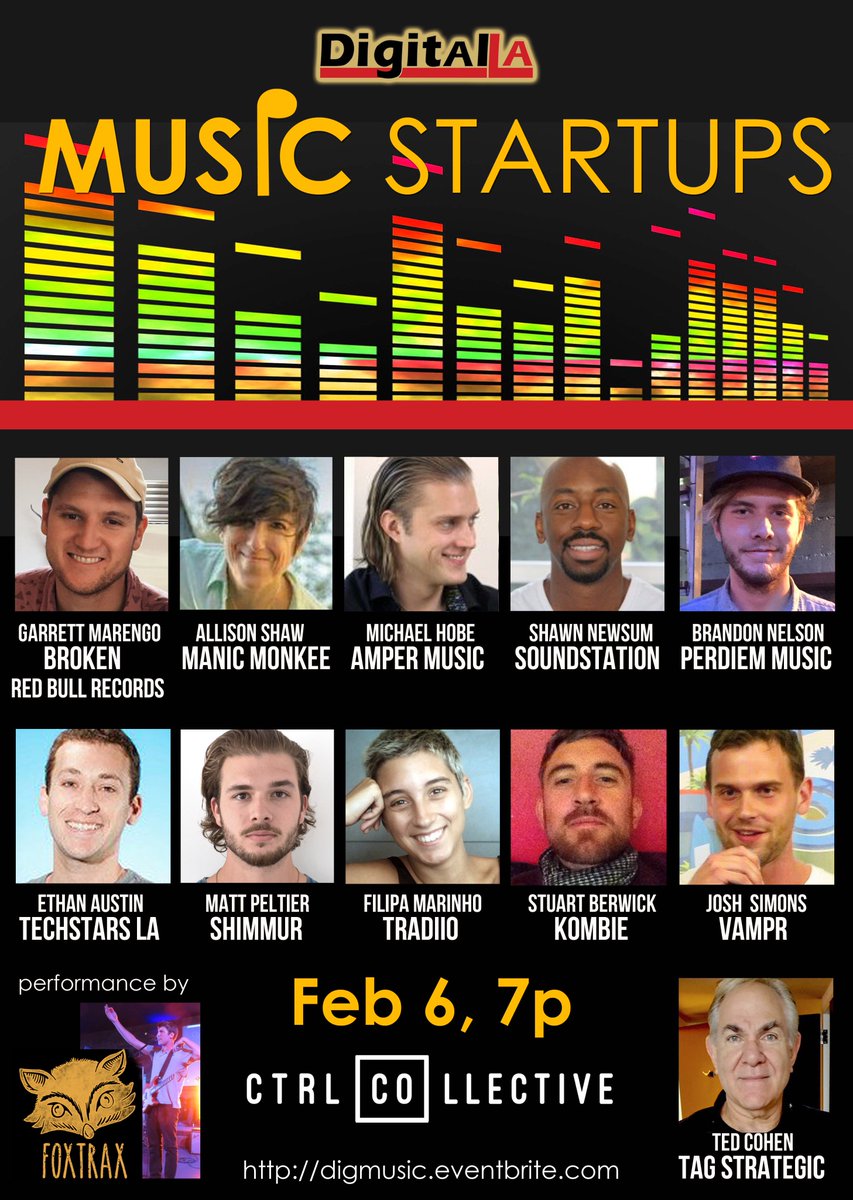 Join us for our pre-GRAMMYs panel on Music startups! We will discuss the music startup space: how to launch and build your music statup, find funding, get customers and app downloads, engage your fans, and grow your startup among music fans and the mainstream.
CALL FOR STARTUPS to pitch for 5 min with 5 min judge Q&A. Email info@digitalla.net with MUSIC as subj
SPEAKERS
- Ethan Austin, Techstars LA, Director. Techstars LA third accelerator in LA just launched, in addition to Techstars Music and Techstars Health Accelerator. Techstars accelerator invests $120K in 8-11 statups each class, providing mentorship, connections, and guidance to help startups.
- Garrett Marengo, Broken, Founder; Red Bull Records, North American Brand Integration Specialist
- Allison Shaw, Manic Monkee, CEO. Allison has worked in music, brands and tech for over 12 years. She develops strategy, creates experimental activations including new media/video content and produces events, pop ups,one-offs, red carpet, and conferences. She has built and aligned partnerships for many companies at events like SXSW, CMJs, Coachella, CES, Grammys, and much more.
- Michael Hobe, Amper, C0Founder. Amper uses Artificial Intelligence music composition. @ampermusic
- Matthew Peltier, Shimmur, Co-Founder. Shimmur is a platform that helps influencers and artist directly interact with their biggest fans to drive growth, long-term loyalty, and ultimately unlock future revenue streams. @shimmur
- Shawn Newsum, SoundStation, Founder. SoundStation is a human music curation service for brands to create playlists to engage and retain customers via email or social media campaigns. We have worked with clients such as Pepsi, Red Bull, and others to launch music playlist campaigns on Spotify. @SoundStation
- Brandon Nelson, PerDiem Music, Founder. PerDiem is a platform which lets fans directly invest in their favorite bands. @PerDiemMusic
- Moderator: Kevin Winston, Digital LA
STARTUP PITCHES
- Josh Simons, Vampr, Co-Founder. The Vampr iPhone app helps you discover, connect and collaborate with musicians, industry and music lovers. Vampr won the Silicon Beach Fest - Audience Choice Award last summer. @vamprapp
- Stuart Berwick, Kombie, Co-Founder. Kombie interctive app lets you insert yourself into music videos and share with friend, just like Snapchat lenses, but with music videos. @kombieofficial

- Filipa Marinho, Tradiio, Music Artists & Partnerships. Tradiio is a music app that enables artists to be directly subscribed by their top fans. A new revenue stream for them.
JUDGE: Ted Cohen, TAG Strategic, Managing Partner. Ted is a music industry veteran, and consultant on music startups and companies including Gibson Guitars, Pandora, MusiMap and LyricFind.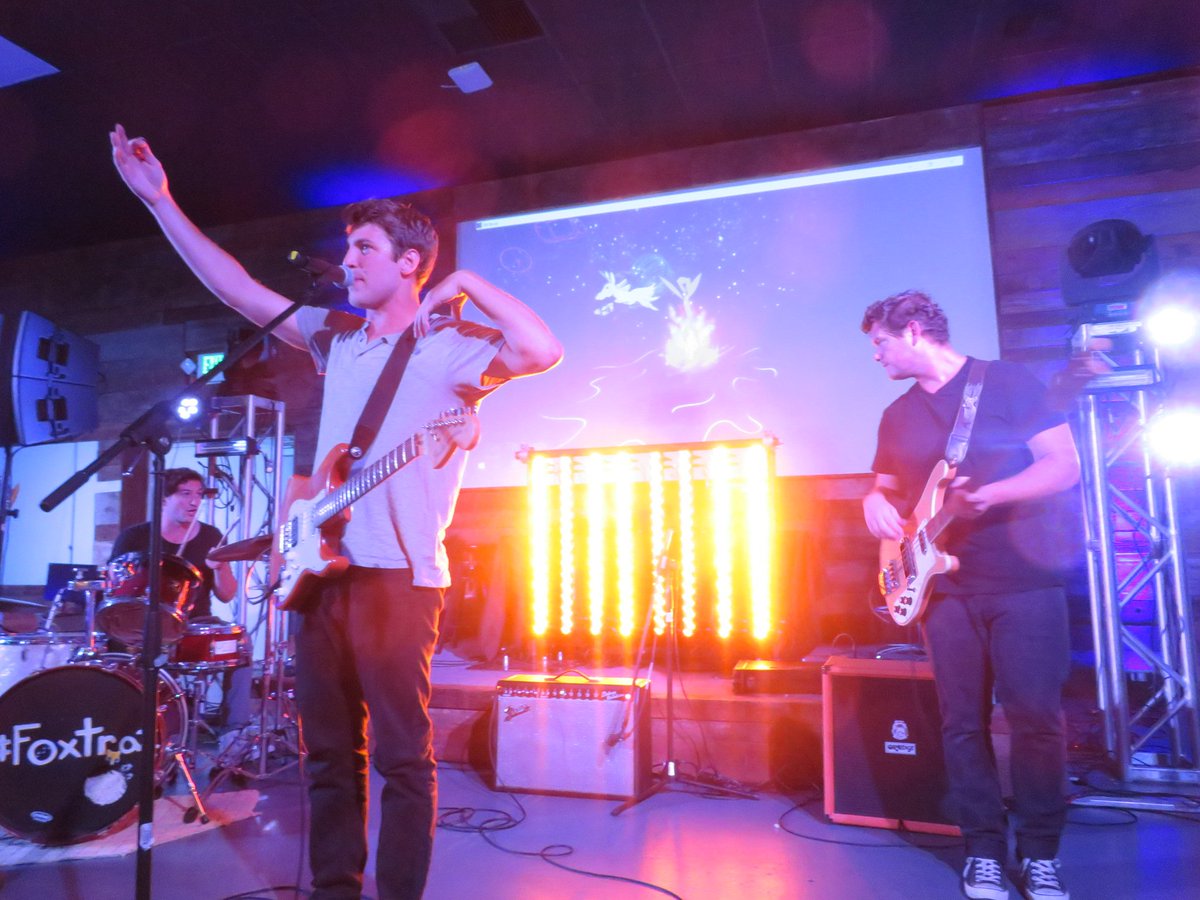 FOXTRAX band
is an official SXSW 2017 showcasing artist. FOXTRAX is very digital: it is heavily supported across Sirius XM's Alt Nation, Spectrum Spotify, Apple, Pandora, Live Nation, Ticketmaster and key blogs including Indie Shuffle. FOXTRAX is opening for Barns Courtney on his tour this May. FOXTRAX played our Silicon Beach Fest Closing Party last summer (photo right). More info:
http://foxtraxband.com
AGENDA
- 7p-7:30p Checkin and Networking
- 7:30p-8p Startup Pitches
- 8-9p Panel w Q&A
- 9p FOXTRAX band and afternetworking
PARKING: Complimentary parking in the CTRL Collective lot after 6p