Description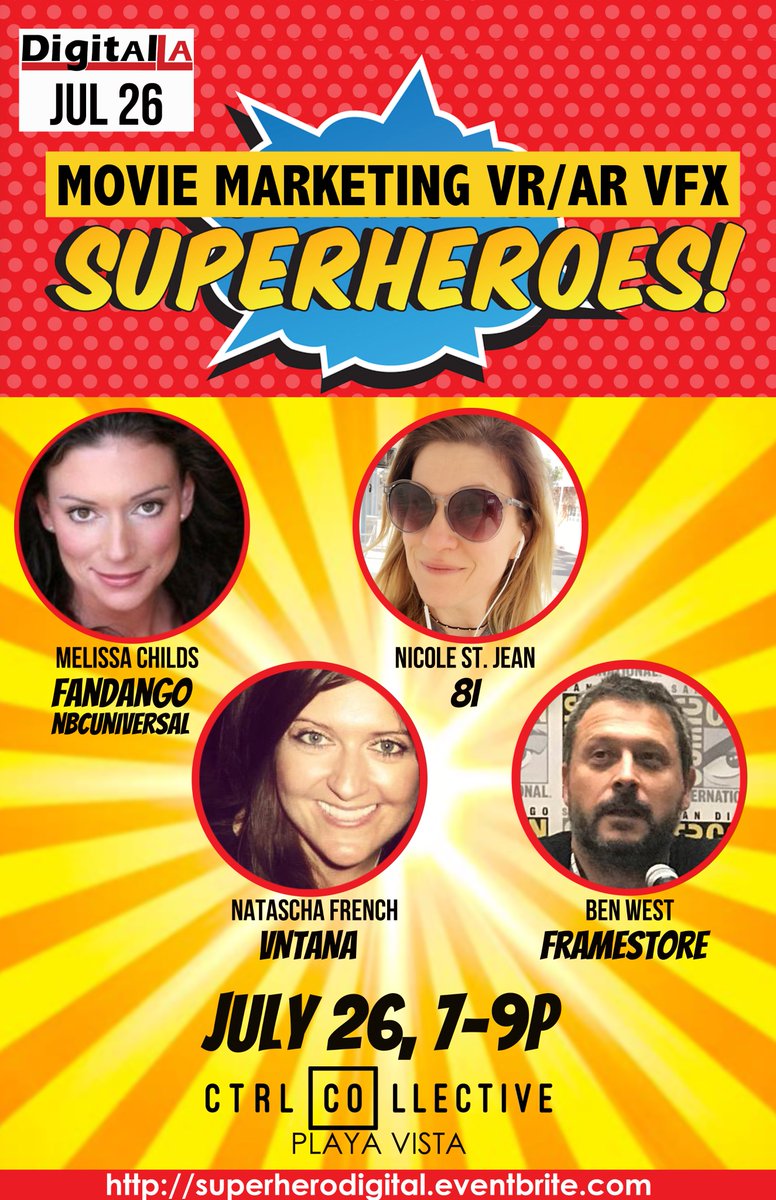 Join us for our annual Superheroes Go Digital panel! It's our post Comic-Con, pre-SIGGRAPH panel where experts in digital marketing, social media, VR/AR, VFX and more will disucss their work on major movies and TV shows. Industry experts from Fandango / NBCUniversal, VNTANA, 8i, and Framestore will discuss how to build a successful cross platform digital marketing and social media campaign to promtoe superhero films, integrating VR/AR, and mobile apps, and working on VFX for major titles.
SPEAKERS SCHEDULED
- Melissa Childs, Fandango / NBC Universal, Digital Content Strategy and Programmaing. Melissa drives content strategy across Fandango, Movieclips, Fandango Family and FandangoNOW and their respective distribution platforms. She builds content and social strategy around large scale events and key opportunities, including Comic-Con, Sundance Film Festival, Toronto International Film Festival, SXSW, and the Oscars. Leverages analytics to drive intelligent programming strategy across digital properties Fandango.com + app, Movieclips.com + app, and the Movieclips YouTube network (10MM+ subscribers), as well as Fandango, Movieclips and FandangoNOW social platforms. Collaborates with Marketing, Publicity, Social Media and Sales to develop content for internal teams.
- Nicole St. Jean, 8i, VP Content. 8i recently launched Holo, an app which lets you place hologram characters including Spider-Man, into your photos and videos to record and share with friends. 8i worked with Sony Pictures to tie the launch of Spider-Man with the Spider-Man: Homecoming movie release. Nicole formerly worked at Twitter as Head of Music Industry and artist relations at Twitter, where she was responsible for content, product and syndication partnerships with Apple Music, Spotify, Soundcloud, Pandora, iHeartRadio and Billboard. @8iReality
- Ben West, Framestore, Creative Director. Ben is an award winning filmmaker and creative director. He holds a Masters in directing, over 15 years experience in film, visual effects and design, and has worked on hundreds of commercials, television, features and virtual reality projects. Ben wrote and directed a series of three short films that all share qualities in visual effects storytelling. Those are 'FREAK', 'FUGU & TAKO", and 'OTHERHALF'. Portfolio: http://www.imdb.com/name/nm1471009/@framestore
- Natascha French, VNTANA, Chief Marketing Officer. VNTANA creates interactive HOLLAGRAMs that combine real-time holographic video capture with interactive gesture control, allowing consumers to experience augmented reality in groups and without wearables. VNTANA's technology has been used by many Fortune 500 brands including Pepsi, Microsoft, Mercedes-Benz, DJI, and is applicable globally across multiple industries including entertainment, sports, automotive and education. VNTANA created the Doctor Strange HOLLAGRAM where you wave your hand to make Doctor Strange's cape appear on your HOLLAGRAM, and can record video and share with friends. @VNTANAlive
Moderator: Kevin Winston, Digital LA, CEO, formerly at Fox Interactive Media, Integrated Movie Marketing, and Sony Pictures Digital Entertainmnet, Strategic Partnerships
AGENDA
- 7-7:30p Check-in
- 7:30-8:30p Panel
- 8:30-9p After networking
PARKING: Free parking after 6pm in the CTRL Collective private lot, enter via gate.