Actions and Detail Panel
Digital LA - Meet the New Investors
Tue, April 4, 2017, 7:00 PM – 9:00 PM PDT
Description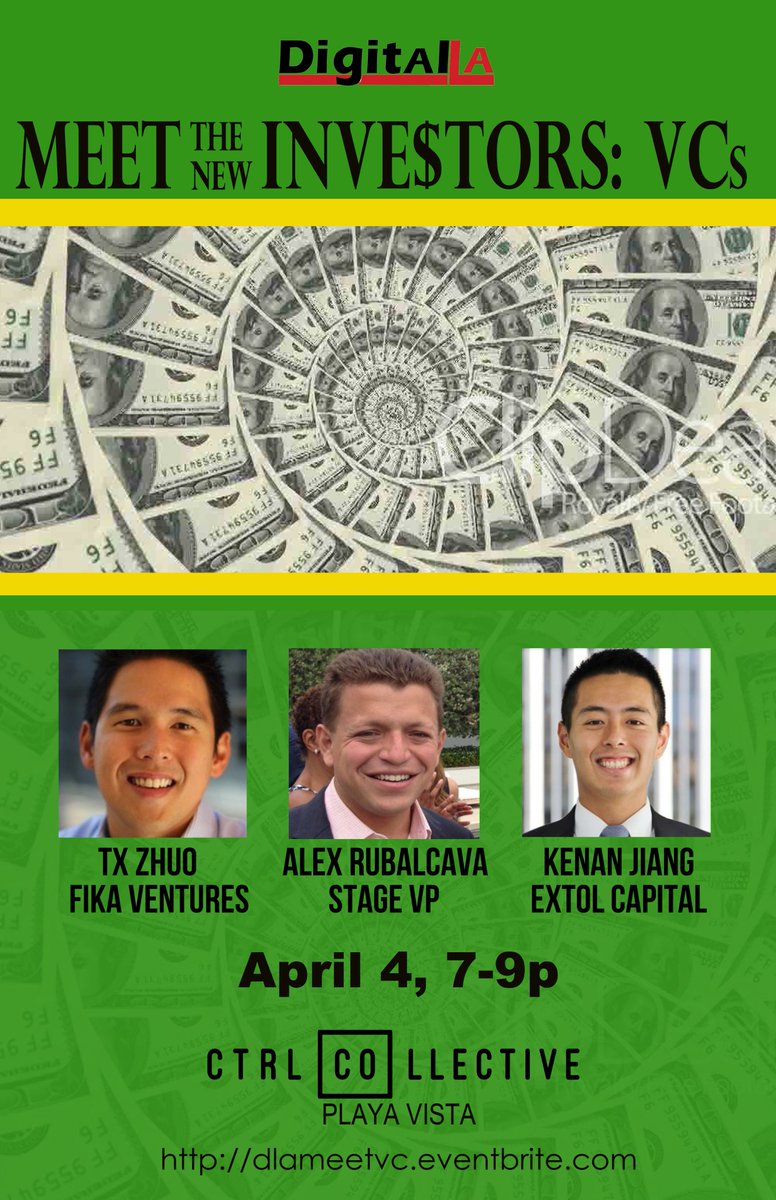 More investment dollars are coming into LA. Several new investors, funds, VCs and acclerators have launched so far in 2017, with a focus on LA tech and Silicon Beach. Meet speakers who will discuss their new funds, why LA, what they are looking for, how they select investments, and what they are looking for in startup founder teams, from passion and expertise to traction, CTO, MVP, etc.
SPEAKERS
- TX Zhuo, Fika Ventures, General Partner, co-Founder. Fika Ventures just launched a new $40M seed fund with a focus including LA tech. Previously, TX was a Managing Partner of Karlin Ventures which made several investments in Silicon Beach startups. TX previously worked at at Innovation Endeavors, a seed stage venture fund backed by Eric Schmidt, and at McKinsey & Co in their London office. TX received a M.B.A. from the Stanford Graduate School of Business and a B.A. in Economics and Mathematics (summa cum laude) from Wesleyan University. @fikavc @txzhuo
- Alex Rubalcava, Stage Venture Partners, Co-Founder. Stage has a new $15M fund. Prior to founding Stage Venture Partners, Alex was an analyst at Anthem Venture Partners, a VC fund in Santa Monica, CA. At Anthem, Alex worked on early stage investments including Myspace, TrueCar, and Android. Alex has been an active angel investor throughout his career, starting with co-investments in Anthem companies like RF Magic (merged with Entropic, later IPOd) and Planet ATE (acquired by Intersil). After Anthem, Alex was the first investor in Rentjuice (acquired by Zillow), MadeSolid (later a YC company), and Amino (still active, Series A Accel, Series B Charles River). Alex is a 2002 graduate of Harvard University. @stagevp @alexrubalcava
- Kenan Jiang, Extol Capital, Venture Partner. Extol Capital is a US-China growth equity fund investing in late Series A and Series B companies who have demonstrated substantial traction. After investment, we are heavily involved in helping our portfolio companies enter China. Kenan was a Principal with NewGen Capital in Palo Alto and previously worked at UBS and JPMorgan. Kenan received his BA from Stanford University. @KenanJiang
- Moderator: Kevin Winston, Digital LA, CEO, Founder. Kevin did undergraduate at Yale University and graduate school from Harvard Univeristy.
CALL FOR SPEAKERS: If you have a new fund at least $2M with at least 25% focus in the LA market, email info@digitalla.net to speak on the panel.
Previously scheduled Yipeng Zhao of Embark no longer able to attend.
AGENDA
- 7-7:30p Check in and Networking, with snacks provided by Pop Chips, Bare dried apple chips, and Red Bull
- 7:30-8:30p Panel
- 8:30-9p After Networking
PARKING: Complimentary parking in the CTRL Collective private lot after 6p